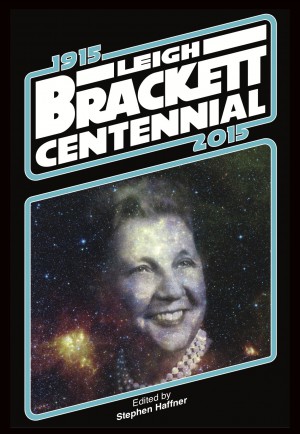 Leigh Brackett Centennnial
Edited by Stephen Haffner

ISBN-13 978-1893887-84-8
500pp. Trade Paperback
$25.00
Leigh Brackett (1915-1978), noted author of mystery & science fiction novels—with screenplays for THE BIG SLEEP, RIO BRAVO and THE EMPIRE STRIKES BACK—sees her Centennial celebrated with a previously unpublished story in the forthcoming Haffner Press collection: LEIGH BRACKETT CENTENNIAL.
Discovered by editor Stephen Haffner, Brackett's unpublished story "They" is a mature science fiction tale of power and intrigue, of homegrown xenophobia versus stellar exploration, with an answer to the ultimate question: "Are we alone?"
"They" leads off this tribute volume collecting the majority of Brackett's nonfiction writings, supplemented with vintage interviews and commentaries/remembrances from such luminaries as Ray Bradbury, Michael Moorcock, Richard A. Lupoff and more.
"Her dialogue crackled, the characters lived and breathed. For any burgeoning fan of film, you couldn't ask for a better inspiration than Leigh Brackett." —George Lucas
"She had a marvelous ability for moving a narrative along…I remember one story of mine which had me frozen…she took over and wrote the first thousand words—and it was published that way." —Ray Bradbury
LEIGH BRACKETT CENTENNIAL covers numerous facets and events of Brackett's life, in her own words, and in the words of those who knew her:
Brackett writes of bringing Philip Marlowe into the 1970s for Robert Altman's The Long Goodbye . . .
SF-author and NASA employee Joseph Green records the time he hosted Brackett at the launch of Apollo XII . . .
Bookseller Ray Walsh documents the day he escorted Brackett to view a new groundbreaking space-fantasy film in the summer 1977 . . .
Available for preorder, LEIGH BRACKETT CENTENNIAL continues the effort begun in 2002 by Haffner Press to collect, preserve, and present the works of Leigh Brackett for current and future generations.
Foreword by Stephen Haffner
NOVELETTE
"They"
NONFICTION
Barton, Interplanetary Reporter
Meet the Authors
P.S.'s Feature Flash
Hero, Heroine, Heavy
Give 'Em Hell, Leigh!
The Story Behind the Story
The Science-Fiction Field
Meet the Author
Who's Who in Science Ficiton" conducted by Robert Briney
Range by L. Sprague de Camp
And As to the Admixture of Cultures on Imaginary Worlds
Barsoom and Myself
Foreword to The Coming of the Terrans
Answers to the Double:Bill Symposium
Letting My Imagination Go
Avant-propos (Intoduction to Le livre de Mars)
The Hawksian Woman by Naomi Wise
John W. Campbell Memorial
A Comment Upon "The Hawksian Woman"
From The Big Sleep to The Long Goodbye and More or Less How We Got There
The Hounds of Skaith Interview
Beyond Our Narrow Skies
Leigh Brackett interview by Tony Macklin
Science Fiction Writing: Experiences as a Writer Interview by Juanita Roderick and Hugh G. Earnhart
Leigh Brackett: An Interview by Paul Walker
Letter from Leigh Brackett
Letter from Judy-Lynn Del Rey
Fifty Years of Wonder
Introduction to Sword Woman
Afterword to The Best of Leigh Brackett
Addendum
MARKING HER PASSING
In Memorium by Robert E. Briney
Leigh Brackett 1916-78 by Michael Goodwin and Naomi Wise
OTHER VOICES
Two-Fisted Novel Interested Director Hawks in Miss Brackett
Story-Teller of Many Worlds by Edmond Hamilton
Future Imperfect: Leigh Brackett's The Long Tomorrow by Donna DeBlasio
B & B: Brackett & Bradbury: 1944 by Ray Bradbury
Queen of the Martian Mysteries by Michael Moorcock
Prelude to Empire by Ray Walsh
Red Mist and Ruins: The Symbolist Prose of Leigh Brackett by Thomas F. Bertonneau
Leigh Brackett: Much More Than the Queen of Space Opera! by Bertil Falk
Lorelei of the Red Mist by Richard A. Lupoff
Three Days with Leigh Brackett & Edmond Hamilton by Joe Green
The Crime Fiction of Leigh Brackett by Christine Photinos
Stark Adventuring: Leigh Brackett's Eric John Stark by Mike Barrett
SCREEN STORY
"The Vampire's Ghost" 
More from Leigh Brackett
---
---
Leigh Brackett
(December 7, 1915 – March 18, 1978) A writer of science fiction, mystery novels and — best known to the general public — Hollywood screenplays, most notably The Big Sleep (1945), Rio Bravo (1959), The Long Goodbye (1973) and the first draft of The Empire Strikes Back (1980). Brackett's first published science fiction story was "Martian Quest", which appeared [...]
---
---
Now Shipping