NEXT RELEASE

---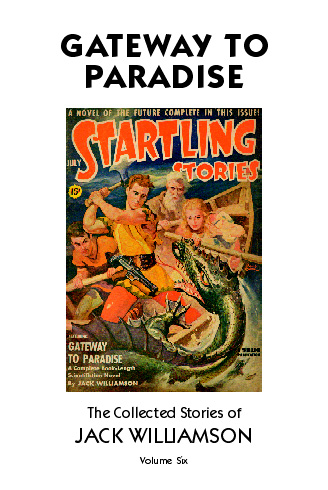 Gateway to Paradise,
The Collected Stories of Jack Williamson, Volume Six
Leigh Brackett

Captain Future


Edmond Hamilton

Collected Stories of

Jack Williamson
FOR CHARITY
In Memory of
Wonder's Child

Edited by
Stephen Haffner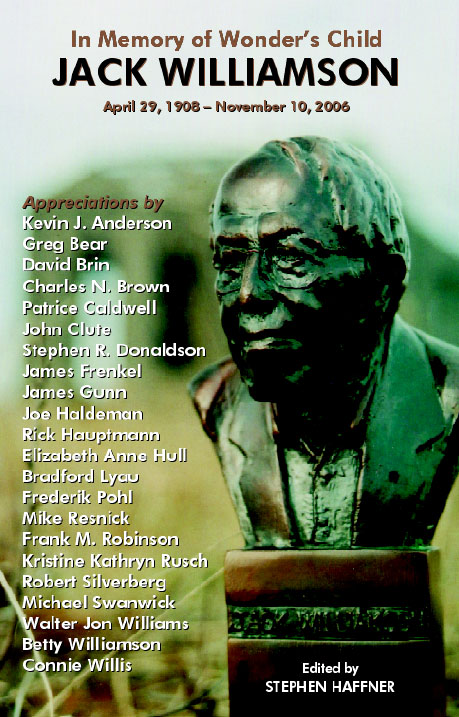 ---
Home

| About


ABOUT US

Haffner Press celebrates its 10th year of publishing in 2008. Time being an irreplacable commodity, instead of the usual history you might see on a page like this, let's instead present a 2003 interview with Stephen Haffner conducted by Ed Gorman and originally printed in issue #47 of

Cemetery Dance

magazine. It had been edited for length and to correct some now out-of-date information.



Ed Gorman:

Tell us about your background as a publisher. I'm assuming you've had a lifelong interest in pulp fiction?





Stephen Haffner:

For the record, I'd like to blame David A. Kyle for making me think that I had any connection with book publishing--genre or otherwise. At a 1995 convention in an Illinois suburb of St. Louis, Kyle was on a panel to discuss his co-founding of Gnome Press--one of the pioneering genre publishers of the late 40s to the early 60s. Gnome lasted longer than most similar small presses and finished with a longer pedigree of classic titles by giants such as Heinlein, Asimov, Clarke, etc. Anyway, Kyle shared anecdotes of post-WWII publishing, as well as announcing a first hardcover edition of Raymond Z. Gallun's 1973 paperback original,

Skyclimber

--the first release from, get this--Gnu Gnome Press! Kyle had a whole line-up layed out, including an unpublished Andre Norton novel as well as ambitions to see his latter-day Lensmen sequels between boards. Kyle's now-prophetic (to me, anyways) statement was that "with today's technology, a small press can knock off a 300-copy hardcover print run, charge $50, and come out ahead."

Now, as any genre publisher will tell you (as they pull themselves up from the floor half-dead with laughter and/or incredulity), this is totally bogus. But I believed it. I believed it bad. And it ultimately got the Haffner Press ball rolling.

Backtracking a bit, I've always been exposed to fantastic concepts. Growing up in the 70s in rural Indiana, television was a great escape from teachers with their times-tables and from playground fights with bigger kids. In addition to wanting to fly like Superman or be bionic (who wouldn't want to be an astronaut/secret agent and have super strength and see for miles--

insert bionic sound-effect)

, I wanted to be Captain Kirk--or G.I. Joe (with the Secret of the Mummy's Tomb!), it was a toss-up. When

Star Wars

came out, I immediately needed . . .

more!

At first it was the Alan Dean Foster novelization and then his original piece

Splinter of the Mind's Eye.

I don't know who did it, but the marketing folks at Ballantine/Del Rey did one hell of a job packaging those media tie-ins alongside other books with similar-looking space opera covers and adverts in the back for works by Robert Heinlein, Larry Niven and the "Best ofs...." In addition to

Star Wars

books by Brian Daley, I was reading Stephen R. Donaldson's "Thomas Covenant" series, Foster's "Humanx Commonwealth" novels, and "Known Space" stories by Larry Niven. These gave me an appreciation of the "Future History" concept and I began devouring H. Beam Piper and Robert A. Heinlein. Somehow, I never found time to crack into Gordon Dickson and Poul Anderson. Someday.

Flash forward to 1992 (I went through my Lovecraft/Arkham House bit in 1986) and I begin to foster an ambition to build a library of first edition sf classics. Pretty easy to do--all it takes is money. Most sf worth reading is readily available. Note I said, "most." Anyway, I found myself picking up copies of Easton Press' leather-bound "Masterpieces of Science Fiction" for those titles that were unaffordable to me at the time. A sister operation of Easton Press is the First Edition Library (FEL). They produce facsimiles of first editions of works like Fleming's Bond novels, or Hemingway, James M. Cain and Raymond Chandler. In 1993, they brought out a 13 volume set of books from outfits including Gnome Press (

I, Robot, Shambleau

and

Tomorrow and Tomorrow and The Fairy Chessmen)

, and Fantasy Press (

Dreadful Sanctuary, Beyond This Horizon,

and

The Legion of Space).

The Legion of Space

was one of those books I'd known about, but never read. I read it on a business trip in 1995 and again, I needed . . .

more!

In researching Jack Williamson's other "Legion" stories, I discovered pulp sf as a thing unto itself--not packaged as slick, modern-looking paperbacks or bookclub editions. This was the real deal--ancient pulp-paper smell and all!

Now, I not only had to collect first editions of sf classics, but I needed every small press title of the late 40s and early 50s! A financially daunting task. Finally, in tracking down Fantasy Press titles, I discovered that both E.E. "Doc" Smith and Jack Williamson had written latter-day sequels to their vintage series: Smith extended the "Skylark" saga in 1965 with

Skylark DuQuesne,

and Williamson with 1983's

The Queen of the Legion.



Having now been completely absorbed with Fantasy Press--from the selection of titles, to cover art, to page design and spine stamping--it struck me that 1997 would be the 50th Anniversary of that pioneering company. Recall that by now, my head is full of David Kyle's wisdom that a $50 300-copy hardcover can be profitable. So I resolve to secure the rights to

Skylark DuQuesne

and

The Queen of the Legion

and, with Lloyd Arthur Eshbach's (Fantasy Press' owner) permission, release them as short-run, latter-day Fantasy Press books. The ambition is to fulfill Kyle's wisdom (and thereby not throw money away), and complete my "Legion" and "Skylark" first edition collections with matching uniform volumes.

An utter surprise to me was finding out that Lloyd Eshbach felt that Fantasy Press belonged to history. Aside from facsimiles, no new Fantasy Press books were forthcoming--from anybody. Well, that put a damper on things. By this time, I had already approached an agreeable Jack Williamson at a convention in Louisville--boy, was he ever surprised to hear anyone ask for permission to do a hardcover

Queen of the Legion!



For about a week I bandied names around--what is the coolest-sounding name for a science fiction publisher? Science fiction in book form had been around for over 60 years--all the great names were taken! Ultimately, if I was to do these books to suite my tastes (and my wallet!), Haffner Press was as good a name as any.



EG:

So far, you've produced books by Leigh Brackett, Edmond Hamilton and not least Jack Williamson. Why these three writers in particular?





SH:

While reading up on pulp sf and the contemporaries of Jack Williamson, you can't help but run across folks like Edmond Hamilton, Henry Kuttner, and Leigh Brackett. Among the many works I researched, I consider Williamson's autobiography

Wonder's Child: My Life in Science Fiction

one of the great underrated books--not only as a history of early sf, but also as a document of what I'll call "determined Americanism"--the journey of a man expressing himself through his work, and attempting to better himself by acquiring knowledge and experience through his own means.

In reading up on Edmond Hamilton, I discovered how much of media-related sf was derived from Hamilton or--at the very least--crudely pioneered by him. Having been in a mood to seek additional "Legion of Space"-esque stories, I turned to Hamilton's

Captain Future

stories. Repetitive after a while, the CF stories still have much to admire as well as wonderfully reflecting their era. Also being in a mood for "series fiction" it seemed that Hamilton's heretofore uncollected "Kaldar" stories looked appealing as a commercial product. Pretty decent Edgar Rice Burroughs "John Carter" pastiches for the most part, these three stories made for an ideal package. Add in a loving introduction by Ray Bradbury, artwork by one of the few working original

Weird Tales

artists, bound in arguably the last known bits of Holliston Black Novelex, and I had a killer book. It was HP's first sell-out.

By this time, I noted how much of Jack Williamson's work was not only out-of-print, but how much of it had never, ever been reprinted! This is in mid-1998 and the genre had already seen

The Selected Stories of Robert Bloch

and

The Collected Stories of Philip K. Dick,

as well as the just-beginning

The Complete Stories of Theodore Sturgeon. The Collected Stories of Jack Williamson?

Why? Aside from an aborted fannish effort in the early 80s, no one said this is something that must be done. So why

The Collected Stories of Jack Williamson?

Because I wanted to. Simple as that. It just seems noble and important enough to do this series while the arguably last living link to American sf's roots is still with us and actively producing new works.

With some successes under the belt, I wanted to broaden the selection of authors from HP, but not stray too far from vintage sf. So much of it is unavailable outside the original pulps that this was a comfortable place to be. Hamilton's

The Vampire Master and Other Tales of Horror

followed the second Williamson story collection and was a bit of a crossover hit. We scored with fans of

Weird Tales

and Hamilton & Williamson as well as the vampire-fiction audience--which was considerable.

Leigh Brackett's

Martian Quest: The Early Brackett

was an obvious outgrowth of the work done by HP to date. Oddly enough, and perhaps due to having a backlist,

Martian Quest

has been the fastest-selling HP title. Granted, it was first announced as a 2000 book (finally seeing print in late 2002), but it mutated into the first of three planned collections that will reprint all of Brackett's shorter genre output. Reader feedback seems to indicate that the delay was worth the wait.



EG:

Are you interested in today's science fiction and fantasy?





SH:

Preparing manuscripts for publication pretty much eats up what recreational reading time I may have. Most of what I read is published by friends of mine. Doug Ellis' recent expose on the girlie pulps,

Uncovered

is a guilty pleasure, and the recent book from Feral House on the post WWII adventure magazines,

It's a Man's World

is a ton of fun. I still pick up the annual award-winners and books from favorites such as Connie Willis and Joe Haldeman. Publishing something original--that is, something not originally buried in the pulps--would be nice, but with

The Collected Stories of Jack Williamson

currently projected at eight volumes (and growing), there's enough on the plate for the next few years.



EG:

You've obviously spent a lot of money and effort on producing beautifully made books. Do you think you can sustain the quality of your production in a stagnant book market? Your website notes that some of your customers have a difficult time finding your books in bookstores? Do you plan to be in more bookstores in the future?





SH:

Recently, an editor from Tor remarked that, thanks to the internet, literacy is at an all time high. I personally think this guy was high. The internet may have forced more people to read, but the

level

of literacy continues to decline. What may be termed as a stagnant book market is more accurately described as a declining literacy market. More and more books are being produced (especially in this Print-On-Demand age), but fewer and fewer of them are selling--at least enough for an author to earn out his/her advance. Unless something fundamental changes in re: teaching reading skills at an early age, the market for books will not only continue to stagnate, but it will erode to a point where one of those media tie-ins I cut my teeth on is considered high art.

I produce these books for me first. Therein may lay the path of economical suicide, but there it is. Haffner Press' books are produced with the best quality materials, and the prices reflect this. Given that, it's unlikely that the chain bookstores will carry these titles. The prices are such that the casual browser is unlikely pick one up. Additionally, the age of the independent bookseller is coming to an end. I know there will always be someone to carry the torch, but across the board, sole-proprietorship brick-and-mortar stores are already dinosaurs. They just can't cut it when they're up against the Borders and B&N's of the world. That said, there is a place for Haffner Press books in the stores that remain (and those that come along) and their mail-order descendants. For better or for worse, the future of sales of genre small presses is direct sales, niche stores & mail-order firms, and online e-tailers like Amazon.




EG:

Michael Moorcock's introduction to the Leigh Brackett is one of the most definitive (and beautifully written) pieces on genre fiction I've ever read. Did you give him any special suggestions or did he just sort of wail and riff?





SH:

Mike was readily agreeable to play in the Haffner Press sandbox on

Martian Quest.

It wasn't a question of money or editorial guidance. I just had his promise to have fun. Mike has written at length elsewhere of his love for both Ed and Leigh, so he was an ideal choice. As the intro came together, Mike would send e-mails on how he had tied Eric John Stark to James Fenimore Cooper's Natty Bumpo and how all of Brackett's heroes would have to sound like Humphrey Bogart. Great stuff. He pulled out all the stops to re-read much of Leigh's canon and research the background from which she created her stories. I'm honored to have been able to present it along side Leigh's early stories.



EG:

What's in the future? Ever plan to do any trade pb reprints of the hardcovers? Ever plan to try and find a mass market reprinter?





SH:

I know a number of folks would appreciate more affordable versions of HP's titles as trade paperbacks or bookclub editions, but it cuts too deeply into operating capital in the case of trade pbs, and takes a too much of a bite out of sales in the case of bookclub editions.

In addition to the subsequent volumes of Jack Williamson's collected stories and the two subsequent Leigh Brackett collections, there is

Stark and the Star Kings

by Edmond Hamilton and Leigh Brackett. This collects Hamilton's two "Star Kings" novels and Brackett's "Eric John Stark" novelettes from

Planet Stories-

-all capped off with an original 10,000 word novella, "Stark and the Star Kings." This was their only formal collaboration and was originally commissioned for

Last Dangerous Visions.

John Jakes wrote the introduction and the eight original illustrations by Alex Ebel are fantastic.

Since 2003 is the 75th Anniversary of Jack Williamson's career as a professional sf writer, Jack's bibliographer, Richard A. Hauptmann, and I have been working for the better part of three years assembling

Seventy-Five: The Diamond Anniversary of a Science Fiction Pioneer--Jack Williamson.

It's an oversized 600-page hardcover with excerpts from Jack's key novels, classic short stories and essays, plus 4 never before published stories from across his amazing (no pun intended) career. It includes sidebars with over 300 illustrations and an 18-page full color reprint of his

Beyond Mars

Sunday comic strip. Arthur C. Clarke and Connie Willis provide introductory material. If I never do anything else, this is the book I'm most singularly proud of. At least until the next one.

HAFFNER PRESS
5005 Crooks Road • Suite 35
Royal Oak, MI 48073-1239
ph: 248-288-4765
info@haffnerpress.com
Copyright © 2008 Haffner Press. All Rights Reserved.
FEATURED ITEMS
---
Stark and the
Star Kings

by
Edmond Hamilton
&
Leigh Brackett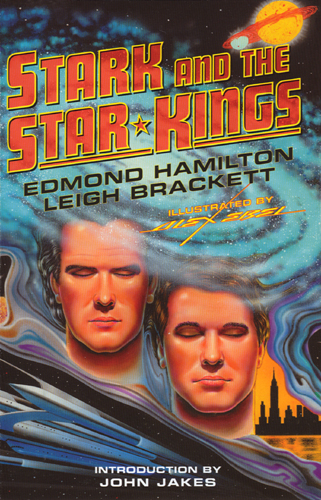 ---
Seventy-Five: The Diamond Anniversary of a Science FIction Pioneer--Jack Williamson
Edited by
Stephen Haffner
&
Richard A. Hauptmann


---
Site Design by Dr. Allamagordo and the Nebulon Skydancers.
Really