Recent Posts
---
Archives
---
Quick Links
---
---
 In This Issue:

December

28

, 2016

• • F

REDRIC BROWN UPDATE

• •



We hope each of you and your families are having a happy and safe Holiday Season. Here at the Secret Moon Base, we are still working on making the best books we can of your favorite writers. This time 'round, we have updates on the long-gestating first two volumes of the FREDRIC BROWN MYSTERY LIBRARY. So, getting to it . . .

The first volume,

MURDER DRAWS A CROWD was given to a printer in August 2015 and they alerted us on December 7th that finished copies were available for pick-up. As detailed in previous newsletters, the binding m

ethod

used to

make

the cloth-covered

case

fit the

page-

block match

ed

no book we've

ever seen, let alone published.

This binding method also forced the spine of the dustjacket to wrap onto the back of the book. When we were informed that the

entire

inventory was bound in this manner

,

we rejected the

whole

lot. Despite a lengthy dialogue, this printer refused to make

any corrections

let alone

mount a reprinting. One a brighter note, bringing MURDER DRAWS A CROWD up to date for a

different printer

requires

only

minor changes (mostly updating copyright notices from 201

5 to 2017).

For 

t

he second volume, DEATH IN THE DARK,

l

ayout & design are complete, along with the introduction, proofreading, copyright notices, etc. Aside from a new

cover image, t

he largest bit of work remaining

involves

the interior illustrations. These illustrations are taken from the original magazine publications (requir

ing

more than

four

years of research and acquisition!) and

every single one

of them will under

go a

painstaking (and back-breaking!)

digital clean-up

to p

res

ent them in the best light. FYI, we're still looking for a logo for the magazine T

he

Michigan Well Driller.

Based on the beautiful job done by a different

(

and much more reliable

)

printer on

our

recent Henry Kuttner book, THE WATCHER AT THE DOOR: THE EARLY KUTTNER, VOLUME TWO,

the

plan

is to send

both MURDER DRAWS A CROWD and DEATH IN THE DARK to this superior

vendor

in

1st Quarter

2017. We'll share more news and we

have it, and thanks for hanging with us on these titles; we hope you feel the delay was worth the wait.

Meanwhile, you can read one of Fredric Brown's first-published stories, "Blood of the Dragon" (from

Variety Detective Magazine Feb. 39) HERE:




CHIEF OF POLICE Walworth smacked the top of his desk with his hand so hard that the impact sounded like a revolver shot. "I tell you, 'Deadpan,' we've got to get those counterfeiters soon, damn soon, or the commissioner will have me out on the sidewalk. And the newspapers are howling like banshees!"


     His ace detective and closest friend, seated across the desk from him, replied calmly, placatingly: "We've been doing everything we can, Phil. After all—"
"We know the stuff's being made right in or near this very town. Whenever a green-goods dealer or pusher gets picked up anywhere in the state 

[MORE]

---

MURDER DRAWS A CROWD:
FREDRIC BROWN MYSTERY LIBRARY,
VOLUME ONE
Edited by Stephen Haffner
Introduction by

Jack Seabrook




744-page smythe-sewn

hardcoverORDER NOW:

 

$45.00 W/FREE SHIPPING*

CONTENTS:
"The Apprenticeship of Fredric Brown: 1936-1942"
The Moon for a Nickel, Detective Story Magazine Mar. 38
The Cheese on Stilts, Thrilling Detective Jan. 39
Blood of the Dragon, Variety Detective Magazine Feb. 39
There Are Bloodstains in the Alley, Detective Yarns Feb. 39
Murder at 10:15, Clues Detective Stories May 39
The Prehistoric Clue, Ten Detective Aces Jul. 40
Trouble in a Teacup, Detective Fiction Weekly Jul-13-1940
Murder Draws a Crowd, Detective Fiction Weekly Jul-27-1940
Footprints on the Ceiling, Ten Detective Aces Sep. 40
The Little Green Men, The Masked Detective Fall 1940
Town Wanted, Detective Fiction Weekly Sep-7-1940
Herbie Rides His Hunch, Detective Fiction Weekly Oct-19-1940
The Stranger from Trouble Valley, Western Short Stories Nov. 40
The Strange Sisters Strange, Det

.

Fic. Weekly Dec-28-1940
How Tagrid Got There, unpublished until 1986
Fugitive Imposter, Ten Detective Aces Jan. 41
The King Comes Home, Thrilling Detective Jan. 41
Big-Top Doom, Ten Detective Aces Mar 41
The Discontented Cows, G-Men Detective Mar. 41
Life and Fire, Detective Fiction Weekly Mar-22-1941
Big-League Larceny, Ten Detective Aces Apr. 41
Selling Death Short, Ten Detective Aces Apr. 41
Client Unknown, The Phantom Detective Apr. 41
Your Name in Gold, The Phantom Detective Jun. 41
Here Comes the Hearse, 10-Story Detective Jul. 41
Six-Gun Song, 10-Story Detective Jul. 41
Star-Spangled Night, Coronet Jul. 41
Wheels Across the Night, G-Men Detective Jul. 41
Little Boy Lost, Detective Fiction Weekly Aug-2-1941
Bullet for Bullet, Western Short Stories Oct. 41
Listen to the Mocking Bird, G-Men Detective Nov. 41
You'll End Up Burning!, Ten Detective Aces Nov. 41
Number Bug, Exciting Detective Winter 1941
Thirty Corpses Every Thursday, Detective Tales Dec. 41
Trouble Comes Double, Popular Detective Dec. 41
Clue in Blue, Thrilling Mystery Jan. 42
Death is a White Rabbit, Strange Detective Mysteries Jan. 42
Twenty Gets You Plenty, G-Men Detective Jan. 42
Bloody Murder, Detective FictionJan-10-1942Appendix:
The "V.O.N. Munchdriller" stories from The Driller
The "William Z. Williams" stories from Excavating Engineer


---

DEATH IN THE DARK:
FREDRIC BROWN MYSTERY LIBRARY,
VOLUME

TWO


Edited by Stephen Haffner
Introduction by

Jack Seabrook




744-page smythe-sewn

hardcoverORDER NOW:

$45.00

  W/FREE SHIPPING*



CONTENTS:

"Fredric Brown Begins to Master the Pulp Mystery Form: 1942"
Little Apple Hard to Peel, Detective Tales Feb. 42
Death in the Dark, Dime Mystery Mar. 42
The Incredible Bomber, G-Men Detective Mar. 42
Pardon My Ghoulish Laughter, Strange Detective Mys. Mar. 42
Twice-Killed Corpse, Ten Detective Aces Mar. 42
A Cat Walks, Detective Story Magazine Apr. 42
Mad Dog!, Detective Book Magazine Spring 1942
Moon Over Murder, The Masked Detective Spring 1942
"Who Did I Murder?", Detective Short Stories Apr. 42
Murder in Furs, Thrilling Detective May 42
Suite for Flute and Tommy Gun, Detective Story Mag. Jun. 42
Three-Corpse Parlay, Popular Detective Jun. 42
A Date to Die, Strange Detective Mysteries Jul. 42
Red is the Hue of Hell, Strange Detective Mysteries Jul. 42
Two Biers for Two, Clues Detective Stories Jul. 42
"You'll Die Before Dawn", Mystery Magazine Jul. 42
Get Out of Town, Thrilling Detective Sep. 42
A Little White Lye, Ten Detective Aces Sep. 42
The Men Who Went Nowhere, Dime Mystery Sep. 42
Nothing Sinister, Mystery Magazine Sep. 42
The Numberless Shadows, Detective Story Magazine Sep. 42
Satan's Search Warrant, 10-Story Detective Sep. 42
Where There's Smoke, Black Book Detective Sep. 42
Boner, Popular Detective Oct. 42
Legacy of Murder, Exciting Mystery Oct. 42
The Santa Claus Murders, Detective Story Magazine Oct. 42
Double Murder, Thrilling Detective Nov. 42
A Fine Night for Murder, Detective Tales Nov. 42
Heil, Werewolf!, Dime Mystery Nov. 42
I'll See You at Midnight, Clues Detective Stories Nov. 42
The Monkey Angle, Thrilling Detective Nov. 42
Satan One-and-a-Half, Dime Mystery Nov. 42



Appendix

:
The "Willie Skid" stories from Ford Dealer Service Bulletin
The "Colonel Cluck" stories from The Michigan Well Driller, Independent Salesman, and The Inventor
The "Barnyard Bill" stories from Feedstuffs


---

*Shipping is FREE in the continental United States. Alaska, Hawaii and International orders should email us at info@haffnerpress.com for shipping rate quotes. You have been warned!
---
---
Now Available!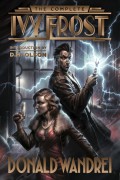 $50.00
---
---
Featured Items
---