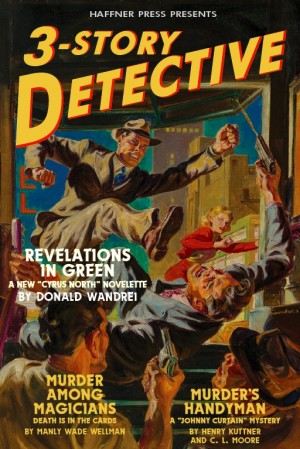 3-Story Detective Exclusive Chapbook
Catherine L. Moore & Donald Wandrei & Henry Kuttner & Manly Wade Wellman
Edited by Stephen Haffner
Cover Art by Norman Saunders

ISBN-13 978-1-893887-77-0

$140.00
Place your $140.00 (USD) order for all three books:
• THE WATCHER AT THE DOOR by Henry Kuttner
• THE COMPLETE IVY FROST by Donald Wandrei
• THE MICHAEL GRAY MYSTERIES by Henry Kuttner and Catherine L. Moore
and receive an exclusive bonus chapbook 3-STORY DETECTIVE featuring rare texts and associated ephemera from contributors to the above titles. Shipping is FREE to the Continental USA and we will ship the books as they are published with the chapbook accompanying the release of THE MICHAEL GRAY MYSTERIES.
Don't miss out on this opportunity to get your exclusive chapbook.
★ INTRODUCING CYRUS NORTH D. H. Olson
The leading authority on Donald Wandrei writes of the industrialist/crime-solver, Cyrus North.
★ REVELATIONS IN GREEN (Novelette) Donald Wandrei
Nearly killed in an industrial accident, Cyrus North, and his secretary Rhoda King, risk certain death to unravel South American secrets!
★ KEEP YOUR EGO UP... (Interview) Carol Bird
...And you'll stand the 10,000 trials and disappointments in learning to write. An interview with Manly Wade Wellman.
★ MURDER AMONG MAGICIANS Manly Wade Wellman
Secutoris performs his last act of strange ledgerdemain from beyond life's veil
★ WHO KILLED COCK ROBIN? (Article) Henry Kuttner
One of genre fiction's greatest talents shares lays bare the clues on writing a "whodunit" mystery.
★ MURDER'S HANDYMAN Henry Kuttner & Catherine L. Moore
When three of Paul Ogden's relatives die—and he collects on their policies—Johnny Curtain decides to investigate!
More from Catherine L. Moore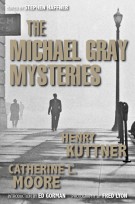 $45.00
More from Donald Wandrei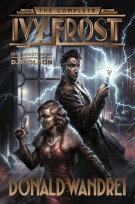 $50.00
More from Henry Kuttner
More from Manly Wade Wellman