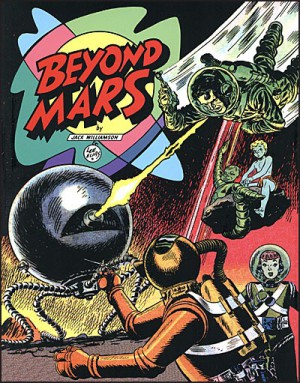 Beyond Mars
Edited by Dean Mullaney
Introduction by Bruce Canwell
Cover Art by Lee Elias
Illustrated by Lee Elias

160 page hardcover
$55.00
BEYOND MARS takes place 200 years in the future, when a new force—paragravity—has enabled men to live and breathe on asteroids. The strip stars Mike Flint, a spatial engineer who lives on Brooklyn Rock, an asteroid "beyond Mars." With Sam, his green-skinned metallic partner from Venus, Flint gets involved in a series of lighthearted adventures, battling space pirates, teaming up with beautiful and strong-minded women, and dealing with addicts of the mysterious drug called "star dust."
The restored color is outstanding and the artwork is creative and imaginative. Bruce Canwell contributes a wonderful introduction, putting this in the context of early 1950s science fiction. This also includes original art by Lee Elias on other features like Black Cat, Terry & the Pirates and Tommy Tomorrow.

And Editor Dean Mullaney of IDW / Library of America Comics has been nominated for an Eisner Award for his assemblage of this vintage 1950s Sunday newspaper strip!
 
**SPECIAL SIGNED EDITION: This is book is an essential addition to your library, but the first installment (February 17, 1952) of the strip was unintentionally left out. By special arrangement with the publisher, we have secured copies of BEYOND MARS with this missing page! Even better, this missing page will be AUTOGRAPHED by Editor Dean Mullaney and Introducer Bruce Canwell on the verso! This exclusive will then be numbered and tipped into your new finished copy.
To ice the cake, we will match #'s to those customers who have standing orders for our numbered and slipcased editions!
Obviously, supplies are extremely limited, so get your order in soon!
More from Jack Williamson
---
---
Jack Williamson
(April 29, 1908–November 10, 2006) John Stewart Williamson, who wrote as Jack Williamson (and occasionally under the pseudonym Will Stewart) was a U.S. writer often referred to as the "Dean of Science Fiction" Williamson was born April 29, 1908 in Bisbee, Arizona Territory, and spent his early childhood in western Texas. In search of better [...]
---
---
Now Shipping