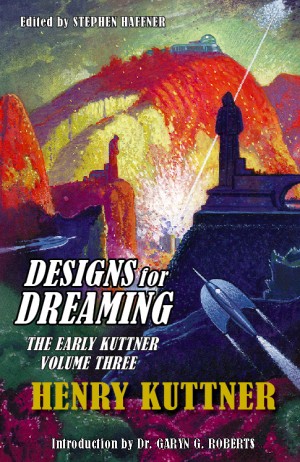 Designs for Dreaming: The Early Kuttner, Volume Three
Edited by Stephen Haffner
Introduction by Garyn G. Roberts, Ph.D.
Cover Art by Robert Gibson Jones

ISBN-13 978-1-893887-87-9

$45.00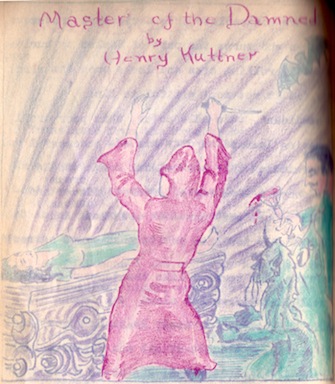 All preorders of DESIGNS FOR DREAMING will ship with an exclusive chapbook reprinting the long-lost 1938 terror-tale, MASTER OF THE DAMNED!
Before his marriage to (and subsequent collaborations with) Catherine L. Moore, Henry Kuttner was a frequent contributor to the pulp magazines that specialized in the weird, supernatural, horror, and science fiction genre. Beginning in 1936, Kuttner launched a steady stream of short stories aimed at Weird Tales, Strange Stories, Thrilling Mystery, and others.
Kuttner and Moore were married on June 7, 1940 in New York with artist Virgil Finlay as Best Man. With NYC as his base of operations, Kuttner interfaced on a frequent basis with the major local genre editors: Leo Margulies at Standard Magazines (Thrilling Mystery, Thrilling Wonder Stories, Strange Stories,), Alden H. Norton at Popular Publications (Astonishing Stories, Strange Detective Mysteries) and perhaps most importantly, John W. Campbell, Jr. at Street & Smith Publications (Unknown / Unknown Worlds). Campbell's Astounding Science Fiction will loom large in Kuttner's career for the next decade.
In DESIGNS FOR DREAMING (the third and final volume of "The Early Kuttner") Kuttner sells the last of his stories to the weird-menace pulps, places some SF stories with lesser markets (Stirring Science Stories and Fantastic Adventures), and delivers some of his finest fantasy work in Unknown Worlds. By the summer of 1942, Kuttner's Draft Status was reclassified as 1-A. By April 13, 1943, Pfc Henry Kuttner had orders to report to Fort Dix, New Jersey. The early phase of Kuttner's career was over.
Introduction by Garyn G. Roberts, Ph.D.
The Elixir of Invisibility (nv) Fantastic Adventures Oct '40
To Boatl and Back (ss) Strange Stories Oct '40
Reverse Atom (ss) Thrilling Wonder Stories Nov '40
Threshold (ss) Unknown Dec '40
Death Is My Daughter (ss) Strange Detective Mysteries Jan '41
Remember Tomorrow (nv) Thrilling Wonder Stories Jan '41
Wings of the Bat (ss) Thrilling Mystery Jan '41
Hunger After Dark (ss) Terror Tales Mar '41
Men Die Alone (ss) Thrilling Mystery Mar '41
The Land of Time to Come (na) Thrilling Wonder Stories Apr '41
The Touching-Point (ss) Stirring Science Stories Apr '41 (as by Edward J. Bellin)
Seven Keys to Doom (ss) Thrilling Mystery May '41
Tube to Nowhere (ss) Thrilling Wonder Stories Jun '41
Mind Over Murder (ss) Spicy Mystery Jul '41
A Skull Has No Ears (nv) Thrilling Mystery Jul '41
The Devil We Know (nv) Unknown Aug '41
The Blood Is the Life (ss) Thrilling Mystery Sep '41
The Tree of Life, (ss) Astonishing Stories Sep '41
A Gnome There Was (nv) Unknown Oct '41
Chameleon Man (nv) Weird Tales Nov '41
Design for Dreaming (nv) Unknown Feb '42
The Burning Corpse (nv) Thrilling Mystery Mar '42
Later Than You Think (ss) Fantastic Adventures Mar '42
Silent Eden (ss) Startling Stories Mar '42
More from Henry Kuttner