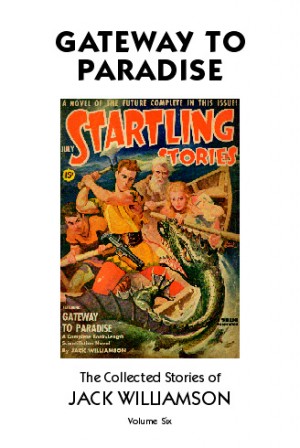 Gateway to Paradise, The Collected Stories of Jack Williamson, Volume Six – (1/75 Limited Edition)
Foreword by Frederik Pohl
Afterword by Jack Williamson
Cover Art by Rudolph Belarski

ISBN-13 9781893887282
592-page Hardcover
$125.00
The ambitious program to collect the short fiction of Grand Master Jack Williamson continues! Of the 10 tales in this collection drawn from classic pulp magazines—Unknown, Thrilling Wonder Stories, Super Science Stories, Marvel Stories, Comet, Argosy Weekly, Startling Stories, and the rare fanzine Stardust (three of which are full-length novels!)—nearly half have never been reprinted before.
Featured is the original novella-length version of "Darker Than You Think" and the magazine texts of "The Reign of Wizardry" and "Gateway to Paradise" (previously published as Dome Over America.) Also included is Williamson's afterword with his recollections on the genesis of these tales and the pre-World War II science fiction field.
Like previous volumes in this series, the full-color endpapers reproduce the original magazine covers (with artwork by pulp masters including Belarski, Cartier, Rogers, Bergey and Scott) of the stories herein, and the binding is designed to match the 1940s editions of Williamson's works published by Fantasy Press. The book is smythe-sewn, bound in full cloth, and printed on acid-neutral paper, with full-color endpapers reproducing the original pulp magazine cover art.
With a foreword by author, editor, collaborator, and long-time friend of Williamson (and fellow Science Fiction Grand Master), Frederik Pohl, Gateway to Paradise contains the sense of wonder from the early years of American Science Fiction and continues the documentation of Williamson's unparalleled career.
"Foreword" by Frederik Pohl
"The Reign of Wizardry" (Unknown, Mar, Apr, May '40)
"The Sun-Maker" (Thrilling Wonder Stories, Jun '40)
"The Crystal of Death" (Stardust, Aug '40)
"The Girl in the Bottle" (Super Science Stories, Sep '40)
"Racketeers in the Sky" (Argosy Weekly, Oct 12, 1940)
"Ashes of Iron" (Stardust, Nov '40)
"Darker Than You Think" (Unknown, Dec '40)
"The Star of Dreams" (Comet, Mar '41)
"The Iron God" (Marvel Stories, Apr '41)
"Gateway to Paradise" (Startling Stories, Jul '41)
"Afterword" by Jack Williamson
More from Jack Williamson
---
---
Jack Williamson
(April 29, 1908–November 10, 2006) John Stewart Williamson, who wrote as Jack Williamson (and occasionally under the pseudonym Will Stewart) was a U.S. writer often referred to as the "Dean of Science Fiction" Williamson was born April 29, 1908 in Bisbee, Arizona Territory, and spent his early childhood in western Texas. In search of better [...]
---
---
Now Shipping