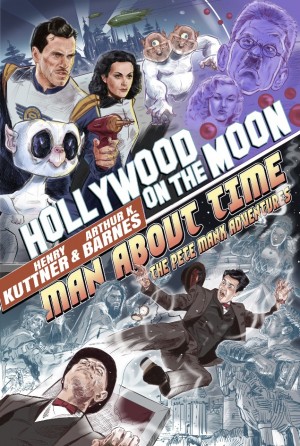 Hollywood on the Moon / Man About Time: The Pete Manx Adventures
Arthur K. Barnes & Henry Kuttner
Introduction by Mike Ashley
Cover Art by Lynton Parmar-Hemsley

ISBN-13 9781893887572
600+ pp. Hardcover
$50.00
Prior to his marriage to fellow science-fantasy writer Catherine L. Moore in 1940, Henry Kuttner wrote stories of Lovecraftian horror, weird-menace "shudder" tales, and thrilling adventure stories. But he also wrote blood-n-thunder Space Opera stories in the vein of Edmond Hamilton (one of young Kuttner's favorite authors) told with a rough-edge style similar to Kuttner's protege Leigh Brackett.
Arthur K. Barnes, an early friend of Kuttner, published his first story "Lord of the Lightning" for Wonder Stories in December 1931. His "Interplanetary Hunter" series featuring Miss Gerry Carlyle of the London Interplanetary Zoo was originally published in Thrilling Wonder Stories.
Together, Kuttner & Barnes collaborated (and in some cases, wrote independently) on two series of science fiction adventures for Thrilling Wonder Stories. The first, the "Hollywood on the Moon" series, featured ace cameraman Tony Quade of Nine Planets Films, Inc. and his crew skipping around the solar system (even teaming up with Gerry Carlyle a few times!) humorously encountering all manner of weird alien life.
The second series, dealt with the hilarious temporal romps of carnival barker, conman, and small-time crook Pete Manx. Pete is always on the run from some debt collector, or running to his lastest scam for an easy buck. Inevitably, Manx always ends up in the laboratory of Dr. Mayhem, whose unreliable time machine launches Pete into the past where he finds himself in hotter water than before.
This volume collects all the SF collaborations of these two punsters.
Introduction by ???
Hollywood on the Moon  (Thrilling Wonder Stories Apr '38)
Doom World  (Thrilling Wonder Stories Aug '38)
The Star Parade  (Thrilling Wonder Stories Dec '38)
The Energy Eaters  (Thrilling Wonder Stories Oct '39)
The Seven Sleepers  (Thrilling Wonder Stories May '40)
Trouble on Titan  (Thrilling Wonder Stories Feb '47)
Roman Holiday  (Thrilling Wonder Stories Aug '39)
World's Pharaoh  (Thrilling Wonder Stories Dec '39)
Science Is Golden  (Thrilling Wonder Stories Apr '40)
Knight Must Fall  (Thrilling Wonder Stories Jun '40)
The Comedy of Eras  (Thrilling Wonder Stories Sep '40)
Man About Time  (Thrilling Wonder Stories Oct '40)
The Greeks Had a War for It  (Thrilling Wonder Stories Jan '41)
Hercules Muscles in  (Thrilling Wonder Stories Feb '41)
Dames Is Poison  (Thrilling Wonder Stories Jun '42)
De Wolfe of Wall Street  (Thrilling Wonder Stories Feb '43)
Grief of Bagdad  (Thrilling Wonder Stories Jun '43)
Swing Your Lady  (Thrilling Wonder Stories Win '44)
More from Arthur K. Barnes
More from Henry Kuttner