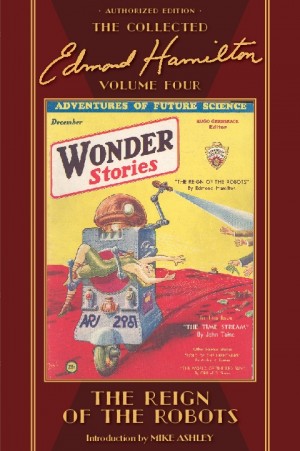 Reign of the Robots – Dinged copy
Edited by Stephen Haffner
Introduction by Mike Ashley
Cover Art by Frank R. Paul

ISBN-13 978-1-893887-65-7
600+ page hardcover
$30.00
A small quantity of wholesale returns that are slightly "dinged" but definitely cannot be sold as NEW. Act fast if you want a copy!
Following 2011′s THE UNIVERSE WRECKERS, THE COLLECTED EDMOND HAMILTON, VOLUME THREE, Haffner Press keeps pouring gasoline on the fire as we announce the next volume(s) of collected stories from one of the godfathers of Space Opera.
THE REIGN OF THE ROBOTS, THE COLLECTED EDMOND HAMILTON, VOLUME FOUR is certainly worth your coppers as herewith are contained no fewer than 10 unreprinted stories from WEIRD TALES and/or WONDER STORIES. Alongside these soon-to-be-presented wonders, you'll find some of Hamilton's classic works such as "The Man Who Evolved" and "A Conquest of Two Worlds"
Noted scholar and editor, Mike Ashley handles the introduction for this mighty tome.
As with previous volumes in this series, an appendix showcasing the original pulp magazine illustrations also bulks large with obscura including reader's letters from the vintage magazines commenting on these stories, along with editorial correspondence between Hamilton and his editors.
"The Man Who Saved Science Fiction" by Mike Ashley
"The Man Who Saw the Future"  (Amazing Stories, Oct '30)
"The Mind-Master"  (Weird Tales, Oct '30)
"The Horror City"  (Weird Tales, Feb/Mar '31)
"The Man Who Evolved"  (Wonder Stories, Apr '31)
"Monsters of Mars"  (Astounding Stories, Apr '31
"Ten Million Years Ahead"  (Weird Tales, Apr/May '31)
"The Earth-Owners"  (Weird Tales, Aug '31)
"The Sargasso of Space"  (Astounding Stories, Sep '31)
"The Shot From Saturn"  (Weird Tales, Oct '31)
"Creatures of the Comet"  (Weird Tales, Dec '31)
"The Reign of the Robots"  (Wonder Stories, Dec '31)
"Dead Legs"  (Strange Tales of Mystery and Terror, Jan '32)
"A Conquest of Two Worlds" (Wonder Stories, Feb '32)
"The Earth-Brain"  (Weird Tales, Apr '32)
"The Terror Planet"  (Weird Tales, May '32)
"Space-Rocket Murders"  (Amazing Stories, Oct '32)
"Vampire Village"  (Weird Tales, Nov '32)
"The Man Who Conquered Age"  (Weird Tales Dec '32)
Appendix
More from Edmond Hamilton
---
---
Edmond Hamilton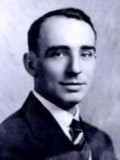 (October 21, 1904 – February 1, 1977) A popular author of science fiction stories and novels during the mid-twentieth century. Born in Youngstown, Ohio, he was raised there and in nearby New Castle, Pennsylvania. Something of a child prodigy, he graduated high school and started college (Westminster College, New Wilmington, Pennsylvania) at the age of 14–but [...]
---
---
Now Shipping