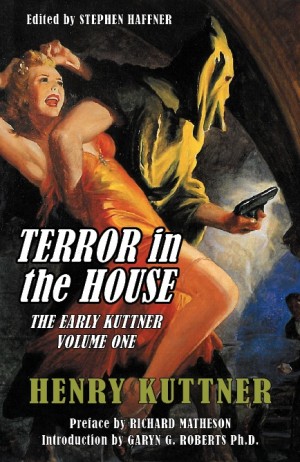 Terror in the House: The Early Kuttner, Volume One
Foreword by Richard Matheson
Introduction by Garyn G. Roberts, PhD
Cover Art by Harry V. Parkhurst

ISBN-13 9781893887466
712-page Hardcover
$40.00
Before his marriage to (and subsequent collaborations with) Catherine L. Moore, Henry Kuttner was a frequent contributor to the pulp magazines that specialized in the weird, supernatural, horror, and science fiction genre. Beginning in 1936, with the minor classic "The Graveyard Rats," Kuttner launched a steady stream of short stories aimed at Weird Tales, Mystery Tales, Thrilling Wonder Stories, and others.
Writing for Weird Tales brought Kuttner into direct correspondence with that magazine's premier contributor. H. P. Lovecraft. Kuttner set several stories in Lovecraft's "Cthulhu Mythos" and several are presented in TERROR IN THE HOUSE including: "The Secret of Kralitz," "The Eater of Souls," "The Salem Horror," The Jest of Droom-Avista," "The Frog," "The Invaders," and "The Bells of Horror."
Given the short lengths of Kuttner's stories, he had to be prolific and he contributed reams of copy to the weird-menace (a sub-genre of horror where a seemingly supernatural plot is resolved with a pedestrian ending) pulps, Thrilling Mystery and Spice Mystery.
It was his specialization for "spicy" or sexed-up stories that led Kuttner to write most (two stories and one novelette) of the first issue of Marvel Science Stories, arguably the first "spicy" science fiction pulp.
TERROR IN THE HOUSE is the first volume in a set collecting many of Kuttner's earliest stories, most of which have never been reprinted.
Preface by Richard Matheson
Introduction by Garyn G. Roberts, Ph.D.
The Graveyard Rats, Weird Tales, Mar '36
Bamboo Death, Thrilling Mystery, Jun '36
The Devil Rides, Thrilling Mystery, Sep '36
The Secret of Kralitz, Weird Tales, Oct '36
Power of the Snake, Thrilling Mystery, Nov '36
Coffins for Six, Thrilling Mystery, Dec '36
It Walks by Night, Weird Tales, Dec '36
Laughter of the Dead, Thrilling Mystery, Dec '36
The Eater of Souls, Weird Tales, Jan '37
Terror in the House, Thrilling Mystery, Jan '37
The Faceless Fiend, Thrilling Mystery, Jan '37
The Dweller in the Tomb, Thrilling Mystery, Feb '37
I, the Vampire, Weird Tales, Feb '37
Nightmare Woman, Thrilling Mystery, Mar '37
The Salem Horror, Weird Tales, May '37
My Brother, The Ghoul, Thrilling Mystery, Jun '37
I Am the Wolf, Thrilling Mystery, Jul '37
The Jest of Droom-Avista, Weird Tales, Aug '37
Four Frightful Men, Thrilling Mystery, Sep '37
When the Earth Lived, Thrilling Wonder Stories, Oct '37
Terror on the Stage, Thrilling Mystery, Sep '37
Lord of the Lions, Thrilling Mystery, Nov '37
The Bloodless Peril, Thrilling Wonder Stories, Dec '37
Invasion from the Fourth Dimension, Thrilling Mystery, Jan '38
Messer Orsini's Hands, Spicy Mystery, Jan '38
Worlds' End, Weird Tales, Feb '38
The Graveyard Curse, Spicy Mystery, Mar '38
The Unresting Dead, Thrilling Mystery, Mar '38
The Shadow on the Screen, Weird Tales, Mar '38
Hell's Archangel, Spicy Mystery, Apr '38
My Name Is Death, Spicy Mystery, May '38
Devil's Masquerade, Mystery Tales, Jun '38
The Dark Heritage, Marvel Science Stories, Aug '38
Dictator of the Americas, Marvel Science Stories, Aug '38
The Disinherited, Astounding Science Fiction, Aug '38
Hands Across the Void, Thrilling Wonder Stories, Dec '38
The Frog, Strange Stories, Feb '39
The Invaders, Strange Stories, Feb '39
The Bells of Horror, Strange Stories, Apr '39
Beyond Annihilation, Thrilling Wonder Stories, Apr '39
I've just finished reading this massive handsomely made collection of Henry Kuttner's early terror and dark suspense stories. As I've mentioned here many times, Kuttner is my favorite of all thirties and forties pulp writers and this book demonstrates why. Just about every single trope of the terror magazines can be found in these stories. Kuttner was part of a group including Robert Bloch who incorporated its idol H.P. Lovecraft's work into their own. A half dozen of these stories reflect that influence.
To me Kuttner was always at his best when he wrote dark. And these stories qualify as that. Plus they offer an interesting historical viewpoint of Depression America. Garyn G. Roberts writes a long and rich introduction.
But it is Richard Matheson's shorter piece that contains one of the funniest stories I've ever read. Seems that in the late forties The Fictioneers--the group of pulp writers that later became legend--got into some kind of argument with another group of writers. Bill Cox (William R. Cox) and Bill Gault (William Campbell Gault) decided to go punch it out with them. I knew both of them and that is certainly within the realm of possibility. Kuttner insisted on going along. They were skeptical.
Every photo I've ever seen of Kuttner shows him to have been a slim extremely well-dressed man. I get the impression he weighed very little and wasn't at all the fighting type. But nobody ever mentioned his attire until Matheson's piece. His first word is "Dapper." All this plays into the fact that he wouldn't take no for an answer. He insisted on going along for the fight. Did it ever come off? Was anybody hurt? How drunk were they when they arrived? The answers are lost to time. Or at least to fuzzy hangover memories. :)
This is a knock-out collection in every sense. And there is a second volume to come. Grab it now before it goes out of print.
—Ed Gorman, author of Stranglehold and Noir 13
Haffner Press has done it again! A couple months ago, they published Henry Kuttner and C. L. Moore's fabulous Detour to Otherness. Now, the Haffner Press has brought out the first installment of Henry Kuttner's out-of-print pulp stories. This massive 712 page tome collects his work from pulp magazines that specialized in the weird, supernatural, horror, and science fiction genres. TERROR IN THE HOUSE is the first volume in a set collecting Kuttner's earliest stories, most of which have never been reprinted. If you're a Henry Kuttner fan, this is a must-buy! If you haven't read any of Henry Kuttner's wonderful stories, TERROR IN THE HOUSE is the perfect place to start. I can't wait for Haffner Press to bring out the rest of these Kuttner volumes!
—George Kelley
More from Henry Kuttner