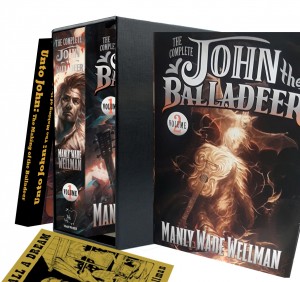 The Complete John the Balladeer – SIGNED Slipcased Edition
Edited by Stephen Haffner
Introduction by Stephen Jones, Pat LoBrutto
Afterword by Hedges Capers, Karl Edward Wagner
Cover Art by Raymond Swanland & Stephen Hickman
Illustrated by Tim Kirk

Two Hardcover Volumes, Slipcase, Two Exclusive Chapbooks
$500.00
Slipcased edition *SIGNED* by many contributors including a bona fide autograph of the author WITH the exclusive chapbook, UNTO JOHN: The Making of the Balladeer and the 32-page chapbook featuring the unpublished short story, "Not All a Dream"!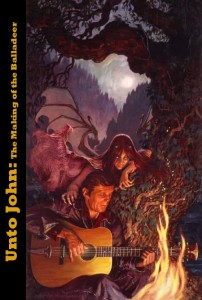 UNTO JOHN: The Making of the Balladeer — an exclusive chapbook featuring:
Cover by Stephen Hickman.
Three early "mountain" stories that precede the first "John" adventure and a fourth tale with John offstage:
•  "The Liers in Wait"
•  "Frogfather"
•  "Sin's Doorway"
•  "Arimetta"
and a selection of correspondence between Manly Wade Wellman and editors at the Magazine of Fantasy & Science Fiction who helped bring John the Balladeer into print, and August Derleth—editor/publisher of the first collection of "John" stories, Who Fears the Devil (Arkham House, 1963).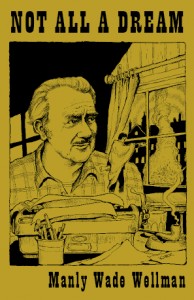 VOLUME ONE:
"Manly Wade Wellman: The Voice of the Mountains" by Stephen Jones
"O Ugly Bird!"
"The Desrick on Yandro"
"Vandy, Vandy"
"One Other"
"Call Me from the Valley"
"The Little Black Train"
"Shiver in the Pines"
"Walk Like a Mountain"
"On the Hills and Everywhere"
"Old Devlins Was A-Waiting"
"Nine Yards of Other Cloth"
"Then I Wasn't Alone"
"You Know the Tale of Hoph"
"Blue Monkey"
"The Stars Down There"
"Find the Place Yourself"
"I Can't Claim That"
"Who Else Could I Count On"
"John's My Name"
"Why They're Named That"
"None Wiser for the Trip"
"Nary Spell"
"Trill Coster's Burden"
"The Spring"
The Old Gods Waken (1979)
"Owls Hoot in the Daytime"
After Dark (1980)
Afterword by Hedges Capers

VOLUME TWO:
"They Say He Walks the Mountains Even Now" by Patrick J. LoBrutto
"Can These Bones Live?"
"Nobody Ever Goes There"
The Lost and the Lurking (1981)
The Hanging Stones (1982)
The Voice of the Mountain (1984)
"Where Did She Wander?"
"Interview: Manly Wade Wellman" by Karl Edward Wagner
UNTO JOHN: THE MAKING OF THE BALLADEER:
"The Liers in Wait"
"Frogfather"
"Sin's Doorway"
"Arimetta"
Correspondence between F&SF editors and August Derleth
NOT ALL A DREAM
First appearance of "Not All a Dream," an early 1970s story originally slated to appear in the never-published Last Dangerous Visions.
More from Manly Wade Wellman