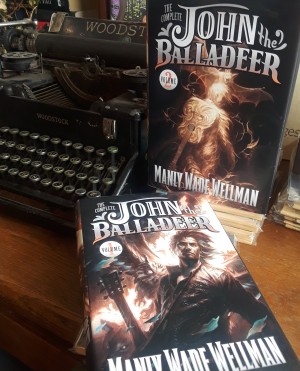 The Complete John the Balladeer
Edited by Stephen Haffner
Introduction by Stephen Jones, Pat LoBrutto
Afterword by Hedges Capers, Karl Edward Wagner
Cover Art by Raymond Swanland
Illustrated by Tim Kirk

ISBN-13 978-1-893887-95-4
Two Hardcover Volumes
$110.00
COMPLETE IN TWO VOLUMES!
Shipping with exclusive 32-page chapbook featuring the unpublished short story, "Not All a Dream"!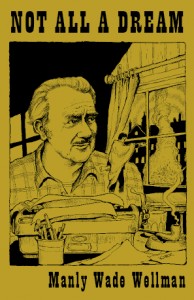 John, whose last name is never revealed, is a wandering singer who carries a guitar strung with strings of pure silver. He is a veteran of the Korean War and served in the U.S. Army as a sharpshooter (in the novel After Dark, he mentions that his highest rank was PFC). In his travels, he frequently encounters creatures and superstitions from the folk tales and superstitions of the mountain people. Though John has no formal education, he is self-taught, highly intelligent and widely read; it is implied that his knowledge of occult and folk legendarium is of Ph.D level. This knowledge has granted him competent use of white magic, which he has used on occasion to overcome enemies or obstacles, but it is primarily his courage, wit and essential goodness that always enables him to triumph over supernatural evils (although the silver strings of his guitar and his possession of a copy of The Long Lost Friend are also powerful tools in fighting evil magic), while basic Army training allows him to physically deal with human foes.
The stories are rich in the customs and lore of the region and many of the folk songs John sings are authentic as well. Wellman did introduce some original songs and legends but his creations blend seamlessly with the traditional material. Whereas Tolkien integrated Northern mythology into his mythos, and C.S. Lewis the European Fairy Tales of yore, Wellman's stories are drenched in the folktales and songs of old Americana; the haunting stories of the slaves and the tall tales of the Revolution, strange beasts, witch-women, and dark apparitions. As famed author Karl Edward Wagner wrote: "These stories are chilling and enchanting, magical and down-to-earth, full of wonder and humanity. They are fun. They are like nothing else you've read before."—Adapted from Wikipedia
VOLUME ONE:
"Manly Wade Wellman: The Voice of the Mountains" by Stephen Jones
"O Ugly Bird!"
"The Desrick on Yandro"
"Vandy, Vandy"
"One Other"
"Call Me from the Valley"
"The Little Black Train"
"Shiver in the Pines"
"Walk Like a Mountain"
"On the Hills and Everywhere"
"Old Devlins Was A-Waiting"
"Nine Yards of Other Cloth"
"Then I Wasn't Alone"
"You Know the Tale of Hoph"
"Blue Monkey"
"The Stars Down There"
"Find the Place Yourself"
"I Can't Claim That"
"Who Else Could I Count On"
"John's My Name"
"Why They're Named That"
"None Wiser for the Trip"
"Nary Spell"
"Trill Coster's Burden"
"The Spring"
The Old Gods Waken (1979)
"Owls Hoot in the Daytime"
After Dark (1980)
Afterword by Hedges Capers
VOLUME TWO:
"They Say He Walks the Mountains Even Now" by Patrick J. LoBrutto
"Can These Bones Live?"
"Nobody Ever Goes There"
The Lost and the Lurking (1981)
The Hanging Stones (1982)
The Voice of the Mountain (1984)
"Where Did She Wander?"
"Interview: Manly Wade Wellman" by Karl Edward Wagner
More from Manly Wade Wellman