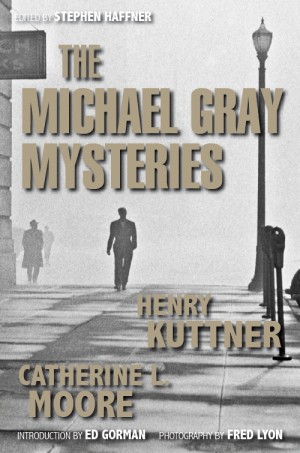 The Murder of Eleanor Pope
—Psychoanalyst Michael Gray leads police to a three-time killer!
Psychoanalyst Michael Gray first learned about the murder of Eleanor Pope from one of his patients.
"A real bitch," said Howard Dunne. "It used to make my blood boil the way she two-timed her husband with other men."
The cops called the murder un-premeditated. The reason: robbery. But as Gray learned more from Dunne he was haunted by the fear that police were wrong . . . that the killer would strike again!
While the cops hunted facts, Gray searched for motives. His search took him through the dangerous and uncharted paths of a twisted human mind. At first, he had no intention of catching the killer himself. After the second murder, he had to!
The Murder of Ann Avery
—Psychoanalyst solves brutal slaying!
A TOUGH KID - with a record of violence. The headlines screamed for a fast conviction.
THE LEADER of a vicious gang. What had he wanted from Ann Avery the night of her death?
A DOPE ADDICT - She looked too frail to kill anyone.
A HIGH LIVER - on a teacher's salary. Where did he get the big money?
A JEALOUS HUSBAND - Did he really love his wife?
A LUSH - Blackmail was her only chance for more whiskey.
A RELUCTANT WITNESS - Why did he hide a piece of explosive evidence which might clear another suspect?
These were the people Michael Gray set out to question about the murder of Ann Avery, knowing as he searched that one or more among them would also be killed!
Murder of a Mistress
—Psychoanalyst Michael Gray solves the killing of a girl who knew too much about too many men who had too damned much to lose.
Four People Confessed to the Same Murder! WHY?
Bevery Bond as the kind of girl men didn't tell their wives about. She was blond, beautiful and your friend—for a price.
Four people confessed to her murder. One of them was play-girl Eileen Herrick. The evidence pointed to her as the killer.
"I believe she is innocent," said psychoanalyst Michael Gray. "I know a lot about Eileen. She is my patient."
"Then which of the other three did it?" asked the police.
Gray answered without hesitation, "None of them is guilty. The killer is still at large!"
Murder of a Wife
—Marked for Murder! No one believed her—not even the police!
"My Husband is going to Kill me!"
Beautiful Karen Champion sobbed out her story to Michael Gray.
"Go to the police," said the famous analyst-detective.
"They'll think I'm lying, Help me, Mr. Gray," she pleaded. "I may be murdered in a few hours."
Michael Gray knew that Karen Champion was a pathological liar. But this time, perhaps she was honest. To find out the truth, Gray followed the clues to—
• A quack doctor who ran a temple of healing for gullible women
• A private dick who blackmailed a client once too often
• A corpse who had picked the wrong woman to love
• And a killer who found that one vicious murder was only the beginning.
"In Murder of a Mistress, one of Gray's patients is accused of murder. Gray doesn't believe she's guilty. Then three other people confess to the crime. The cops don't care because they already have the person they've convinced committed the murder. Gray agrees that none of the people who confessed is the killer. He thinks the killer is someone else entirely.
Then one of the people who confessed is murdered. Gray discovers that his client's sister was murdered months earlier, and there's an attempt on Gray's life. Gray uses psychology instead of police procedure to come up with the solution, as he does in all the books of the series.
While the psychology is dated now, the Michael Gray books are still fun to read. Kuttner was such a talented writer that he could do just about anything. As most of you know, I'm sure, his wife was C. L. Moore, and they often collaborated on their work. I'm not sure how much Moore had to do with this series, if anything."
—Bill Crider's Pop Culture Magazine
"Henry Kuttner, whose sudden death last spring, followed by that of C. M. Kornbluth, left two gaping holes in the ranks of our best science-fiction writers, wrote four unusually good paperback mysteries with a psychoanalyst at the detective. I've Ready only three of the four, and the last, "Murder of a Wife," (Permabooks No. M-4096; 35¢), is the best of them. The structure of plot, clues, undercover and covert crime, is in the tradition of the genre, but Michael Gray solves his crimes by first solving the personalities of the people involved. It's hard to understand why this top-notch series was not published in hardcovers."
—P. Schuyler Miller, Astounding Science-Fiction, September 1958
"Murder of a Wife. By HENRY KUTTNER. 182 pages. Paper. Permabooks. New York. 1958. Price 35 cents. This fourth murder mystery by the late Henry Kuttner (pseudonym) is something of an improvement over the three: previous ones. He manages to make his psychoanalyst and the matter of psychotherapy plausible and accurate. The story is readable."
—Psychiatric Quarterly (Vol. 32, No. 2, p. 426), June 1958.
More from Catherine L. Moore
More from Henry Kuttner