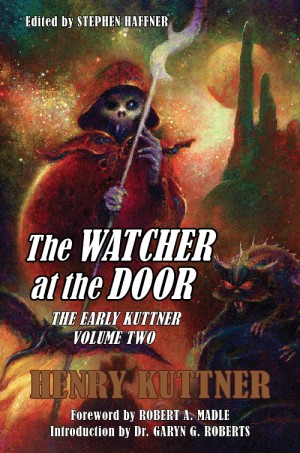 The Watcher at the Door: The Early Kuttner, Volume Two
Edited by Stephen Haffner
Foreword by Robert A. Madle
Introduction by Dr. Garyn G. Roberts
Cover Art by Jon Arfstrom

ISBN-10 1893887820
ISBN-13 9781893887824
700+ pp. Hardcover
$45.00
Before his marriage to (and subsequent collaborations with) Catherine L. Moore, Henry Kuttner was a frequent contributor to the pulp magazines that specialized in the weird, supernatural, horror, and science fiction genre. Beginning in 1936, with the minor classic "The Graveyard Rats," Kuttner launched a steady stream of short stories aimed at Weird Tales, Strange Stories, Thrilling Mystery, and others.
Writing for Weird Tales brought Kuttner into direct correspondence with that magazine's premier contributor. H. P. Lovecraft. Kuttner set several stories in Lovecraft's "Cthulhu Mythos" and two are presented in THE WATCHER AT THE DOOR: "Hydra" and "The Hunt."
At this point in his still-young career, Kuttner had cracked the science fiction market and was steadily publishing in Thrilling Wonder Stories, Fantastic Adventures, Science Fiction, and made his first sale to the new prestigious fantasy magazine, Unknown.
In the course of writing the stories collected in this volume, Kuttner married Catherine Lucille Moore on June 7, 1940 (in New York with artist Virgil Finlay as Best Man).
THE WATCHER AT THE DOOR is the second volume in a three-volume "Early Kuttner" set collecting many of Kuttner's earliest stories, most of which have never been reprinted.
Foreword by Robert A. Madle
Introduction by Garyn G. Roberts, Ph.D.
We Are the Dead, Weird Tales, Apr '37
The Case of Herbert Thorp, Weird Tales, Nov '37
The Transgressor, Weird Tales, Feb '39
Hydra, Weird Tales, Apr '39
Murder for Fun, Thrilling Mystery, May '39
The Watcher at the Door, Weird Tales, May '39
The Hunt, Strange Stories, Jun '39
"Telepathy Is News!", Science Fiction, Jun '39
Death Is Where You Find It, Thrilling Mystery, Jul '39
The Curse of the Crocodile, Strange Stories, Aug '39
The Misguided Halo, Unknown, Aug '39
The Devil's Brood, Thrilling Mystery, Sep '39
Corpse Castle, Thrilling Mystery, Nov '39
Towers of Death, Weird Tales, Nov '39
Suicide Squad, Thrilling Wonder Stories, Dec '39
Death Has Three Sisters, Thrilling Mystery, Jan '40
When New York Vanished, Startling Stories, Mar '40
All Is Illusion, Unknown, Apr '40
Beauty and the Beast, Thrilling Wonder Stories, Apr '40
Pegasus, Famous Fantastic Mysteries, May '40
50 Miles Down, Fantastic Adventures, May '40
Improbability, Astonishing Stories, Jun '40
The Room of Souls, Strange Stories, Jun '40
The Mad Virus, Science Fiction, Jun '40
Dr. Cyclops, Thrilling Wonder Stories, Jun '40
Time to Kill, Strange Stories, Jun '40
No Man's World, Thrilling Wonder Stories, Aug '40
The Seal of Sin, Strange Stories, Aug '40
World Without Air, Fantastic Adventures, Aug '40
The Uncanny Power of Edwin Cobalt, Fantastic Adventures, October '40
More from Henry Kuttner