Recent Posts
---
Archives
---
Quick Links
---
News & Events
---
---
---
---
| | |
| --- | --- |
| In This Issue: | March 28, 2018  |
HALO FOR HIRE
THE COMPLETE PAUL PINE MYSTERIES
starts shipping April 1st (no foolin'!)
---
   We are (mostly) recovered from exhibiting at the March 18th Los Angeles Vintage Paperback Collectors Show in Glendale, CA. We were able to get a few cartons of HALO FOR HIRE: THE COMPLETE PAUL PINE MYSTERIES from the bindery to the show and the gentle folks below were kind enough to autograph copies purchased at the Haffner Press exhibit: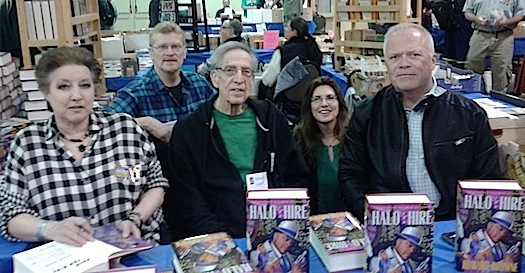 Laurel Blechman (cover artist), Stephen Haffner (editor), Richard A. Lupoff (introduction), Melissa Flagstad (afterword & Howard Browne's daughter), Trond Flagstad (the face of the face of Paul Pine)
   We are still acquiring and staging the balance of the inventory of HALO FOR HIRE — it's a 1000-copy run and over 900 pages! — so we are holding the $50 pre-publication price until April 15th. Meanwhile, visit our Flickr page for more pics from the show.
---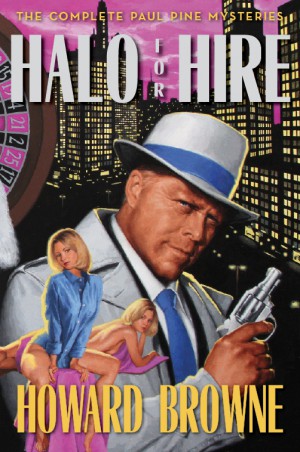 HALO FOR HIRE:
THE COMPLETE PAUL PINE MYSTERIES

Howard Browne
Introduction by Richard A. Lupoff
Afterword by Melissa Flagstad
Cover
by Laurel Blechman
$60
928
-page
Smythe-sewn Hardcover

PRE-APRIL 15thORDER PRICE:
$50
Conten
ts:
Halo in Blood
Halo for Satan
Halo in Brass
"So Dark for April"
The Taste of Ashes
"The Paper Gun"
---
Paul Pine and the Shelter Cats
No, it's not the name of a cover-band — it's how yer humble Poobah spends a bit of time chillaxin' at the Catfé Lounge tinkering on your future wares. The Catfé Lounge is part of the Ferndale Cat Shelter and all these beauties are adoptable! With hardly any coaxing at all (ahem!), we had a few of our favorite kittehs pose with the new HALO FOR HIRE book:

(l to r) Ascot, Jinxy, Shepard, Stormy, Artemis
---
What's Inside Your HALO?
  As seen in a photo above, we have striven to pay homage to the design aesthetics of the first editions of the Paul Pine novels. The foil-stamp for the front board of the 1946 hardcover of HALO IN BLOOD is echoed in the omnibus HALO FOR HIRE and the title page for each novel

i

s

st

olen

takes inspiration from the Bobbs-Merrill first editions.

---
Are You Looking for a New Friend?
  While most of you who receive this e-newsletter aren't local to the Ferndale Cat Shelter, we encourage you to take a "mew-ment" to visit your local pet-adoption center and make a new friend. Meanwhile, we want to thank the special felines who modeled for this newsletter: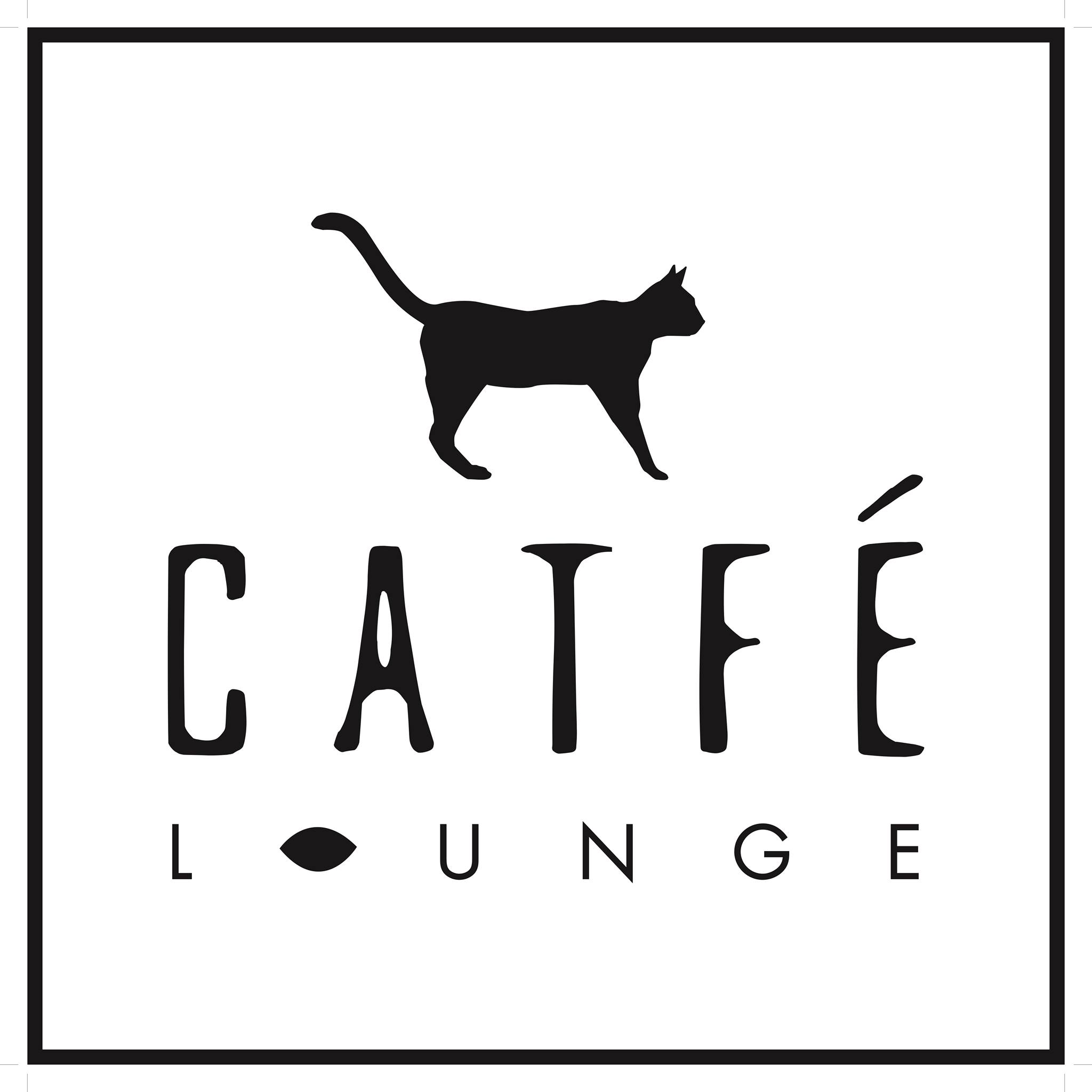 Ascot – Waiting to meet you!
Jinxy –

ADOPTED!


Shepard –

PENDING!


Stormy –
ADOPTED!


Artemis –
"I'm a new kitty and I'll be available soon!"
That's it for now. To ensure that you continue to receive this newsletter, be sure to add haffnerpress@sbcglobal.net and info@haffnerpress.com to your email reader's "safe list." And, remember, shipping is FREE in the continental United States. Alaska, Hawaii and International orders should email us at info@haffnerpress.com for shipping rate quotes. You have been warned!
You're receiving this message because you requested to be notified of events at Haffner Press, or have done business with Haffner Press in the past. If you do not wish to receive these messages in the future click unsubscribe and request to have your name removed.
.
Copyright © 2018 HAFFNER PRESS
---
 In This Issue:

March 14, 2018

    •  2018 Jack Williamson Lectureship


    •  Jack Williamson on Video & Audio

    •  Once-in-a-Lifetime Offer on
Jack Williamson Titles


---
The 42nd Annual Jack Williamson Lectureship will take place Friday, April 6, 2018 with Guest of Honor S.M. Stirling along with other writers, friends and fans from across the region. Stirling is the author of several series set in his popular "Emberverse" as well as the Lords of Creation series, the Shadowspawn series, and a number of alternate history novels. His latest Emberverse book, The Sea Peoples, was released in October 2017. Black Chamber, the first book in a new alternate history series, will be out in July 2018. Stirling currently lives in New Mexico; his interests include history, anthropology, archaeology and martial arts. Learn more about him at www.smstirling.com.

The complete schedule of events will be posted soon. All events are open to the public and everything except the luncheon is free. The luncheon costs $10, payable at the door, but reservations are required by April 2. Contact planning.analysis@enmu.edu for lunch reservations.
---
Jack Williamson on Video & Audio
  Meanwhile, here are two videos we hope you'll find VERY entertaining. The first is REPORT FROM SANTA FE from 2016 featuring ENMU's Dr. Patrice Caldwell and authors Daniel Abraham and Victor Milan. The second video is an audio recording from Baycon, the 26th WorldCon, in Oakland, California in 1968. This "Lovecraft and Pulp Fiction" panel (with accompanying photos) features Fritz Leiber, Robert Bloch, Edmond Hamilton, Emil Petaja, E. Hoffman Price, and Jack Williamson sharing what it was like to write for the pulps. The panel is moderated by Baycon co-chair Alva Rogers. Courtesy of the Pacifica Radio Archives. If you enjoy this, please subscribe to the FANAC Youtube channel. 
---

Once-in-a-Lifetime Special
Offer on Jack Williamson Titles


  

We just published a 900+ page book (HALO FOR HIRE: THE COMPLETE PAUL PINE MYSTERIES by Howard Browne) and we need to clear out some storage space here at the Secret Moon Base. As next month brings the 42nd Annual Jack Williamson Lectureship, we're going to offer the following FOUR Jack Williamson books at a special combo price! Buy them for yourself, buy them for a friend. This is a Once-in-a-Lifetime chance to score nearly 2000 pages of Grandmaster-quality texts, including 8 (count 'em, EIGHT!) never before published stories not available anywhere else.

At retail, these 4 titles combined would cost $124.00. But for the moment, you can get all four books for

$89.00 USD with FREE SHIPPING via Media Mail in the USA. (Int'l customers please contact us for a shipping rate.) You save $35 if you get in on this offer right meow!. And these are not dinged-copies, these are minty-fresh shrinkwrapped hardcovers (for SEVENTY-FIVE and WORLDS) and autographed trade paperbacks (IN MEMORY… and THIRTY-FIVE YEARS…). Click to order.

---

However, if you only need to add certain volumes to your library, copies may be ordered individually below:

Seventy-Five:
The Diamond Anniversary
of a Science Fiction Pioneer

The Worlds of Jack Williamson:
A Centennial Tribute
(1908-2008)

In Memory of Wonder's Child

35 Years of the Williamson Lectureship

---
---
---
---
---
---
April 19, 2017
FREDRIC BROWN MYSTERY LIBRAR

Y




THE COUNTDOWN HAS BEGUN
Attention Mr. & Mrs. America and all the ships at sea:
   We just received word from the bindery that BOTH Volume One and Volume Two of the FREDRIC BROWN MYSTERY LIBRARY are complete and ready for delivery!!!  Woo-hoo!
   The plan is to place the Secret Moon Base in the care of Agent Randall and Woola (our Attack Tuxedo Calot), when we depart for this weekend's Windy City Pulp and Paper Show in Chicago.  We'll make a Cochrane-breaking maneuver and stop at the bindery to pick up as much inventory as the SUV Comet can carry and then on to Chicago.
   There, we'll unveil MURDER DRAWS A CROWD and DEATH IN THE DARK. If you preordered and will be at the show, you can pick up your copies at the Haffner Press display.
   Once we return from Chicago, we'll pick up the remainder of the print-run from the bindery and start inventory-staging. As many of you know, these books were first announced waaaaaay back in Fall 2011. It's been a long-time pulling all the materials together (truly a global effort!) and we probably hit every bump imaginable in getting from 2011 to 2017.
   That said, we hope you really, really enjoy these books. For readers of vintage detective/mystery fiction, these collections are a goldmine. To Fredric Brown collectors–old and new–these volumes should reward your patience and dedication. At 744 pages each, there isn't too much more we could squeeze between the covers. Let us know what you think (there may even be prizes!).

So, you know the drill: Order from the links below and if you buy both books before we stage the inventory back at the Secret Moon Base, you'll receive the exclusive "V.O.N. Munchdriller" bookmark. *Oh. Squee.*

   One more thing before we sign-off: If you preordered either (or both!) of these titles since 2011 and your address has changed, please let us know ASAP!!! We try to keep our mailing database current, but we only know where you are if you tell us!!
   That's it, fellow-astrogators. Stand back while we fire up the rocket-tubes in the ol' Comet. Next stop: Chicago!
---
---
---
Now Available!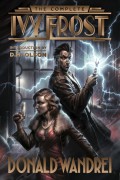 $50.00
---
---
Featured Items
---