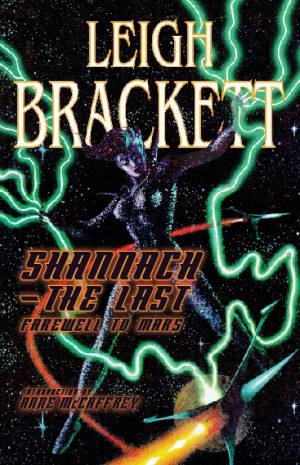 Shannach – The Last: Farewell to Mars
Introduction by Anne McCaffrey
Illustrated by Ed Emshwiller, Frank Kelly Freas

ISBN-13 9781893887442
584 pp. Hardcover
$40.00
Picking up where Lorelei of the Red Mist: Planetary Romances left off, this volume collects the final 17 stories of strange adventures on other worlds from the undisputed "Queen of Space Opera."  Drawn from the last years of pulp magazines such as Planet Stories, Startling Stories, and digests magazines like Venture Science Fiction, Shannach – The Last: Farewell to Mars sees Brackett at the peak of her talents.  Oddly, it is at this point where she abandons the "planetary romance" sub-genre and embarks on a small string of stories tinged with social relevance. This departure didn't stop editors asking for some of "that old Brackett magic" and she offered up two latter day tales ("The Road to Sinharat" and "Purple Priestess of the Mad Moon") before returning to chronicle further adventures of Eric John Stark in her final "Skaith" novels. Closing out the collection is a trio of tales written on commission from the "king of anthologies," Roger Elwood.
Grand Master Anne McCaffrey is writing the introduction.
The book proudly displays Frank Kelly Freas' vintage cover art with endpapers by Ed Emshwiller from the original  pulp magazines.
In a review of Lorelei of the Red Mist: Planetary Romances Paul di Filippo says "[Brackett's work] is replete with hard-bitten protagonists with wounded psyches, females both nurturing and malevolent, weird alien life forms, strange planetary environments, danger, treachery, camaraderie and even spiritual epiphanies. In short, this book holds the essence of SF—at least, the essence of one very important school of it."
Yeah, that's the stuff!
"Introduction" by Anne McCaffrey
The Truants  (Startling Stories, Jul '50)
The Citadel of Lost Ages  (Startling Stories, Dec '50)
The Woman from Altair  (Startling Stories, Jul '51)
The Shadows  (Startling Stories, Feb '52)
The Last Days of Shandakor  (Startling Stories, Apr '52)
Shannach—the Last  (Planet Stories, Nov '52)
Mars Minus Bisha  (Planet Stories, Jan '54)
Runaway  (Startling Stories, Spr '54)
The Tweener  (The Magazine of Fantasy and Science Fiction, Feb '55)
Last Call from Sector 9G (Planet Stories, Sum '55)
The Queer Ones  (Venture, Mar '57)
All the Colors of the Rainbow  (Venture, Nov '57)
The Road to Sinharat  (Amazing Stories, May '63)
Purple Priestess of the Mad Moon (ss) F&SF Oct '64)
Come Sing the Moons of Moravenn (The Other Side of Tomorrow, ed. Roger Elwood, 1973)
How Bright the Stars (Flame Tree Planet, ed. Roger Elwood, 1973)
Mommies and Daddies  (Crisis, ed. Roger Elwood, 1974)
"Science Fiction Writing" an interview with Leigh Brackett
More from Leigh Brackett
---
---
Leigh Brackett
(December 7, 1915 – March 18, 1978) A writer of science fiction, mystery novels and — best known to the general public — Hollywood screenplays, most notably The Big Sleep (1945), Rio Bravo (1959), The Long Goodbye (1973) and the first draft of The Empire Strikes Back (1980). Brackett's first published science fiction story was "Martian Quest", which appeared [...]
---
---
Now Shipping