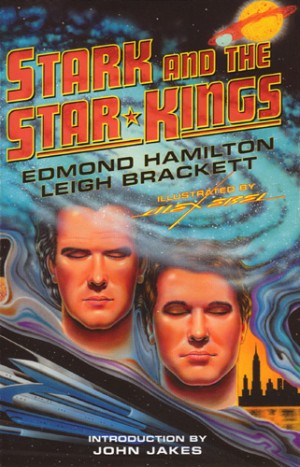 Stark and the Star Kings – (1/100 Limited Edition)
Edmond Hamilton & Leigh Brackett
Introduction by John Jakes
Illustrated by Alex Ebel

ISBN-10 1893887170
ISBN-13 9781893887176
648 pp. Hardcover
$150.00
SPECIAL CONTENTS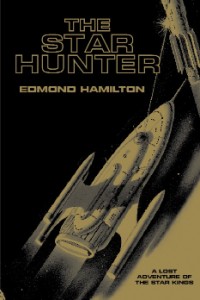 1/100 copies
Signed by John Jakes & Alex Ebel
The Star Hunter, a chapbook available only with this edition
Matching stamped ICG Holliston Cialux Midnight Blue cloth slipcase
Limited to 100 copies, this special edition of Stark and the Star Kings is signed by the author of the introduction John Jakes, and artist Alex Ebel, on a specially illustrated limitation sheet and housed in a *stamped* matching ICG Holliston Cialux Midnight Blue cloth-covered slipcase.
This edition is also an extra special treat for fans of Hamilton's "Star King's" stories! The September 1958 issue of SPACE TRAVEL (formerly known as IMAGINATIVE TALES) featured a story by Ed Hamilton, "The Star Hunter." While not involving any of the characters from Hamilton's THE STAR KINGS or RETURN TO THE STARS, "The Star Hunter" is blatantly set in the same universe of the "Star Kings."
THE STAR KINGS
200,000 years from now the universe is divided into stellar kingdoms. John Gordon is torn from his 20th Century humdrum into otherworldly intrigue as he exchanges bodies with Prince Zarth Arn, heir to the Kingdom of Fomalhaut. Shorr Kan, Lord of the Dark Worlds, schemes to kill Zarth Arn and overthrow the alliance of the Star Kings. Gordon reluctantly assumes the role of Zarth Arn to prevent Shorr Kan from throwing the entire universe into interstellar anarchy!
ERIC JOHN STARK
Forged in the hellish heat of Mercury and tempered on the desert sands of Mars, Eric John Stark battles the forces of evil and tyranny, selling his sword-arm to defend the cause of justice among worlds of sin and decay.
STARK AND THE STAR KINGS
In their only formal collaboration, Hamilton's Star Kings and Brackett's Eric John Stark meet to confront a peril of unending doom. Can Stark persuade the Star Kings to put aside their political games long enough to defeat this threat to the whole universe? For the first time, admirers of both authors can enjoy this long-coming story.
The Star Kings (Amazing Stories, Sep '47; revised book edition, Frederik Fell 1949)
"Queen of the Martian Catacombs" (Planet Stories, Sum, '49)
"Enchantress of Venus" (Planet Stories, Fall '49)
"Black Amazon of Mars" (Planet Stories, Mar '51)
Return to the Stars (fix-up of four novelettes: "Kingdoms of the Stars," Amazing Stories, Sep '64; "The Shores of Infinity," Amazing Stories, Apr '65; "The Broken Stars," Fantastic, Dec '68; "The Horror from the Magellanic," Amazing Stories, May '69; revised book edition, Lancer 1969)
"Stark and the Star Kings" (first publication)
"(on The Star Kings) "Fantasy fans won't regret the price of admission."
—The New York Times
". . . heady, action-packed tales that should never have gone out of print. The star-spinning allure of Hamilton, the against-all-odds underdog triumphs of Brackett both are utterly bewitching, the roots of such later phenomena as Star Wars."
—Paul di Filippo, Washington Post BookWorld
" A 'must-have' omnibus collection especially recommended for golden age science fiction fans."
—Midwest Book Review
"There's only one Leigh Brackett, and there's only one Eric John Stark, both stand along in their field!"
—Ray Bradbury, author of Fahrenheit 451 and Forever Summer
"Hamilton and Brackett's type of 1940s/1950s space adventures blazed the trail for Star Trek, Star Wars, and numerous books and films that define the genre for legions of fans. A tad pricey, but beautifully done; a labor of love for the publisher. Classic sf fans will be hot for this one.
—Michael Rogers, Library Journal
"Stark and the Star Kings is a truly gorgeous book . . . I knew the three Leigh Brackett novellas previously, but it is wonderful to have them in so permanent and esthetically satisfying a form. The Star Kings I had never read, and I must say that I enjoyed it thoroughly."
—Thomas F. Bertonneau Ph.D., author of The Truth is Out There
"Haffner has turned out some very useful retrospective collections in the past few years, to which list this new title is a very welcome addition. Hamilton and Brackett were married but, insofar as I had known, never collaborated on any of their fiction. It appears that they did so in at least one case, a crossover story which I believe appears here for the very first time. Hamilton wrote primarily space opera on a grand scale, and the Star Kings series is perhaps his best known, although personally I think it inferior to many of his other novels. Leigh Brackett produced a variety of excellent stories and novels, but is perhaps best remembered for Eric John Stark and his adventures in the now improbable towns on a wild western colonial Mars. Brackett wrote two series of Stark novels, of which this is the earlier, three short novels two of which appeared from Ace books under different titles and now appear here as they were known in the magazines. Some nice interior illustrations and an introduction by John Jakes complete this very attractive and very welcome package."
—Don D'Ammassa
"A very handsome book. I love the jacket and the illustrations. Leigh and Ed would be proud!"
—Jack Williamson, author of Darker Than You Think and The Stonehenge Gate
". . . an extremly handsome oversized collection . . . You've got two novels here by Hamilton, three long stories from Brackett and one collaboration. You've got a beautifully made book and knockout covers. If you have any fondness for the old pulp days, this is the collection for you."
—Ed Gorman, author of Fast Track and Fools Rush In
". . . good old-fashioned outer-space slam-bang action. A lot of fun . . . (a) major collectible . . . a very beautifully, lovingly produced book . . . lavishly illustrated volume . . . you'd think it was 1943 and you were picking up Startling Stories . . . if that's your kind of thing—you will love this book."
—Richard A. Lupoff, KFPA Cover to Cover
". . . there's enough high-quality reprinted material in Stark and the Star Kings to make it a desireable purchase."
—Nick Gevers, Locus
More from Edmond Hamilton
More from Leigh Brackett
---
---
Edmond Hamilton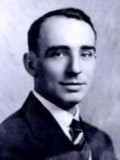 (October 21, 1904 – February 1, 1977) A popular author of science fiction stories and novels during the mid-twentieth century. Born in Youngstown, Ohio, he was raised there and in nearby New Castle, Pennsylvania. Something of a child prodigy, he graduated high school and started college (Westminster College, New Wilmington, Pennsylvania) at the age of 14–but [...]
---
---
Leigh Brackett
(December 7, 1915 – March 18, 1978) A writer of science fiction, mystery novels and — best known to the general public — Hollywood screenplays, most notably The Big Sleep (1945), Rio Bravo (1959), The Long Goodbye (1973) and the first draft of The Empire Strikes Back (1980). Brackett's first published science fiction story was "Martian Quest", which appeared [...]
---
---
Now Shipping