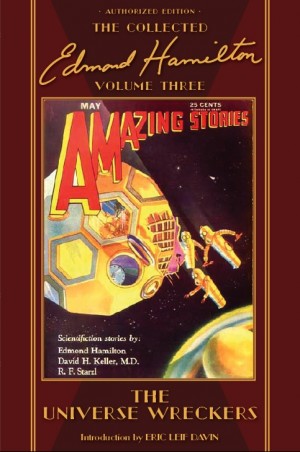 The Universe Wreckers, The Collected Edmond Hamilton, Volume Three
Introduction by Eric Leif Davin
Cover Art by Leo Morey
Illustrated by C.C. Senf, Frank R. Paul, H.W. "Wesso" Wessolowski, Hugh Rankin, John Fleming Gould, Leo Morey

ISBN-13 9781893887411
784 pp. Hardcover
$40.00
Less than a year after the release of first two volumes of THE COLLECTED EDMOND HAMILTON (Vol. One: The Metal Giants and Others and Vol. Two: The Star Stealers: The Complete Tales of the Interstellar Patrol) Haffner Press lets no grass grow under our feet as we announce the next volume of collected stories from one of the godfathers of Space Opera.
This volume sees Hamilton established not only as a regular contributor to Weird Tales, but also to Amazing Stories, Hugo Gernback's new magazine Air Wonder Stories, and the young upstart publication, Astounding Stories. Eight of these stories are reprinted for the first time, including two novels: "Cities in the Air" and "The Universe Wreckers."
Hamilton's as-yet-unrecognized talent for the short horror story gets a work-out with "The Plant Revol," "Pigmy Island," and "The Life-Masters."
As with previous volumes in this series, an appendix showcasing the original pulp magazine illustrations also bulks large with obscura including reader's letters from the vintage magazines commenting on these stories, along with editorial correspondence between Hamilton and his editors.
University of Pittsburgh professor Dr. Eric Leif Davin (and author of Pioneers of Wonder: Conversations with the Founders of Science Fiction and Partners in Wonder: Women and the Birth of Science Fiction, 1926-1965) provides a lengthy introduction placing these Hamilton stories in historical context and shares a wealth of information on the editorial policies of the commissioning editors. His website is: http://ericleifdavin.vpweb.com/
ntroduction by Eric Leif Davin
"Cities in the Air"  (Air Wonder Stories, Nov, Dec '29) 
"The Life-Masters"  (Weird Tales, Jan '30) 
"The Space Visitors"  (Air Wonder Stories, Mar '30) 
"Evans of the Earth Guard"  (Air Wonder Stories, Apr '30) 
"The Plant Revolt"  (Weird Tales, Apr '30) 
"The Universe Wreckers"  (Amazing Stories, May, Jun, Jul '30)
"The Death Lord"  (Weird Tales, Jul '30) 
"Pigmy Island"  (Weird Tales, Aug '30) 
"Second Satellite"  (Astounding Stories, Aug '30)
"World Atavism"  (Amazing Stories, Aug '30)

Appendix
• Original Pulp Illustrations
• Readers' Letters from Original Magazines
• Correspondence between Hamilton and the SF Luminaries of the Day
More from Edmond Hamilton
---
---
Edmond Hamilton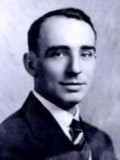 (October 21, 1904 – February 1, 1977) A popular author of science fiction stories and novels during the mid-twentieth century. Born in Youngstown, Ohio, he was raised there and in nearby New Castle, Pennsylvania. Something of a child prodigy, he graduated high school and started college (Westminster College, New Wilmington, Pennsylvania) at the age of 14–but [...]
---
---
Now Shipping