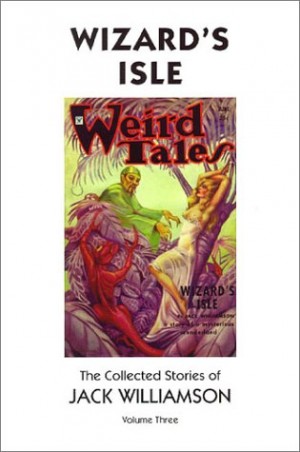 Wizard's Isle – Dinged Copy
Foreword by Ray Bradbury
Cover Art by Margaret Brundage

ISBN-13 9781893887084
560 pp. Hardcover
$35
A small quantity of wholesale returns that are slightly "dinged" but definitely cannot be sold as NEW. Act fast if you want a copy!
This third volume continues the publishing program to collect the stories of Science Fiction Grand Master Jack Williamson.
Drawn from such classic pulp magazines as Astounding Stories, Weird Tales, Wonder Stories, Amazing Stories, and Thrilling Mystery, this volume features sixteen tales (including a novel-length adventure, "Xandulu"), seven of which have never been published in book form.
The book is smythe-sewn, bound in full cloth, and printed on acid-neutral paper, with full-color endpapers reproducing the original pulp magazine cover art.
With a foreword by author, and long-time friend of Williamson, Ray Bradbury, Wizard's Isle contains the sense of wonder from the early years of American Science Fiction and continues the documentation of Williamson's unparalleled career.
"Jack Williamson, Friend!"  by Ray Bradbury
"The Electron Flame"  (Wonder Stories Quarterly Fll '32)
"The Wand of Doom"  (Weird Tales Oct '32)
"In the Scarlet Star"  (Amazing Stories Mar '33)
"Salvage in Space"  (Astounding Stories Mar '33)
" 'We Ain't Beggars' "  (New Mexico Quarterly Review Aug '33)
"The Plutonian Terror"  (Weird Tales Oct '33)
"Dead Star Station"  (Astounding Stories Nov '33)
"Terror Out of Time"  (Astounding Stories Dec '33)
"The Flame from Mar"s  (Astounding Stories Jan '34)
"Invaders of the Ice World"  (Weird Tales Jan '34)
"Born of the Sun"  (Astounding Stories Mar '34)
"Xandulu"  (Wonder Stories Mar '34, Apr '34, May 34)
"Wizard's Isle  (Weird Tales Jun '34)
"The Galactic Circle"  (Astounding Stories Aug '35)
"Islands of the Sun"  (Astounding Stories Sep '35 & Oct '35)
"Grey Arms of Death"  (Thrilling Mystery Dec '35)
Afterword by Jack Williamson
Appendix
"Cigarette Characterizations"  (w/R.F. Starzl, Donald Wandrei, Frank Belknap Long, P. Schuyler Miller, Jack Williamson & Arthur J. Burks)  (Fantasy Magazine Jul '34)
"Preface from 'Invaders of the Ice World' " (unpublished)
More from Jack Williamson
---
---
Jack Williamson
(April 29, 1908–November 10, 2006) John Stewart Williamson, who wrote as Jack Williamson (and occasionally under the pseudonym Will Stewart) was a U.S. writer often referred to as the "Dean of Science Fiction" Williamson was born April 29, 1908 in Bisbee, Arizona Territory, and spent his early childhood in western Texas. In search of better [...]
---
---
Now Shipping