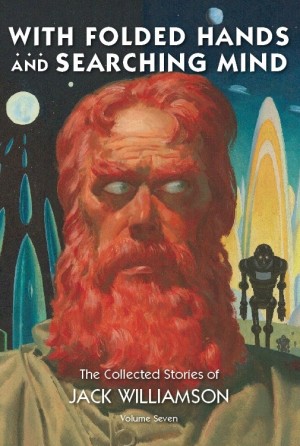 With Folded Hands . . . And Searching Mind, The Collected Stories of Jack Williamson, Volume Seven – (1/75 Limited Editon)
Cover Art by Hubert Rogers

ISBN-13 9781893887381
584-page Hardcover
$150.00
The ambitious program to collect the short fiction of Grand Master Jack Williamson continues! The 15 tales in this penultimate volume cover Williamson's entry into the US Army in 1942 through to his very successful effort to integrate into the post-WWII science fiction market.
Featured is the 1948 3-part serial ". . . And Searching Mind," which Williamson re-wrote into his most famous work, The Humanoids. Other classics in this volume include the first "Humanoids" story, "With Folded Hands . . ."; "Breakdown," set in the same universe as his novel co-authored with James Gunn, Star Bridge; and his much-reprinted classic, "The Equalizer." Appearing in either book-form or hardcover for the first time are "Cold Front Coming," "Hocus-Pocus Universe," "The Hitch-Hiker's Package," and "You Can't Beat a Marine." Also included is Williamson's afterword with his recollections on the genesis of these tales and the World War II-era science fiction field.
As with previous volumes in this series, the full-color endpapers reproduce the original magazine covers (with artwork by pulp masters including Hubert Rogers, Earle K. Bergey and Frank R. Paul) of the stories herein, and the binding is designed to match the 1940s editions of Williamson's works published by Fantasy Press. The book is smythe-sewn, bound in full cloth, and printed on acid-neutral paper, with full-color endpapers reproducing the original pulp magazine cover art.
With a foreword by legendary author, editor, and long-time friend of Williamson (and fellow Science Fiction Grand Master), Robert Silverberg, With Folded Hands . . . And Searching Mind represents the changing state of mid-20th Century American Science Fiction and continues the documentation of Williamson's unparalleled career.
"Foreword" by Robert Silverberg
"Backlash" (Astounding Science Fiction, Aug '41)
"Breakdown" (Astounding Science Fiction, Jan '42)
"Conscience, LTD." (Unknown Worlds, Aug '43)
"Cold Front Coming" (Blue Book, Jun '45)
"The Equalizer" (Astounding Science Fiction, Mar '47)
"With Folded Hands . . ." (Astounding Science Fiction, Jul '47)
". . . And Searching Mind" (Astounding Science Fiction, Mar, Apr, May '48)
"The Moon and Mr. Wick" (Fantastic Story Quarterly, Sum '50)
"The Cold Green Eye" (Fantastic, Mar/Apr '53)
"Hocus-Pocus Universe" (Science Stories, Oct '53)
"Operation Gravity" (Science Fiction Plus, Oct '53)
"The Hitch-Hiker's Package" (Fantastic Universe, May '54)
"Guinevere for Everybody" (Star Science Fiction Stories No. 3, 1954)
"You Can't Beat a Marine" (El Portal, May '56)
"Beans" (The Magazine of Fantasy & Science Fiction, Nov '58)
"Afterword" by Jack Williamson
Jack Williamson was a grand master of the science fiction genre. His original tales ranged from full length novels to the short stories. The seventh volume in the outstanding Haffner Press series of Jack Williamson's writings, "With Folded Hands... And Searching Mind, The Collected Stories of Jack Williamson" is a 544-page compendium showcasing fifteen of his short stories original published in the science fiction magazines of the 1940s and 50s and range from "Backlash" (Astounding Science Fiction, August '41); "Conscience, LTD." (Unknown, August '43); and "Cold Front Coming" (Blue Book, June '45); to "The Moon and Mr. Wick" (Science Fiction Quarterly, Summer '50); "Hocus-Pocus Universe" (Science Stories, October '53); and "Beans" (The Magazine of Fantasy & Science Fiction, November '58). Enhanced with an informative 'Foreword' by science fiction author Robert Silverberg, and an 'Afterword' by Jack Williamson, this superbly organized and presented collection of short stories is a highly recommended addition to community library Science Fiction collection -- and an absolutely 'must read' for the legions of Jack Williamson fans. Those dedicated fans would also do well to visit the Haffner Press web site at www.haffnerpress.com for a complete listing of all of their "Golden Age" of science fiction authors, including the previous six volumes comprising their Jack Williamson series.
—Midwest BookReview, June 7, 2010
For science fiction fans this volume is a particular treat. A fair number of solid sf names disappeared after the war because they couldn't write for the audience just then emerging. Jack Williamson not only appealed to that audience he became one of its favorites. I've read just about half the stories in this book and each one highlights Williamson's virtues as a writer--a tight, dramatic style that satisfies those looking for both action and the kind of interior life common to all his characters.The introduction by Robert Silverberg is excellent. This is number seven in the Collected Works of Jack Williamson and, as with the earlier volumes, there's pleasure in just holding it. You rarely see this kind of craftmanship today.
—Ed Gorman, author of Fast Track and Fools Rush In
More from Jack Williamson
---
---
Jack Williamson
(April 29, 1908–November 10, 2006) John Stewart Williamson, who wrote as Jack Williamson (and occasionally under the pseudonym Will Stewart) was a U.S. writer often referred to as the "Dean of Science Fiction" Williamson was born April 29, 1908 in Bisbee, Arizona Territory, and spent his early childhood in western Texas. In search of better [...]
---
---
Now Shipping