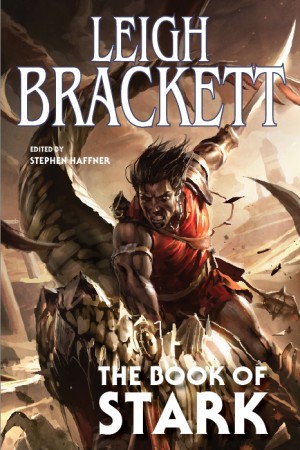 The Book of Stark
Edited by Stephen Haffner
Cover Art by Raymond Swanland

$45
THIS IS IT! The BIG one! All the tales of Eric John Stark written by Brackett in a single volume. The stories, the novels, and for the first time, Brackett's working notes for the abandoned FOURTH "Stark" novel from 1977. Need we say more?
"Queen of the Martian Catacombs"
"Enchantress of Venus"
"Black Amazon of Mars"
"Stark and the Star Kings"
The Ginger Star
The Hounds of Skaith
The Reavers of Skaith
"1977: Notes for STARK #4"
More from Leigh Brackett
---
---
Leigh Brackett
(December 7, 1915 – March 18, 1978) A writer of science fiction, mystery novels and — best known to the general public — Hollywood screenplays, most notably The Big Sleep (1945), Rio Bravo (1959), The Long Goodbye (1973) and the first draft of The Empire Strikes Back (1980). Brackett's first published science fiction story was "Martian Quest", which appeared [...]
---
---
Now Shipping