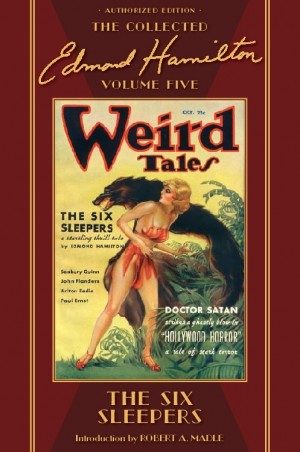 The Six Sleepers, The Collected Edmond Hamilton, Volume Five
Introduction by Robert A. Madle
Cover Art by Margaret Brundage
Illustrated by C.C. Senf, Frank R. Paul, H.W. "Wesso" Wessolowski, Hugh Rankin, Joseph Doolin, Virgil Finlay

ISBN-13 978-1-893887-72-5
600+ page Hardcover
$45.00
Following on from THE REIGN OF THE ROBOTS, THE COLLECTED EDMOND HAMILTON, VOLUME FOUR, THE SIX SLEEPERS, THE COLLECTED EDMOND HAMILTON, VOLUME FIVE brings you more of the World Wreckers vintage works.
Here, Hamilton really put his Remington's to the task with more stories for WEIRD TALES as well as some of his best work (which is to say some of the best work ever to appear in) for WONDER STORIES. Depending on the length of ephemera in the appendix, this volume may also see Hamilton crack the Tremaine-era of ASTOUNDING STORIES.
As with previous volumes in this series, an appendix showcasing the original pulp magazine illustrations also bulks large with obscura including reader's letters from the vintage magazines commenting on these stories, along with editorial correspondence between Hamilton and his editors.
"Introduction" by Robert A. Madle
"Snake-Man"  (Weird Tales, Jan '33)
"Kaldar, World of Antares"  (Magic Carpet, Apr '33)
"The Star-Roamers"  (Weird Tales, Apr '33)
"The Island of Unreason"  (Wonder Stories, May '33)
"The Fire Creatures"  (Weird Tales, Jul '33)
"The Horror on the Asteroid"  (Weird Tales, Sep '33)
"The Snake-Men of Kaldar"  (Magic Carpet, Oct '33)
"The Vampire Master"  (Weird Tales, Oct 33 - Jan '34
"The Man with X-Ray Eyes"  (Wonder Stories, Nov '33)
"The War of the Sexes"  (Weird Tales, Nov '33)
"The Man Who Returned"  (Weird Tales, Feb '34)
"Thundering Worlds"  (Weird Tales, Mar '34)
"Cosmos - Chapter 17: Armageddon in Space"  (Fantasy Magazine, Dec '34/Jan '35)
"Master of the Genes"  (Wonder Stories, Jan '35)
"Murder in the Grave"  (Weird Tales, Feb '35)
The Truth Gas"  (Wonder Stories, Feb '35)
"The Eternal Cycle"  (Wonder Stories, Mar '35)
"The Accursed Galaxy"  (Astounding Stories, Jul '35)
"The Avenger from Atlantis"  (Weird Tales, Jul '35)
"The Cosmic Pantograph"  (Wonder Stories, Oct '35)
"The Six Sleepers"  (Weird Tales, Oct '35)
"The Great Brain of Kaldar"  (Weird Tales, Dec '35)
Appendix
More from Edmond Hamilton
---
---
Edmond Hamilton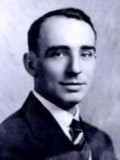 (October 21, 1904 – February 1, 1977) A popular author of science fiction stories and novels during the mid-twentieth century. Born in Youngstown, Ohio, he was raised there and in nearby New Castle, Pennsylvania. Something of a child prodigy, he graduated high school and started college (Westminster College, New Wilmington, Pennsylvania) at the age of 14–but [...]
---
---
Now Shipping