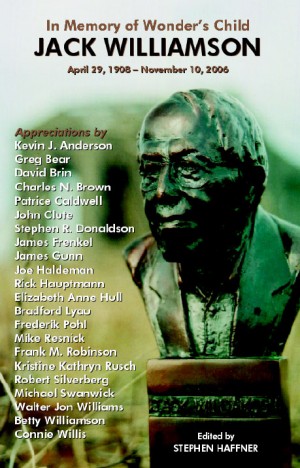 In Memory of Wonder's Child
Edited by Stephen Haffner

ISBN-10 189388726X
ISBN-13 9781893887268
112pp. Trade Paperback
$35.00
All proceeds from the sale of this book will be donated to the Jack and Blanche Williamson Scholarship Fund
UPDATE! John Clute, Joe Haldeman, and Michael Swanwick have autographed the remaining inventory of IN MEMORY OF WONDER'S CHILD.
All copies on hand are now signed by Mike Resnick, Walter Jon Williams, Betty Williamson, Connie Willis, Patrice Caldwell, Stephen Haffner, and frequent Williamson Lectureship guest, Melinda Snodgrass.
A 112-page perfect-bound chapbook, IN MEMORY OF WONDER'S CHILD honors the career of Grand Master Jack Williamson with memorial appreciations from friends, family and some of the most prominent members of the science fiction field.  Also included are Williamson's 1939 pulp story "Nonstop to Mars," his last work "The Mists of Time" from 2006, a facsimile reproduction of his 1928 editorial "Scientifiction, Searchlight of Science," and pages from his 1950s newspaper comic strip, Beyond Mars.
Only 500 copies are being produced. We have a small quantity of copies autographed by several contributors (noted in bold) and we will fill orders with these signed copies as supply permits.
Contributors
Kevin J. Anderson
Greg Bear
David Brin
Charles N. Brown
Patrice Caldwell
John Clute
Stephen R. Donaldson
James Frenkel
James Gunn
Joe Haldeman
Stephen Haffner
Rick Hauptmann
Elizabeth Anne Hull
Bradford Lyau
Frederik Pohl
Mike Resnick
Frank M. Robinson
Kristine Kathryn Rusch
Robert Silverberg
Michael Swanwick
Walter Jon Williams
Betty Williamson
Connie Willis
Foreword by Stephen Haffner
"Scientifiction, Searchlight of Science" from Amazing Stories Quarterly, Fall '28
Appreciation by Betty Williamson
Obituary from Locus, December, 2006
Appreciations I
Frederik Pohl
Robert Silverberg
Frank Robinson
Connie Willis
Charles N. Brown
"Nonstop to Mars" from Argosy Weekly, February 25, 1939
Obituary from The Independent by John Clute
Appreciations II
Patrice Caldwell
James Frenkel
Bradford Lyau
Rick Hauptmann
Elizabeth Anne Hull
"Beyond Mars" from New York Sunday News, August 10-17, 1952
Photomontage
Obituary from the Los Angeles Times by Dennis McLellan
Appreciations III
James Gunn
Joe Haldeman
Greg Bear
Mike Resnick
Walter Jon Williams
Stephen R. Donaldson
Michael Swanwick
Kristine Kathryn Rusch
David Brin
Kevin J. Anderson
"JSA Introduction" (previously unpublished)
"JSA: Strange Adventures" (DC Comics, 2005)
Jack Williamson's Memorial Service by Rick Hauptmann
"The Mists of Time" from Millennium 3001 (DAW Books, 2006)
About the Contributors
". . . a wonderful tribute volume to the departed Jack Williamson. In Memory of Wonder's Child: Jack Williamson reprints three obituaries of the long-lived Grandmaster; a slew of appreciations by his peers; two of his stories, including his last-published one, "The Mists of Time"; some comics work (including a gorgeous full-color page from the strip Beyond Mars on the back cover); and a photomontage. This is a classy yet lively memorial to an SF Pioneer, and, best of all, all sales feed into a scholarship fund in the name of Jack and Blanche Williamson."
—Paul di Filippo, Asimov's Science Fiction
More from Jack Williamson
---
---
Jack Williamson
(April 29, 1908–November 10, 2006) John Stewart Williamson, who wrote as Jack Williamson (and occasionally under the pseudonym Will Stewart) was a U.S. writer often referred to as the "Dean of Science Fiction" Williamson was born April 29, 1908 in Bisbee, Arizona Territory, and spent his early childhood in western Texas. In search of better [...]
---
---
Now Shipping