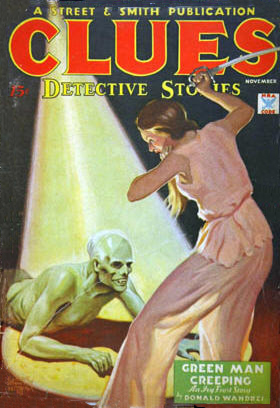 The Complete I.V. Frost
ISBN-10 1893887618
ISBN-13 9781893887619
Hardcover
$40.00
It may come as a surprise to some that Donald Wandrei wrote more mysteries than all his horror, fantasy, and science fiction tales combined. This volume collects all eighteen adventures of Wandrei's ratiocinative detective I.V. Frost, who is ably assisted by his beautiful and tough female assistant, Jean Moray. A scientist and inventor, Frost has his own approach to solving mysteries. Rather than following the usual hard-drinking, trench-coated style of many of his contemporaries, Frost's strategy was to mix the logic of Sir Arthur Conan Doyle's Sherlock Holmes with the technology of Lester Dent's Doc Savage. In 2000, D.H. Olson edited a volume published by Fedogan and Bremer collecting the first eight of Frost's adventures. A second volume of the remaining 10 tales was promised but never materialized.
Special Offer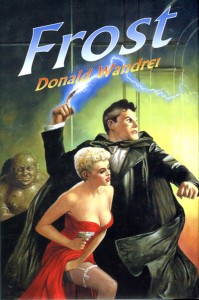 Prepay for a copy of THE COMPLETE I.V. FROST and for an extra $15, receive a copy of the Fedogan & Bremer edition of Frost (retail value: $29.00) NOW!
So, for a total of $55.00 you can reserve your copy, and get a headstart with the first eight adventures of I.V. Frost. Shipping is FREE to the Continental USA (overseas customers please contact us for rates) and this offer is good while supplies of Frost last.
"Frost,"  Clues Detective Stories Sep '34
"Green Man—Creeping,"  Clues Detective Stories Nov '34
"They Could Not Kill Him,"  Clues Detective Stories Feb '35
"Bride of the Rats,"  Clues Detective Stories Apr '35
"The Artist of Death,"  Clues Detective Stories Jun '35
"Death Descending,"  Clues Detective Stories Aug '35
"Impossible,"  Clues Detective Stories Oct '35
"Merry-Go-Round,"  Clues Detective Stories Dec '35
"Giants in the Valley,"  Clues Detective Stories Feb '36
"Bone Crusher,"  Clues Detective Stories Apr '36
"Panda,"  Clues Detective Stories Jul '36
"The Lunatic Plague,"  Clues Detective Stories Aug '36
"Killer's Bait,"  Clues Detective Stories Nov '36
"Stolen from the Morgue,"  Clues Detective Stories Jan '37
"Blood in the Golden Crystal,"  Clues Detective Stories Mar '37
"A Beetle or a Fox,"  Clues Detective Stories Jun '37
"Skeletons, Inc,"  Clues Detective Stories Aug '37 
"Electric Devils,"  Clues Detective Stories Sep '37