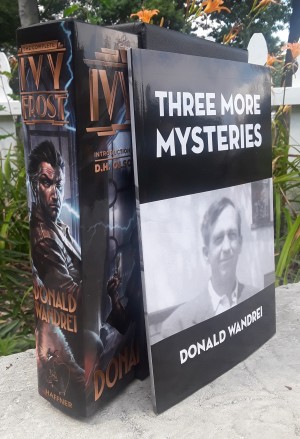 The Complete Ivy Frost – (1/100 Limited Edition)
Edited by Stephen Haffner
Introduction by D. H. Olson
Cover Art by Raymond Swanland
Illustrated by Chris Kalb

ISBN-13 9781893887626
Slipcased Hardcover
$150.00
Sample Endsheet
It may come as a surprise to some that Donald Wandrei wrote more mysteries than all his horror, fantasy, and science fiction tales combined. This volume collects all eighteen adventures of Wandrei's ratiocinative detective I.V. (or Ivy) Frost, who is ably assisted by his beautiful and tough female assistant, Jean Moray. A scientist and inventor, Frost has his own approach to solving mysteries. Rather than following the usual hard-drinking, trench-coated style of many of his contemporaries, Frost's strategy was to mix the logic of Sir Arthur Conan Doyle's Sherlock Holmes with the technology of Lester Dent's Doc Savage. In 2000, D.H. Olson edited a volume published by Fedogan and Bremer collecting the first eight of Frost's adventures. A second volume of the remaining 10 tales was promised but never materialized.
This edition limited to 100 copies, each housed in a matching cloth slipcase, signed by cover artist Raymond Swanland, interior artist Chris Kalb, and Introducer D. H. Olson.

Exclusive to this edition is a chapbook of three non-Frost detective stories by Wandrei from Alibi and Black Mask magazines.
THE COMPLETE IVY FROST
Introduction by D. H. Olson
"Frost,"  Clues Detective Stories Sep '34
"Green Man—Creeping,"  Clues Detective Stories Nov '34
"They Could Not Kill Him,"  Clues Detective Stories Feb '35
"Bride of the Rats,"  Clues Detective Stories Apr '35
"The Artist of Death,"  Clues Detective Stories Jun '35
"Death Descending,"  Clues Detective Stories Aug '35
"Impossible,"  Clues Detective Stories Oct '35
"Merry-Go-Round,"  Clues Detective Stories Dec '35
"Giants in the Valley,"  Clues Detective Stories Feb '36
"Bone Crusher,"  Clues Detective Stories Apr '36
"Panda,"  Clues Detective Stories Jul '36
"The Lunatic Plague,"  Clues Detective Stories Aug '36
"Killer's Bait,"  Clues Detective Stories Nov '36
"Stolen from the Morgue,"  Clues Detective Stories Jan '37
"Blood in the Golden Crystal,"  Clues Detective Stories Mar '37
"A Beetle or a Fox,"  Clues Detective Stories Jun '37
"Skeletons, Inc,"  Clues Detective Stories Aug '37
"Electric Devils,"  Clues Detective Stories Sep '37
THREE MORE MYSTERIES:
"Man-Hunt" Alibi May '34
"The Rod and the Staff" Black Mask Feb '37
"Make Me a Death Mask" Black Mask Aug '38
 Moonlighting meets James Bond meets Sherlock Holmes, sort of
"Donald Wandrei was one of the great pulp writers of the late 20's and early 30's. He's best known for his cosmic science fiction and his macabre horror stories, and indeed was a Weird Tales Magazine and Astounding Stories regular. The eight stories in this collection show that he could also write pulp detective fiction with the best of them. His investigator Professor I. V. "Ivy" Frost is a mix of supersleuth, inventor, scientist, and master fighter all rolled into one. Deadly, logical, courageous, and stoic like the more famous denizen of Baker Street, he is also a man with a super gadget or two up his sleeve. In addition he just happens to have a beautiful, brainy, gutsy, blonde assistant named Jean Moray, who has her own advanced degrees AND a garter belt thigh holster complete with pearl handled .25. The slyly humorous romantic/sexual tension between Frost and Moray made the stories as far as I was concerned.
The editors of Clues Magazine asked Wandrei to develop a series character in an effort to compete with the more well known hard boiled fiction of Black Mask magazine. Wandrei's ratiocinative adventurer quickly became one of the most popular series characters in Clue's history and at one time was in line for a series of motion picture reels. Sadly these never came to pass, nor did a planned Frost novel, but the stories are still exciting and enjoyable examples of pulp mystery and mayhem. The first eight stories are published in this volume, with the remaining ten promised for a future edition. Like all the pulp stories written during this period a little "willing suspension of disbelief" is necessary, but Wandrei's quick action plots and writing take the willing reader on an exciting ride of thrills and suspense. Of these stories all are good, but I would particularly suggest the first one, "Frost", along with "The Artist of Death" and "Merry-Go-Round." However each story in this volume has it's own appeal."—Steven R. Harbin on FROST.
"...a collection of detective tales involving the enigmatic I.V. (or Ivy) Frost, and...the tales themselves—combining the fantastically bizarre plots of a John Dickson Carr with the tough-guy atmosphere of Hammett—are too vibrant and ingenious to pass by without comment. I am half inclined to think that Wandrei was a better detective writer than a horror writer, and I therefore look forward with much anticipation to seeing the second volume of Frost tales promised for the future. The stories may be pulp, but they are pulp of the highest order." —S.T. Joshi, Weird Tales on FROST
 Imaginative and superbly written short fiction
"Fans of the old-style pulp mystery/detective fiction will relish Donald Wanderi's Frost, an outstanding collection of imaginative and superbly written short fiction revolving around the adventures of Professor Frost, a picky investigator who chooses only the most challenging cases, and is aided by a beautiful female sidekick. Swift action and unpredictable plots in true pulp style mark a fine selection of of terrific and original adventures by a mastery storyteller."—Midwest Book Review on FROST.
"I had more fun with Frost by Donald Wandrei, than with many a contemporary mystery novel. These eight stories...appeared in 1934-35 in the pages of a pulp named Clues, and concern the scientific detective named I.V. Frost and his beautiful partner, Jean Moray. Frost is a combination of James Bond, Doctor Strange, and Sherlock Holmes, prone to smoke marijuana incessantly throughout each case. And what cases! Wandrei first thought up the most bizarre crimes imaginable, featuring the weirdest perps, then decided to recount each mystery in a unique fashion that would keep the reader hooked. You get to witness or hear of a series of oddball events without the knowing the underlying chain of causation until Frost displays the links at the end. The result is entrancing, and moves along at a slam-bang pace. I defy anyone to read, say, "Green Man—Creeping," with its crawling corpse, or "Bride of the Rats," with its Bluebeard's dungeon full of skeletal women, and not be hypnotized till the end."—Paul di Filippo, Asimov's Science Fiction on FROST.
"...Wandrei was a prolific young fellow who earned his living through the Depression-era pulps by churning out SF, horror, mysteries, whatever the market would bear. In 1934, the detective fiction magazine Clues, attempting to compete with the standard-bearer Black Mask, secured the services of Donald Wanderi to create a popular new crime fiction series. Wandrei responded with "Advertise for Death," a novelette the editors eagerly purchased and then published as "Frost." The new series protagonist was received by readers with considerable enthusiasm. Dr. I. V. (Ivy, to his friends) Frost was a techie criminologist, a Sherlockian brain of the new school, a man with little patience and no compulsion to bring the wrongdoers in alive if they misbehaved. Frost contains eight stories out of the 18 that will eventually be reprinted. In much the same overstated vein as Batman and Doc Savage, Frost's adventures are vivid pulp at its most colorful. Dr. Frost utilizes such then-cutting edge technology as helicopters and two-way interactive video communication. Whenever he gets overly wrapped up by how own complicated ratiocination, the show gets stolen by his assistant, the bright, charismatic, endlessly frustrated Jean Moray. Here's a case of a smart looker hired for perfectly practical reasons. Frost knows that sometimes a moment's distraction on the part of the bad guy may make all the difference in survival. And Jean's trained to distract. She's also perennially exasperated by her boss's apparent refusal to fall into the slightest degree of sexual attraction. This relationship dynamic is a continuing and convincing linchpin of the two primary characters. The story plots? They vary. Wandrei doesn't usually go for the obviously simplistic. One of my favorites concerns the Byzantine plot and technology involved in lofting human bodies frozen to absolute zero, and then dropping them like cryogenic bombs on a targeted estate, there to shatter into little bitty nastily thawing chunks. I, for one, quite enjoyed Frost, and I'll admit to looking forward to the next collection." —Edward Bryant, Locus on FROST.
FROST
by Donald Wandrei
I.
A GIRL TURNED the corner into State Street. Keeping to the inside, she walked swiftly. Only a trained observer would have seen anxiety in her hurrying stride. To the average passer-by she would merely have given the appearance of a young woman walking briskly.
At this fairly late hour, State Street was almost deserted. Doormen lounged inside the entrances of huge apartment buildings that lined the first half of the block. A couple of cars were parked along the curbing. The last half of the block was occupied by private houses, half a dozen mansions of the sort that require moderate wealth to keep them up, each isolated from the others by iron grille fences or stone walls, each set in its own small grounds.
The girl hurried past a street light. It shone briefly on a velvet wrap clasped at her throat. The slinky lines of a glowing red evening gown flowed below the wrap. Her pumps were flame, dusted with gold. They were costly things that she wore, but lifeless, negligible compared with her lithe beauty of figure and the strikingly individual loveliness of her face.
Her gray-green eyes were a trifle wide. They gave her an expression of cool and determined intelligence. Her cheek bones were a bit high; her cheeks held only a faint curve. The corners of her slightly full mouth turned in. Her complexion was a shade from that warm color of ripe wheat which only the sun can give. Not even the expert hands of the hairdresser could have concealed the willful poise of her head. No cosmetician's art could have created in her face its distinctive but indefinable natural quality; the bloom was still on the grape.
Hurrying past street lights, keeping to shadow whenever possible, the girl continued walking toward the Hudson. The drone of riverside traffic grew louder. When she reached the second mansion, she slipped quickly through an iron grille gate.
A weak, overhead bulb shone on the engraved nameplate: I.V. Frost, Sc.D. The girl hesitated, hovering for a moment in the shadows at the side of the porch. All windows were shuttered. From one on the groundfloor left, emerged bars of light. They permitted no glimpse of the interior when she came up the walk.
She stared back at the street, listened a full minute. Then she stepped forward and rang decisively, insistently. The stone retreat was well built. She could not hear the ring of a bell. Having no means of telling whether the bell was working, she rang again, waited a few seconds, and knocked on the door.
It opened silently. The girl stared at an odd hall, neither long nor wide, but occupied by an amazing number of objects—table, oriental vases, small settee, pictures, umbrella stand, book-and-magazine rack, a couple of singularly carved chairs, and a few miscellaneous items. Most singular of all was the fat and benign Buddha that squatted in a niche at the end of the hall, some twenty feet from her.
But there was not a person in sight. Tense, the girl stood in the doorway. Her face showed alertness, but neither fear nor perplexity.
"Please step inside, Miss Moray," an oddly muffled voice suggested. "There is nothing to fear, and you will be perfectly safe while you are here."
The girl entered. It must have required extraordinary self-possession to conceal her surprise that her name was known. She returned to her purse an envelope that she had half removed.
The voice continued: "If Miss Moray will be so kind as to leave her automatic on the table—"
The visitor's poise was admirable. She betrayed no emotion as she took the weapon from her purse and obeyed instructions. It was an authoritative but not unpleasant voice.
"Thank you," the hollow voice spoke again. "Now, if you would be obliging enough to remove the pearl-handled toy from your right thigh."
The girl lifted her gown, took the tiny automatic from its sheath just above her knee, and laid it beside its companion. Not even a start, or a glint of eyes, indicated any reaction. She looked with apparently naïve interest at the Buddha. To all appearances, she accepted it as a matter of fact that some one she had not yet seen knew in some magical fashion what weapons she had and where she concealed them, as well as who she was.
"Thank you," the muffled voice said. "Will you kindly walk to the end of the hall and enter the first door on your left, where Professor Frost will receive you?"
The girl followed directions. When she was three feet from the door, it sprang open with a clup of compressed air and without visible agency. The door, like the front door through which she had first passed, slowly closed behind her.
The girl entered a library complete in sumptuous furnishings, from Astrakhan rug to built-in bookcases lining every wall to the ceiling, from mahogany table to Minoan amphora. The only unoccupied wall space lay between the two front windows, and there an antique print of Sir Francis Bacon overlooked a pedestal on which stood a bust of Socrates. Yet the room was so spacious that it did not seem crowded, in spite of its furnishings, objects, and thousands of books.
A man had been leaning back in a huge overstuffed chair with an air of abstraction, chin resting on interlaced fingers. He unfolded like a gaunt specter when she entered, until he stood fully six feet four. The girl was convinced that he could not possibly have been sitting in that chair for more than thirty seconds, yet he rose with the reluctance of one who had been comfortably meditating for a long while.
He was about as unlovely a specimen as the girl had ever seen. He had a gaunt, hatchet-thin face, excessively high cheek bones, an ascetic mouth, and a nose like the beak of an eagle. His eyes were inscrutable under immense black eyebrows. He towered like a loose-jointed scarecrow, of large bone and little flesh, and his beautiful, almost feminine, hands were a startling contrast to the rest of him and to his nondescript clothes. Corduroy trousers that looked as though they had not been pressed since he bought them—and that might have been a decade ago—blue shirt past its prime, and a leather jacket bearing the scars and stains of many a mishap, clad the specter.
In spite of his appearance, he smiled one of the most engaging smiles the girl had ever seen as he bowed her to a seat; and in spite of his impersonal manner, his air of scientific and emotionless detachment, there lay, deep underneath, the impression of some great human dream. Even the mission that drove her and dominated her thoughts could not prevent her from feeling slightly piqued; there simply was no response to her personal beauty. She might have been an old hag or a lump of inanimate stuff.
"Allow me to introduce myself. I am Professor Frost."
"It doesn't seem necessary to tell you that I am Jean Moray. And I presume you know that I came in answer to your advertisement?"
She took out of her purse an oblong strip torn from the "Help Wanted—Female" columns of a newspaper. The advertisement asked for the services of an:
Assistant for criminal investigation; young woman of exceptional appearance, personality, courage, health, intelligence, without close ties, for dangerous but exciting work with private criminologist. Reply in detail. High salary to right person. Box Z, 149.
The girl also removed a sealed envelope, addressed to the professor, which she handed him. He laid it aside without opening it, saying:
"Your reply made a very favorable impression which my attorneys inform me was amply confirmed by the appointment they arranged. In fact, you are only the fifth applicant recommended to me out of some five thousand replies."
"Thank you. May I inquire just what the nature of the position is?"
The professor laced his fingers. The lids half drooped over his eyes. The girl's glance strayed toward the windows, and she edged forward in her chair, listening in vain for sounds from outside that could not penetrate within. The window slid part way up as if to answer her wish. Her gaze darted back to the professor. If his hands had moved to some hidden button, they had done so instantly when her attention wandered, for they were again laced under his chin.
Professor Frost spoke slowly and precisely, each word the result of cautious selection: "I am seeking an assistant to further my researches and to help carry on various criminal investigations. In addition to the qualifications listed in my advertisement, the successful applicant should have a scientific background and an unusually analytical mind. Since I hold no official positions, I am acting entirely upon my own initiative. For that reason, the position entails more than ordinary danger and personal risk.
"However, some of my work has started at the request of friends in office who desired aid in solving obscure cases. I have begun other investigations for private individuals, though I prefer as a rule not to handle such matters. Much of my analysis is voluntary, involving problems abandoned by others as hopeless of solution, or peculiarly puzzling affairs cited by the newspapers, in which events I offer my services if desired.
"Laboratory study of material clues, microscopic analysis of data, the trailing and even apprehension of criminals, are only a few phases of the work. I have as many bitter enemies as friends. The danger cannot be minimized."
"I see. Can you mention a specific instance? A case or two that you've worked on? That would give me a more definite idea of what to expect."
The professor drew a special cigarette from a case, offered the girl one from a different pack of common brand, which she declined in favor of her own. He exhaled a cloud of sharply pungent smoke. A peculiarly hard glitter entered his eyes.
"Not long ago, State Senator Kyle was killed, apparently by a hit-and-run driver, on the eve of pressing for passage of important labor legislation. The laws died in committee, with his influence removed. Several large industrial plants in that State are now having violent labor disturbances as a direct result. Unless there is a special session of the legislature, riots of the most serious character are likely to occur. There were circumstances suggesting criminal planning behind the occurrence. This is typical of the lines that my research follows."
The professor's face was grim. The girl sensed in his carefully chosen phrases an ulterior motive, a deeper mystery.
"It sounds as if all these, at least, might be linked to a single source," she suggested, with a rising inflection.
"Possibly. My purpose is not to theorize, but to prove."
"I should think that you would find masculine aid more valuable."
"No. A man could only offer qualities that I already possess. I want a woman who must be alert, intelligent, a keen analyst, one who can circulate in places where a man could not, and who through her beauty and magnetism of personality can quickly obtain information that it might require even the most brilliant of men longer to acquire. No; my assistant must be a woman because she will have the only additional qualifications of value in my work, those springing primarily from the difference between the sexes.
"For instance, she should be of such striking beauty that if we were seated at a table, and some one entered intending to kill me, her appearance would attract admiration for just a brief moment. That fractional second would be all I need. The position, I repeat, is full of constant peril. My assistant would never be free of danger. The salary, one hundred dollars a week and all living expenses, is small compared to the menace. Incidentally," he asked with seeming irrelevance, "how much do you weigh?"
"123 pounds, stripped."
"That's correct."
"Of course it's correct," she exclaimed. "Why, how did you know?"
"When you entered the front door, you stepped on an electrical weighing device which registered your weight as one hundred and twenty-five and one half pounds. Allowing a pound for clothing and a pound and a half for your hardware, the result could be only a few ounces off."
"And what's the good of that?"
The criminal investigator shrugged. "It enables me to find out, for instance, whether truth or vanity predominates when I ask a simple question."
"I see. And the same device is sensitive to the presence of metals, which told you I was armed?"
"Your reasoning faculties bear out the report of my attorneys. Yes; the presence of metals being established, I press a button which sets the Buddha X-ray at work. In thirty seconds, I know the exact position of every weapon my visitor has."
"I gather that your visitors are well prepared to defend themselves?"
"If you wish to put it that way. But I have outlined the nature of the position. Perhaps you would now like to tell me a little more about yourself and why you think you are qualified."
"Since my parents died, I've been on my own for several years. I have no close relatives. A little money was left me, and I finished my college education, receiving my B.A. and M.A. I majored in science—chemistry, physiology, and psychology. Then I decided I didn't want to teach. I wasn't interested in business, but tried various jobs for a while. Up to a month ago, I modeled until the art school term ended. Then when I saw your ad—"
While the girl rattled on, the professor's eyes, as they had ever since she arrived, continued searching her from head to foot, as if she were a human book, or a fly under the microscope. She felt that keen scrutiny rove over each feature, register it indelibly, read its meaning, extract each secret.
He produced another of his pungent cigarettes and exhaled a cloud of smoke. He drawled with a crooked smile: "That is a very interesting little speech, Miss Moray. It seems to say much about you, but actually it is couched in the broadest and most general terms which convey a minimum of information. You did not come here to tell me that pretty fable?"
The girl's face tensed. "Is that a hint for me to go? I presume you would not be interested in employing some one whose word you did not trust."
"True; but truth is a relative matter. A trained observer can extract truth from mere appearances and actions. Then, too, any one's private life is a matter of his own concern, about which he is at liberty to keep silent or tell any evasion he prefers. It does not concern me what your private life has been or your reasons for concealing it.
"I already know that you possess the requirements I wish, are completely trustworthy, and cool in emergency. You are quick-witted and intelligent. The part of your story concerning your educational background and scientific bent is true. You have the major qualifications for the position. Are you able to accept it?"
He studied her intently as she thought over his unusual proposition. "I wouldn't worry about it, if I were you," he remarked. "No one will ever see the scar, and one vaccination mark is all that is necessary to provide the one flaw which will emphasize your otherwise perfect figure."
The girl stared at him, started to ask a question, then looked down. While listening, she had unconsciously been rubbing the spot above her right knee.
She looked up at Professor Frost with a glint of admiration. "That is good observation."
"It is nothing of the sort, though I compliment you on your quick understanding. It is good observation, analysis, and synthesis. Observation tells me that you are in splendid health, possess a most enviable figure, and a very beautiful face. I observe your hair which is the color of a rare rye whisky. I analyze it and discover that it is a natural color. Observation presents only the surface of things. Analysis goes to their heart. Synthesis takes their real significance and relates it to other objects, events, or patterns of existence.
"I observe your formal attire. You will admit that it is distinctly unusual for a young woman to apply for a job in such clothing and at this rather late hour. Furthermore, while costly, even attention-arresting, the color harmony is not quite suitable to your personal characteristics. Analysis, synthesis, induction, and deduction, all convince me that you wear this particular raiment by somebody else's specifications, and that you came not so much to apply for the position as to ask for aid, if you could convince yourself of the advertiser's good faith.
"I can assure you without fear of contradiction that your story was largely fabrication, that you have been in this city less than a month, that you came from Minneapolis, that you have just been through a strange experience, and that you are right now in great fear. May I suggest—"
The girl sprang up. "It is true! I did not come here primarily for the position. I came because I had heard about your success in solving mysteries that baffled other experts, but I had to make sure I was not letting myself in for more trouble of the sort I got from answering the other advertisement. I'll make a bargain with you, Professor Frost. You want my help, and I need yours. Solve my mystery, and I'll go my limit in aiding your work."
"Suppose you tell me about it?"
II.
The girl moved closer to the window, began speaking rapidly. "Perhaps I have delayed too long already. I may not have time to finish. If I suddenly break off and go, don't try to stop me or follow me immediately. The rest will be up to you.
"I am in danger, but I don't yet know from whom or why. I arrived here two weeks ago with only enough money to last a week. The first thing I did was buy a paper. As you probably know, there were two identical advertisements. I wrote the same answer to both. I received an answer from both. The first came two days before the answer from your lawyers.
"I had an interview at what purported to be another law firm. It was in a small office on Broadway near Forty-second, and there was only one ferret-looking man there when I called. I got the job. I was paid a week in advance. I was to do nothing but follow a few simple orders. He explained that the first week would be a test of my courage, ability to follow orders, and general merit. He gave me some further instructions and told me not to come back to that office.
"Nevertheless, I did go back the next morning. I had thought it all over and become suspicious. The office was empty. I found it had been rented only a week before. Right then and there, I decided to go through with it and see what it was all about. Besides, I had a queer feeling I was being followed, and I didn't know what might happen if I failed to do what I was told."
The professor lighted another of his peculiar cigarettes without shifting his gaze. From the intensity of the look that enveloped her, she sensed a more than casual interest.
"Following the ferret-faced man's instructions, I went to a jeweler's window near Fifth Avenue and Forty-second Street, at ten o'clock. A neatly dressed man, whom I never saw before or since, stopped to look at the trays and gave me further instructions together with five hundred dollars. I was to purchase some gowns and other things, turn myself into as seductive a siren as I could, go to Mardi's restaurant at three o'clock, take the table reserved for me, and at three thirty—but I'll tell you when I come to that.
"The man disappeared in the morning crowd. By this time I was more mystified than ever and determined to see the thing through. I've always loved excitement, and this promised plenty of thrills. I bought some lovely things and went to the best beauty experts. When I entered Mardi's at the cocktail hour, there wasn't a man in the place who didn't forget about his companion, though there were dozens of wealthy and attractive girls around."
"Yes; I can well imagine it. You would shine even among the stars," Frost agreed in a tone as if he had said: "Albany is the capital of New York."
The girl gave him an exasperated glance. "At three fifteen, a distinguished-looking man with a very florid face and a mole on his left cheek—"
Frost said: "Did he also have a triangle of white hair in his left eyebrow?"
"Yes! Do you know him?"
"Go on."
"He and his companion, a dizzy young thing with a sugar-face, took a table reserved for them next to mine. At three thirty, making sure that no one was looking in my direction, I carried out the fantastic part of my instructions. I lighted a cannon cracker in my lap and tossed it under the table so that it slid under the next table. It exploded like a gunshot. The young thing screamed, the man leaped to his feet with the whitest and most scared face I've ever seen, waiters came rushing up, and the place was in an uproar.
"I rose like several others and called for my check. The head waiter made profuse apologies to me as I left. A good many people looked at me, but I don't think any one connected me with the incident."
The professor leaned forward in his chair. "Very interesting," he murmured. "Go on."
"I'll have to hurry. Ever since, I've been given instructions from time to time, always at a different place and by different people. More than ever, I began to feel—I knew—that I was being followed, though not once have I been able to identify any pursuers. I even changed my address. But no matter where I am, I know that some one or some ring of persons is constantly near by. It's an intuitive feeling that I haven't much real basis for proving except the one possible clue of a sound."
"What sort of sound?"
"Just an automobile horn of a peculiar pitch. It's the first of the four notes that French horns have. Sometimes it comes merely as a honk at a pedestrian or a traffic snarl, but other times it sounds in short and long notes and pauses, like a definite pattern. I've heard it many times, but I've never been able to tell what automobile it comes from. Maybe it hasn't anything to do with the mystery, but it's distinct from other horns if I listen hard, and it seems strange that it should always be near, since I took the position.
"After the firecracker farce, I had nothing further to do that day or the next, except to round out my wardrobe. But the next evening I went to a theater, was met in the lobby by a man I never saw before or since, and escorted in. His tickets were in the sixth-row center. He made no effort to talk with me, except to whisper further instructions, and to say that my employer was satisfied with my work thus far. When the curtain rose he excused himself for a minute, but left a package on the seat which he asked me to watch. He did not return."
"Of course," Frost muttered. "Personal escort—to see that you not only went in but took the exact seat specified. Departure—to prevent suspicion from falling on him, and to make sure, in safety from the back of the orchestra, that you carried out everything to the dot."
Jean stared at him. "If I hadn't so much confidence in you, I would almost suspect you of having planned this. Anyway, some late arrivals took seats in front of me. In ten minutes, a wild clatter burst from the package. It was obviously an alarm clock. I leaned over and whispered: 'Everything is set, if you raise the ante.'
"The man in front of me whirled around with wide, scared eyes. He was the same man of the firecracker incident. Then I seized the package and made my way out. The play fumbled along. The whole audience was restless. Two ushers hurried down the aisle toward me. All in all, I don't suppose there's been a madder audience or a more harassed woman on Broadway this season.
"It then seemed clear to me that my strange assignments were concerned with the man I had twice seen, but who he was I hadn't any idea, or what was behind this fantastic rigmarole. And I didn't have any friends here close enough to take into my confidence.
"For the next three days, I had only insignificant things to do. I did try giving my unseen shadowers the slip by dodging into a motion-picture house and leaving by a side exit. For half an hour I felt free, and then—I heard the horn.
"Yesterday, after the three days of trifling around, I had another curious assignment, the most disconcerting of all. Early in the morning, a singular bird was delivered to me. It had beautiful colors of green, gold, purple, and scarlet, looked somewhat like a macaw or parakeet, and possessed a flowing tail of pastel feathers at least a yard long.
"I strolled down Fifth Avenue with this extraordinary creature perched on my shoulder, and you can imagine the sensation we created. Still obeying orders, I walked along until a taxicab drew up at the curb beside me. It honked twice and then once. I climbed in. The taxi moved on slowly. It circled a block and slid into a parking space just off upper Fifth Avenue. After a while, someone came out of the nearest big apartment house and entered a waiting limousine.
"We followed it down Fifth Avenue. Below Thirty-eighth Street, my driver swung out in front of the limousine. It was skillfully done. The two cars locked and banged against the curb. My driver nonchalantly got out and vanished among the passers-by I waited until the limousine door opened and the owner came forth. He was the same man of the firecracker and alarm-clock scenes. I stepped from the cab and said: 'Make it a million, or else—'
"His face turned positively green. A second man came threateningly toward me, but the first man shook his head. The bird on my shoulder cackled harshly. I pushed my way through the gathering crowd. A cab, waiting around the corner for me as promised, took me across town before the nearest policeman arrived. I saw by the evening paper that the wrecked cab had been stolen. I was surprised that only the chauffeur of the limousine was mentioned by name.
"That is the whole story so far, except that I think I succeeded in giving my pursuers the slip twice more—once when I went to your attorneys, and a while ago before I came here. But I feel that the mystery is coming to a head any hour now, and I'm worried. This is the last day of my trial week. I'm in too deep to draw back, but I'd stay, anyway, just to satisfy my curiosity.
"My last instructions were whispered to me this afternoon by another stranger."
"What were you told to do?" Frost asked.
"To-night at midnight," she said slowly, "I am to—"
The girl's voice broke. Through the window had come the sound of an oddly pitched automobile horn.
The girl dashed for the door.
The criminologist rose.
"No! Don't try to follow until I'm clear!" the girl cried. "They're catching up with me again. I've got to get out of here before you're drawn into it directly. I'll try to telephone you soon. But it's a bargain—clear this mystery, and I'll join forces with you. Yes?"
She spoke with breathless haste. From the doorway she gave him a quick look, provocative, challenging, questioning—an expression of diverse moods, her face glowing with a more hectic beauty from the fever of the chase.
"Yes." The professor smiled, and she was gone, snatching her weapons as she fled.
Frost watched her through the window, after adjusting the shutter so that he had a clear view. She melted like a shadow into the other shadows of trees, then into the sidewalk shadows of buildings. She darted to a parked taxi. It immediately sped off, whirled around the nearest corner. A sedan raced in the same direction, sloughed around the same corner.
Ivy Frost strode across the room, passed through a door opposite the windows.
His laboratory gleamed with the instruments of science. One entire wall was shelved with thousands of bottles of chemicals, pure and in compound, of drugs, acids, and alkalis. The tables were strewn with microscopes, slides, retorts, furnaces, Bunsen burners, electrical equipment of every kind, a great variety of sensitive measuring instruments from micrometer calipers to interferometer, complete sets of draftsman's, surgeon's, and carpenter's tools, radio materials, photographic supplies. Long rows of filing cabinets stood against the walls. There was an immense quantity of miscellaneous items that appeared to cover every conceivable category of science.
Frost moved without hesitation to a short-wave television set and turned on the power current. He watched a metal screen into which a room gradually swam and focused.
"F calling JV, F calling JV," he intoned into a microphone.
Within a half minute, a man wearing a lounging robe hurried into the other room and moved to a duplicate set.
"Hello, F!"
"I want the address of the girl who—"
John Vogel, senior partner of Vogel, Vogel, and Brant, attorneys, interrupted with a chuckle. "I thought she would make an impression. Just a second, I have it in my coat." He left, reappeared in a moment. "She gave it as 609 West 75th."
"Thank you. She's moved, but I'll have to start from there. Good night!"
He lifted the receiver from a telephone and dialed the central telegraph office. "I'd like the following message delivered in exactly twenty minutes. Can it be arranged? Good! To Jean Moray, 609 West 75th Street, City."
Frost picked up a telephone directory as soon as he had given his telegram message, hunted another number, and called it. He heard central buzz repeatedly before an answer came.
"May I speak to Mr. Hastings?"
"Mr. Hastings is not in. Whose name shall I give him?"
"Professor Frost. Can you tell me where I can reach him? It is urgent that I communicate with him at once."
"I am sorry, sir, but Mr. Hastings did not say where he would be this evening. However, if you wish to leave a message—"
"Which is a plain lie," the criminologist muttered as he hung up.
He dialed another number. "Jerry? Ivy talking. Glad I found you in and sober—what, you're not sober? Sorry I cast aspersions. I want some information as fast as possible. Can you find out where Sam Hastings is to-night? Yes—the power behind Coin Machines, Inc. It's very important. Leave his home out—I just tried there."
"Absolutely!" the answering voice said. "If nobody on the Press staff knows, some of my columnist friends will. It'll take a while. Want me to call you back?"
"No; I'll be on the move. Can you find out by telephoning around? Fine! I'll call you again at fifteen-minute intervals. Also, find out who's in charge at the central station to-night. Calper? You're positive? Thanks! Call you later."
He passed from section to section of his laboratory. Into a small valise he carefully placed his selections. From the gleaming apparatus and stoppered vials of science, he made his choices instantly, without hesitation.
Within five minutes he took the wheel of his car. It purred out of the basement garage. He sped downtown and at Eightieth Street halted to phone Jerry Travis again from a drug-store booth. Travis reported Hastings' movements up to nine o'clock and was still on the trail.
At the West Seventy-fifth Street address, Frost climbed the steps of a grimy brownstone house near the river road. Prolonged ringing brought a hag, reeking of beer, and wrapped in a greasy, torn kimono.
"Is Miss Moray at home?" Frost asked suavely. "I'm sorry to intrude at this late hour, but I've only now arrived from out-of-town."
The harridan stared at him sullenly, suspiciously. "No one here by that name."
"She has moved? Where can I find her?"
"I don't know, mister. Write her a letter." The door banged.
Frost returned to his car and waited. In five minutes, a messenger wheeled, up with his telegram and roused the crone. He argued with her for a moment, then jotted a notation on the envelope he carried. He remounted his bicycle and pedaled downtown, with Frost following. In West Sixty-third, the messenger stopped at another brownstone. He talked to someone, left a delivery notice, and then wheeled back toward his office with the telegram.
The professor made a quick selection from the contents of his valise. Carrying a bundle under one arm, he mounted dilapidated steps that were grooved from the tread of generations. A red-eyed hunchback answered his ring and studied him overtly with glittering pupils when he inquired for Miss Moray.
With a shrug as if it was none of his funeral, the dwarf mumbled: "Third-floor front, No. 31." Then he scuttled back to a dimly lighted rear recess.
Frost climbed the worn stairs. Stillness enveloped the rooming house. Not another person except the hunchback seemed awake. There were no lights shining through transoms or under the bottom of any door that he passed. The silence was uncanny.
At the head of the stairs on the third floor, he paused and listened, but still heard no sound. No. 31 was in the front. The scientist made his preparations with precision and speed that required only seconds. He unrolled the bundle, pocketed a few items, and donned an all-protective garment. He carried no firearms.
Frost strode soundlessly to the door of Room 31 and gently tried the knob. The door was unlocked. He opened it and faded inside.
III.
By the weak light filtering in through the single grimy window could be seen a typical cheap, furnished room. Frost twisted his head sharply aside. The blackjack raked the left side of his head, and a dark blob closed in on him. He raised his two forefingers and jabbed the blob. An explosive cry jerked from its throat. It doubled over, straightened again, stiffened rigidly as though in the convulsions of epilepsy, and jackknifed against the wall. From a chair tipped backward against the far corner of the room, a second dark shape raised a silenced automatic and fired with cold-blooded aim. They were all direct hits. The first whammed against the scientist's chest, one panged his forehead; the whole clip was fired and wasted on the bulletproof metallized cloth of his protective suit. The only damage was bruises from the force of impact.
When the shots ended, Frost acted. The second blob grunted in surprise as the strange specter plowed in, unharmed by six direct hits at close range. The second man yanked at another gun, but never used it. The scientist knocked him clear out of the chair. The would-be killer could take it, if only because he had to.
As he came up, the first hoodlum groaned on the floor. The professor's long arms were as deadly as pile drivers. As calmly, carefully, and methodically as if he was perfecting an experiment, the criminologist broke the second man's nose, laid open his right cheek, stuffed a few teeth down his throat, and sent him to oblivion with a smash that sounded as if it cracked his jawbone.
The first victim was still groggy when Frost returned and plunged a hypodermic needle into his arm. He treated the more badly damaged killer with a similar dose. As the stiff injections of morphine took effect, the breathing of the two men became regular and they passed into a state of deep coma from which they would not emerge for many hours.
They were gangsters, two of Joe Blake's gorillas. It was a rule of Blake's that his men keep away from dope. The rule was rigidly enforced. Death was the penalty.
Frost dragged one of the bodies in front of the door. He pulled down the window curtain and then turned a light on. He hauled a good-sized suitcase from under the bed. Next he went through the room with swift but minute care, packing all the girl's belongings in the suitcase. If he had needed any corroboration of her strange story, it was partly borne out by the amazingly gaudy bird that perched in a tall cage and cocked a sleepy eye at him.
There were no interruptions. Frost removed the protective cloak and hood which he rolled into a bundle. He scrutinized the insulated caps for each forefinger, from which the needles had been broken off when he jabbed the first man. He removed the caps, loosely bunched the wires that led from them, and stuffed them into his pockets beside the powerful, compact batteries to which they were connected.
Frost's face wore the expression of a man satisfied with a job well done. After dragging the body out of the way, he turned out the light and raised the window shade. He carried the suitcase with him when he left.
On the ground floor, he summoned the dwarf. "You have an extra room to rent now. Miss Moray will not be back."
The hunchback squinted evilly
"Also, there are a couple of uninvited callers in Room 31 who need attention." Frost's features hardened. He bluntly ordered the crooked man: "I think you had better move—fast."
The dwarf glared, turned without a reply, and padded up the stairs.
The bundle and the suitcase went into the rear of Frost's car. Three blocks away, he stopped long enough to use a coffeepot phone booth to call Travis.
"Hello!" came the reporter's slightly worried voice. "Everything O.K.? That's good. You're ten minutes late in calling, and I was beginning to wonder if something happened. I got the dope all right, from Win Morro. You know, the human keyhole. He says he got it by calling some of his girl friends at the hot spots. Hastings blew in at the Golden Goblin twenty minutes ago with John T. Dellener, the political boss, and a couple of Eves in tow. I can't guarantee that he's still there, but when Win says something is so, I'd hate to put up money against him. Anything else I can do?"
"That's all, thanks. I'll see that you get some of your favorite Scotch to-morrow."
Back in his car, Frost drove to the Golden Goblin, a gyp-joint nude-review rendezvous in the blistering Fifties, before twelve thirty. He parked at the nearest space and hurried inside.
The hat-check siren stared at him in disgust as he sauntered along the lushly carpeted and ornate lobby without even having noticed her. Several people glanced his way in surprise. It was a tribute to his impressive carriage that, however startled strangers might be by his disreputable clothes, they never smiled.
A hostess hurried toward him with polite but firm intentions. "I am sorry, sir, but it is one of the rules of the club—your clothing is—"
Frost looked through her. She suddenly stuttered, lost the power of speech, lapsed into silence.
In the main room, an orchestra was evoking low music, wearily feverish. The floor show had gone on. As he entered, a chorus of platinum blondes, flood lights spotting only the upper half of their bodies, undulated through involved patterns.
The head waiter approached, eyeing the gaunt intruder doubtfully.
Frost dismissed him with a gesture. "No table, I'll be here only a few minutes."
He lounged by an enormous rubber plant. After a few seconds he shifted his position and scrutinized the booths beyond the floor show.
Frost smiled a crooked smile as he spotted Jean Moray. She was outstanding even in this haven of beauty. Her mobile, intelligent face expressed something original. She struck a new note. Her rye-whisky hair was a welcome exception to the run of artificial blondes and smoky brunettes. For an instant his gaze lingered on her, as she sat alone, in a small wall booth. She was flirting outrageously with every man in the place.
His scrutiny advanced. Hastings and his three companions occupied the next booth to Jean.
The professor's searching analysis reached across tables to the wall booths diagonally apart from Miss Moray and Hasting's party. A man and a moon-faced doll sat in one of the booths. They seemed no different from other patrons. Only Frost in all that crowd saw the barrel of the gun that crept in the direction of Hastings' booth from apparently folded hands. Even waiters glanced at the review while the orchestra wailed to a saxophonic triumph.
The woman rose, passed in front of the booth, walked away. There was a quiver of recoil from the stranger's gun at almost the same instant that Frost fired from the hip. Neither sput of the silenced automatics was loud enough to attract attention, but the killer yelped. A few waiters stared. Holding his shattered hand, he rose, hurried after the girl friend, vanished through a door near his booth.
Dellener wabbled and slumped over his table. The lights went out, stayed out for what seemed ages while Frost plunged across the room. Someone screamed. A weird chatter swept up from blackness, a babbling staccato of inquiries and forced banter.
Frost jerked out a flashlight as he ran, bumped into a table, collided with some one before the beam stabbed forth. Three other beams sprang into existence from other parts of the floor.
The lights flickered on. Jean Moray lay sprawled upon her table, a red streak searing eye to ear across her left temple. Her purse was open. An automatic rested at her finger tips. Frost dived for her, saw instantly that she was only stunned from a minor scalp wound. He whisked around to Hasting's booth. The Eves, wise in their way, had vanished. Hastings, white-faced, was trying to claw his way past Dellener from the inside of the booth. Blood trickled from the unconscious man's head. A deep gash laid open the top of his skull. Frost grabbed a clean napkin, wrapped it over the wound. He had shot barely in time to spoil the killer's aim.
"Out of the way, you!" grated a harsh voice. "I'm taking charge here."
It was a plain-clothes detective. Another was reviving Jean Moray. A third ran up. The Golden Goblin burst into an uproar of babbling guests and scurrying people.
"Certainly, take charge," Frost said, "but this man is injured if not dying. He must be taken to a hospital immediately."
"I'll take care—"
"I'm taking him now. Come along if you wish."
He lifted the unconscious man and carried him out. The detective hesitated, issued crisp orders to the two others, and trotted after Frost.
"How the hell do you get in this?" the detective demanded.
"The name is Frost—I.V. Frost."
"I've heard of you." The detective's attitude stiffened in the wary fashion of the man who bagged a black panther and didn't know what to do about it.
Frost honked a couple cars out of his path and stepped on the accelerator. His car swung from the curb. He sped to the corner and turned left.
The detective opened his mouth.
"Clinic Center Hospital," Frost drawled. "Keep an eye open for traffic police. If we're flagged, flash your badge."
"What the hell!" the detective exploded, but followed instructions.
"Did you trace the telephone call to headquarters?" asked Frost. "By the way, I didn't catch the name."
The detective squinted. "Seeley. Say, what do you know about that call?"
"Nothing. But there's no reason why three extra plain-clothes men should be detailed to the Golden Goblin. Some one must have phoned in that something was going to happen."
"You know too much for a guy who just wandered along in time for the fireworks."
"The fact that some one phoned headquarters doesn't mean it was the only place he called. I'm doing some investigating, too."
The car shot up to the receiving ward of the hospital, a fifteen-story masterpiece of architecture set in its own block of ground, one of the most celebrated and progressive medical units in America, with lawns and landscaped shrubbery on all sides. It occupied a short cliff bordering the river road.
The interne made a rapid examination of Dellener, summoned a night surgeon who treated the wound. He shook his head.
"The patient has an even chance of recovery. Hemorrhage may occur. Concussion of the brain is undoubtedly present. A trepan may be necessary later, but there is nothing more to be done now but keep the patient absolutely quiet."
Frost turned to Seeley. "Want to stay here in case he regains consciousness? Or come with me?"
"I'm sticking."
The scientist asked the surgeon: "Are there any escape-proof rooms here, aside from the psychopathic wards?"
"The best and safest of the private rooms are on the eighth-floor rear. The windows are not barred, but, even so, there is not enough bedding by which any one could conceivably make a sheet rope long enough to reach the ground, and it is impossible to scale the wall. But there is no chance of the patient's recovering consciousness for hours."
"Take Dellener to one of those rooms. If you stay with him, Seeley, keep a guard outside the door. If you leave the room, see that some one else stays inside with Dellener. A double guard must be kept."
Seeley glowered. "You kind of like to give orders, don't you?"
"One attempt has already been made at murder. There may be another because it failed. Whoever is behind this has brains and uses them. If Dellener vanishes from the hospital, I would regret being in your shoes when headquarters heard about it. I can't waste any more time here now. I'll be back later."
As the injured man was wheeled down a spotless corridor, Frost went out to his car. Five minutes later he was well on the way to the central station.
The city's night life had begun to subside fast. Theaters long dark were joined by the dimming lights of restaurants and taverns that closed. Traffic was so diminished that the harried pedestrian could cross streets in safety at almost any point. Even the inevitable cruising taxis became of reasonable infrequency, after one o'clock. The roar of noises, traffic and miscellaneous, passed from a loud confusion to a separate intermittency, as subdued as they ever were in midtown.
Frost parked by police headquarters. It was now nearly an hour after the Golden Goblin mess. A clock chimed one-fifteen as he climbed the steps.
The captain at the night desk was an elderly, slightly florid, rather thick-featured man. Calper had gone up and down in the ranks during long service. He played politics. When his party was in, his fortunes and promotions went up. When a rival administration held power, he generally found himself reduced or transferred to the sticks. He had been on the carpet several times, for investigation or censure. Like many men on the force, he had a general dislike of private investigators and a particular grudge against Frost.
Calper stared over the desk top with bland interest as Frost entered.
"Good evening, Captain Calper."
"What can I do for you?"
"A friend of mine, Miss Jean Moray, has been detained, I believe, in connection with some incidents at the Golden Goblin an hour ago. I would appreciate her release."
"Would you? That's interesting. Any more friends of yours around that I can turn loose for you?"
"It is only by mistake that my friends spend even an hour here."
"I'm afraid that you'll need a better excuse, perfessor. The lady knows plenty about what happened in that joint."
"I presume she's held both as a material witness and under direct suspicion?"
"So you're in the guessing game now?"
Frost leaned over the desk. "Calper, that young lady happens to be my assistant. She was there for the sole purpose of helping me not only prevent what happened, but of catching the criminals on the spot. That the police arrested my assistant while the guilty escaped wouldn't look so well in the papers, would it? And I don't suppose it would help certain reputations."
"If that's so, she should 'a' told us to begin with. And if she does know something, she better put it in the hands of the proper authorities."
To Captain Calper, it seemed as if the figure of the scientist suddenly expanded, achieved a more towering stature and a more implacable power.
Frost's dark eyes burned with the fire of an irresistible will. "Calper, I want that woman. I want her now."
He got her. In that uncompromising ultimatum, backed only by the strength of Frost's personality, Calper read the finish of his career unless he yielded. Without another word, he issued the order for Jean's release.
IV.
Three minutes later, the abrasion on her temple taped, but otherwise looking cool and self-possessed, Jean sat beside Frost in the car.
As it swung north, she asked: "Where to, now?"
"Clinic Center Hospital, where I left Dellener."
"Who is he?"
"Political boss of his party—didn't you know?"
"I'm afraid I'm still pretty much in the dark. After I left you, I followed the instructions that had been given me by my employers and went to the Golden Goblin where I took a booth that they had reserved for me. As I expected, the man I had already been thrown against three times was in the next booth with a party. The time hadn't arrived for the stunt I was to do when the lights suddenly went out. Something hit me on the head.
"The next thing I knew, detectives were rushing me off. They claimed I had shot somebody and the gun was at my finger tips. But they wouldn't tell me anything more. They tried to make me confess that I knew who was shot, and why I did it, whereas it's still as much a mystery as when I came to you. But you know what it's all about, don't you?"
"It was a fairly simple problem," Frost admitted. "If you had lived here for a longer period, I am sure you would have seen the answers yourself."
Jean looked at him curiously. "How did you know I came so recently?"
"If your story had been true, and you had been in town a month ago looking for a position, you would have answered the first advertisement which appeared in the Sunday papers three weeks ago. That was no advertisement of mine, however. For reasons of my own, I inserted a duplicate notice in the following Sunday's papers, when a repetition of the first also was printed. You answered those two, thus indicating that you had begun looking for a job between three and two weeks ago.
"Your accent, even your use of words, was sectional. New England, the South, the Mid-West, the Far West, all have regional peculiarities of language, and within these districts speech may be further localized by its varying degree of colloquiality. Your usage was definitely Mid-Western.
"Furthermore, young women here do not carry new purses with the label of a Minneapolis store. It might have been a gift, but considered with the two facts I mentioned and a half dozen others that I won't bother detailing, it was evident that you had bought a new purse in that city just before you came East less than three weeks ago."
The professor stopped for traffic lights, kept the motor idling.
Jean remarked: "It seems like a miracle that you picked up my trail so quickly, especially since I left without telling you where I would be."
"As a matter of fact, you need not have left so suddenly when you heard the horn. That was a deft bit of psychology on the part of your employer. Impress on the mind of any given individual a certain factor, such as this sound, which is associated with another factor, such as fear of pursuit, and if that individual eludes watch, one merely needs to repeat the factor at random. The victim, by association, believes that he has been caught up with and is startled from cover."
The car leaped on again as the lights changed.
"You could have stopped me"—Jean began, then interrupted herself—"but of course not. If you had, you would have prevented the plot from coming to a climax, but by letting me go, you stood the best chance of catching the people behind it."
"Exactly! And I was confident I knew who they were. It was mainly a matter of identification. Your remarkable story suggested criminal activity in the first place. Legitimate affairs are not conducted by such fantastic means. Your description of the man identified him as Sam Hastings, owner of Coin Machines, Inc., and not generally known as a leading public enemy and one of the most influential racketeers in the country. His company controls ninety per cent of all slot machines, with an estimated 'take' of some ten million dollars monthly.
"The second major clue was your statement of the number of strangers who issued instructions to you. That indicated a large but well-organized group, which could only be Joe Blake's gang, whose twenty-three members, now twenty-one, dominate the city's under-world. The third important point was your phrase, 'Make it a million.' That of course referred to dollars.
"The slot-machine racket cannot thrive without political protection. A law is now in committee before the legislature to outlaw slot machines. That law will fail or pass according to the wish of the State boss, John Dellener, the man who was shot. Add to these the fact that the man who shot Dellener was Sam Orny, a paid killer, and you have the main essentials. Now do you understand?"
Jean wrinkled her brow. "Partly. Hastings was evidently dickering with Dellener, bribing him to use his influence to defeat the slot-machine bill. In return, Dellener would get a million for himself or to build up his party's power."
"A million a month," Frost corrected grimly.
"But I don't see where I fit into the picture. There is no reason why Blake's gang should use me to annoy Hastings. It's plain, though, that my mysterious assignments were meant to draw attention. Dozens of people would remember me in connection with Hastings. It looks as if somebody intended to railroad me and Hastings for the killing of Dellener.
"But why? And if a rival gangster did the shooting, there must have been a double cross somewhere. Why shoot Dellener with Hastings around? Whether he lives or dies, the newspapers are bound to raise so much trouble that the slot-machine law will be passed. And that will be killing the goose that laid the golden egg. It begins to seem as if there is a deeper mystery behind this."
"Come in and we'll have a look at Dellener," Frost said as the car halted at the hospital.
They had scarcely entered when the scientist exclaimed: "Seeley! What are you doing down here?"
"I have to report to headquarters now and then, see? I'm keeping track of developments at the other end."
"Is any one guarding Dellener?"
"Of course somebody's watching him. I know my business. The door's locked, and there's a guard outside."
"How long have you been gone?"
"Say, can the Sherlock Holmes stuff! I haven't been gone more'n a half hour. Dellener won't come to for a long while yet, the doc said. Nobody can get past the guard without permission, and I hope you don't think some bird is going to hop through an eighth-floor window."
"A half hour!" Frost groaned. He tossed the keys of his car to the girl. "Keep the motor idling for a quick start." He raced to the self-service elevator.
Seeley snarled: "Listen, Frost, I don't like your airs, see? The guy can't get out because he's unconscious, and nobody can get in through the door because the guard's there, and nobody can get in through the window because it's eight floors up. Is that clear? Or want me to draw a diagram?"
Frost gave Seeley one short glance. Seeley squirmed and subsided. It was strange how that raking gaze made him feel like an inferior bug on a pin. Frost wore an air of abstraction until the elevator stopped.
While Seeley puffed after him, the lank scientist raced down the hall to the one door in front of which a guard was lounging. "Quick—open the door!"
The guard hauled out a key and inserted it. He swung the door open. His eyes took on a queer, baffled look. Seeley opened his mouth and remained on the verge of speaking. Frost alone swept the room with a glance.
It was empty.
"I knew Dellener would be gone. You should have carried out my directions." It was less a rebuke than a simple statement of fact. Frost turned and sprinted for the elevator.
Seeley found his voice: "Hey, you! Come back here! How'd the guy get out? Where you going?"
"There are at least four means by which he might have left. I'm going where he is now. I gave you all the instructions you needed an hour ago, and you didn't follow them. Now find out for yourself what happened." He slammed the elevator door, punched the starting bell, and dropped while Seeley fumed behind.
He tore through the ground-floor corridor. Jean, with beautiful teamwork, had the car under way and shifted to high before he climbed in. She deftly slid out of the driver's seat, and he took the wheel.
"What's the trouble?" she asked.
"Everything! Because an obstinate detective wouldn't remember the alphabet, Dellener is gone, and we've got to start all over." He sketched the situation rapidly.
"It sounds impossible, but I suppose the guard might have been bribed or doped," she speculated.
"That's one possibility."
"A helicopter plane could have landed on the roof, and some one slid down a rope to the eighth floor."
"Number two."
"And a human fly with suction cups like the man who walks upside down at the circus might have scaled the side of the building."
"Good alternative number three," Frost approved. "You have at least three hundred per cent more brains than that unimaginative ass behind, which I'll admit isn't much of a compliment."
"What's the fourth? I can't think of any other reasonable explanation."
"The kidnaping was maneuvered in a highly ingenious manner. One man with a coil of strong, light rope carried a balloon, or more likely a duralumin shell filled with gas under high pressure, the lifting power of which equaled his weight. Dellener's room was in the rear of the hospital facing the Hudson. The kidnaper, unnoticed in the dark night and at this late hour, stood under Dellener's window and leaped straight up.
"Guiding himself by pressing his hands down on the wall, using suction tips on his fingers, he simply drifted up to the eighth floor, lowered Dellener to his confederates, then stepped out of the window and floated to the ground. It could be done easily in five minutes,"
The girl objected. "It sounds plausible enough—except for the fact that the balloon had to be made, prepared, and filled, even before it was taken to the hospital. The feat could not possibly have been accomplished in the short time since you left Dellener here."
"The balloon was ready. The mind that engineered this coup was not trusting anything to chance. He had foreseen and prepared for everything."
"No mere gangsters could be as clever as that and so well equipped with scientific supplies—"
Frost interrupted: "Can't discuss it any more now. I'll be gone three or four minutes. That gown you're wearing would be a fatal hindrance. You'll have time to change before I return."
"Change? To what? Where?"
"In the car. I forgot to tell you I took everything out of your room. Your things are in the suitcase on the floor behind us. Your life would be worthless if you ever returned to the Sixty-third Street address. I own both the houses adjoining my State Street address. They are rather crowded with material of all sorts, but you are welcome to the use of either one."
The car shrilled to a stop in front of Frost's laboratory. He hurried inside without waiting for a reply.
The girl moved as if she was trying to rival the speed of light. She was on pins and needles for fear that Frost might be back before she had changed. She sensed that feminine appeal was wasted on him. Though men succumbed to her, she knew that the professor considered her only as an added impersonal quantity to be fitted into his plans.
She flung open the suitcase, wriggled from the gown, slipped into a tweed suit, and changed to sport shoes. The transformation was completed just as Frost came running out with a load of apparatus which he set carefully on the rear seat.
Gathering speed, the car streaked north toward the outskirts of the city.
"Where are we going now?" Jean asked.
"Why don't you try telling me?"
"Because I still don't see where I fit—" she began, but her voice trailed off. Sudden enlightenment brought a startled expression to her face.
Frost, watching the girl from the corner of his eye, nodded agreement. "Now you understand it. For the time being, call X the agency behind all this. X has larger plans in view, but works through Blake's gang to have them kidnap Hastings, fasten suspicion on you, and leave you to face the music. Then X hires a killer to accomplish one of the real aims—the murder of Dellener, leaving both Hastings and you to answer in court.
"You can imagine what would happen if you told your story in court. Your beauty attracts attention, even without such bizarre elements as that tropical bird. Dozens of people would remember your behavior at Mardi's, the theater, and in the cab collision. It would be as sensational front-page stuff for days as the press has ever had.
"Murder, the mysterious woman, fantastic explanations, crime and politics involved, suspicion of mental derangement—at least I can admire the imaginative audacity of that plot. And while the papers issued reams of this spectacular stuff, X could put across crooked schemes that would slide unnoticed by the public while it devoured the murder mystery of the century. Unfortunately, I spoiled the schedule."
"Then X must have been in the Golden Goblin at the time of the shooting!" Jean took up the thread excitedly "By now he must know that you are in the picture. When he saw his plans miscarry, he had you trailed to the hospital. But there doesn't seem to be any reason for kidnaping Dellener, except for the sole purpose of drawing you on so that X and Blake's gang have a chance to remove us once and for all, using Dellener as bait. If they caught us, they could again fasten suspicion on me, and they would be free of a dangerous enemy by killing you."
"It is disconcerting to have one's sudden departure from this existence discussed in so casual a fashion, but for a young woman you have a very good head. The most dangerous part of our work lies immediately ahead.
"In the course of a lifetime devoted to criminal investigation, I have accumulated a vast mass of information and data, much of which even the police do not possess. I doubt whether they know that the house on Tucker Lane where we are headed is the clearing point for all Blake's activities. Dellener has unquestionably been taken there.
"It is strategically situated off the main highway, and a mile from the nearest habitation. It stands in a clearing so that a surprise raid is impossible. It can be surrounded, but it has three long underground tunnels leading into the adjacent woods, so that, if ever raided, the gang could still escape in safety."
The everlasting lights that streamed toward them as they sped through the outskirts of the city became more infrequent. A wall of wind seemed to be pressing against the car with a roar. They shot beyond the city limits, racing northward along a deserted highway. Only their headlights pierced the darkness.
"Ah! The first attack—and just about where I thought it would be!" Frost breathed.
He shot past a crossroad. The lights of another car suddenly blazed out. A long, powerful limousine swung after them. Frost stepped on the accelerator. His car leaped faster, but the pursuers roared faster still. Two radiating series of cracks spread across the rear window of Frost's car. The pang of metal came repeatedly. Fifty—fifty-five—sixty—sixty-five—seventy—
"The tires!" Jean cried.
"Built-in and protected. This car is armored, and the glass is bulletproof. Let them shoot all they wish—it's the last time they ever will shoot."
"They're still catching up! Can't you go faster?"
"Certainly! I could leave them out of sight in five minutes, but I want them to catch up. The best way to meet a threat is not to run away from it but to eliminate it altogether. Less than a mile ahead, the road is elevated over a cross-highway. If you're not used to sudden, violent death, you'd better not watch."
The girl watched.
Frost's car zipped down the middle of the road. The pursuing car raced nearer, nearer, swung clear over to the left side of the road, edged on foot by foot as the scientist let them catch up. The wind droned past as in a gale. The girl looked into the death car, saw three murderous faces in the rear seat, another in front beside the driver, and all four men armed with submachine guns.
A blast raked the whole side of Frost's car. The flaming gun was followed by a spitting clatter that raised a dozen round spots with radiating cracks on the windows. The bridge loomed ahead. The limousine edged closer to Frost's car, forcing him farther to the right.
Then his hand flicked to the dashboard, punched a button. At the same time he swerved his car sharply to the right, and for a moment it rocked wildly along the edge of the road. To Jean, his face in profile seemed as stern as destiny itself.
The two right tires of the limousine exploded. Its front plowed toward Frost's car, fell a foot short. Its rear sloughed away. It careened, rolled sidewise over and over, slanting left across the road. It mounted the slope at a tangent and piled into the concrete retaining wall. It stood on its nose for a sickening second, and a dark, limp figure hurtled through its smashed top and sailed down like a grotesque bird. Then the limousine toppled to the lower roadbed, while Frost's car sped across the bridge.
Jean, white-face and wordless, wrenched her eyes away, stared at the road ahead as they raced on.
Frost snapped: "Don't waste any sympathy on them. That was a service to society. Did you notice the swarthy-faced man sitting beside the driver? He was Spike Leone, one of three members of Blake's gang who specialized in kidnaping. The others in the car were more of Blake's gang—strong-arm men, killers."
"What did you do?"
"Perhaps you noticed that the front bumper is tubular? I merely released one of two springs. It ejected a couple of quarts of tacks, nails, broken glass, and scrap iron from the left side of the bumper. Momentum did the rest."
V.
Ten miles north of the city, Frost cut his speed. He halted just before a curve, and told the girl to await his return. He vanished noiselessly into the darkness, came back ten minutes later. A pleased expression hovered on his face.
"The second waiting committee sleeps," he remarked, as he drove around the bend and approached a semiprivate side road that wound through the woods. He left the arterial highway and followed it. "A lookout was posted at the juncture. He made the mistake of smoking a cigarette." Frost commented, as if that explained everything.
The headlights dimmed and, progressing at scarcely more than a walking pace, he drove at last off the rough road into a thicket.
He lifted a pile of apparatus from the rear seat. "I'll need your help. Move as quietly as you can," he cautioned and led the way into the forest.
She followed silently in his path.
"Where did you learn the woodsman's art?" he whispered.
The girl's answer, almost voiceless, came with a hint of laughter: "One doesn't spend summers on canoe and camping trips through the Ten Thousand Lakes district without learning a few things."
Frost halted. Ahead of them, in the midst of a clearing two hundred yards across, loomed a house, dark save for one window on the ground floor which was open to a brightly lighted room.
Frost climbed a tree and perched on a limb. "Hand me the things," he whispered and leaned down.
The girl passed up to him the camera, plates, and telescopic lens.
While he busied himself for several minutes, Jean studied the house. She could make out the head and shoulders of a seated man. He looked powerful, ruthless. He had a crooked nose and a frog's face and his hair was whitish. A shadow might have been thrown by a second man, or an article of furniture. She could hear no voices, and the quiet of night remained unbroken except for the faint, mechanical sounds made by Frost. They were inaudible more than a dozen feet away.
The professor at last lowered his materials to her and cautiously descended.
While again transferring the things to him, she whispered: "Did you see Dellener?"
"He is lying on a couch, still unconscious. Beside him is Stocky Mason, chief lieutenant and killer of Blake's gang."
"Who is the third man? Or is the shadow only—"
"Quiet!" the professor insisted impatiently. "Stay here until I return. But if you see any one leave the house, come back to the car and let me know. Have you a gun? Then take this. I shall be gone for twenty-five minutes."
Carrying his equipment, Frost melted into the blackness of the woods. The minutes dragged on, doubly long now that she kept vigil. The girl centered her gaze on the lighted window. Mason hardly moved. He sat half facing the window. She wondered why he did not shift his position or raise his hands into view even once. He seemed to be waiting, so far as she could tell.
Keyed-up and alert though she was from the tension of the night, and from her feeling that the strange events in which she had become enmeshed through answering advertisements were coming to a head, she wondered if there might not be more at stake than the criminologist had yet explained to her. She felt privileged to have become his assistant in games where death was always a part—until a flash of insight destroyed her pleasure.
The first advertisement had been inserted by some one who deliberately sought to make her a victim of circumstantial evidence in a crime of far-reaching results. But Frost had inserted a duplicate advertisement a week later. Why? Because inevitably one or more applicants who at least had an interview with the agent of the first advertiser would also come to Frost.
Yet she could not be sure. Had Frost duplicated the first advertisement primarily because he recognized the germ of a deep plot? Had he actually wanted an assistant and simply used the opportunity to serve both purposes?
And who was the X, the unknown quantity, that Frost had postulated? Was he hunting bigger game than gangsters, or had he merely used the symbol to designate some grafting politician who protected Blake's gang, or even to designate Joe Blake?
Frost was gone a long time, fifteen minutes, a half hour—Jean could not tell. Her eyes began to ache from the strain of watching. She wondered what Frost was up to. She consoled herself by thinking that, whatever the motivation, Frost had definitely offered and she had just as definitely accepted the position. But then, positions may only last a week, she thought wryly.
No one emerged from the house, and no unusual sound broke the silence.
She tensed and almost ran when the professor suddenly stood beside her like a bleak specter from the darkness. Then she felt a sense of absolute security, so strong was the force of his personality.
The scientist handed her some things and whispered his last instructions: "The trap is set for us, all right, and we are going to spring it. Slip into this bulletproof cloak and hood. They will protect you against ordinary pistol fire when we rush the house. Keep this shield in one hand. The suit is not proof to submachine gun or rifle bullets, but the armor-plate is.
"Drop this automatic in the outside pocket of the cloak and keep the other gun in hand. You'll need both. Above all, shoot at any lights that appear outside of the house. Now put the gas mask on and keep it on. Are the instructions clear? We won't be able to talk after the masks are in place."
The girl nodded. They made the transformation in silence. The atmosphere became electric. She felt the thrill of imminent and all-powerful danger. Yet her nerves remained steady, and she liked the way in which she had been accepted as a working partner.
Frost made no idle chivalrous gesture, did not try to persuade her to stay behind or to back out. She liked, too, his positive methods; his bold counterstrikes, the scope of his analytical imagination that enabled him to make definite and sure preparations for any eventuality.
One on each side of the lighted window, they broke from the woods and stole toward the house. There came an almost inaudible click, a sudden faint hissing, when they were still eighty yards from their goal. At fifty, the grounds sprang into blinding radiance from flood lights on the roof. A rifle cracked above. Frost staggered.
The girl calmly aimed at the spot of the flash on the roof and fired. A scream pierced the night. The figure of a man spun from the roof and toppled, twisting, to earth. The girl flung herself face-down, held the protective shield in front of her. The light in the window vanished as Mason's hands came up with a submachine gun. Flame spurted to the accompaniment of a staccato bark. Bullets clipped the ground, whined overhead, panged and flattened against the shield. Her hand stung from the vibration.
Frost picked himself up, warily advanced, running low behind his shield. The more infrequent but deadlier bark of a rifle again sounded from the roof. Through a slit in the shield, the girl emptied one gun and two of the four flood lights shattered into darkness. A startled rabbit bounded across the grass. Suddenly it wabbled and fell inert. Jean thought it had been hit, but there was no trace of injury. Then she remembered the hissing noise, and Frost's insistence on the gas mask.
The girl raked the remaining flood lights with her second weapon, Crash of glass and zing of metal. The grounds plunged into blackness. The roof sniper fired again, and Jean jerked as a slug tore off a heel.
From the darkened window, the submachine gun poured its livid spurts; the air whistled and the shield quivered. Jean sensed rather than saw the professor run toward the house. His arm swept back, curved forward, three times, almost as fast as the eye could follow. The gas bombs hurtled through the window and broke with dull plops. Some one cried out, whether in warning or fear or pain was impossible to tell. The firing abruptly ceased. Jean reloaded both automatics and raced after the professor.
His long, loose-jointed form swung easily through the window as she ran up. He produced a flashlight from his pocket and played it around the room. Mason lay sprawled on the floor. A faint, thudding noise, as of a dead weight being dragged, came from far away. Dellener had been abandoned. Frost stooped, lifted the unconscious man, and returned to the window. He lowered Dellener to Jean who sturdily supported him while the professor dropped down to her side. He cast one quick glance at the huddled figure of the man who had toppled from the roof.
Dellener's breathing was so faint as to be almost indetectable. Frost carried the body again and stumbled off in an obvious but unexplained hurry. Jean took the cue and ran beside him. They were scarcely forty yards from the house when a terrific explosion blasted the night. Frost immediately dropped to the ground, but the girl was blown from her feet.
A wall of wind roared from where the house had stood. Plaster, bricks, debris began to rain everywhere. Frost staggered to his feet and carried Dellener to the protection of the woods. Jean, stunned, slowly regained her senses and followed.
The sight of a stain spreading down the professor's shoulder brought her sharply back to reality. She tore off her mask. She swayed dizzily, then recovered. The scientist removed his own mask.
The girl cried: "You're hurt!"
"Just a flesh wound, painful but not serious. The bullet passed through, and I have already staunched the flow. Miss Moray, hereafter, in the presence of anaesthetic gases—"
"Please, Professor Frost, credit me with enough intelligence to know that an explosion as strong as that one must have blown the gases away. Are we safe now?"
"Not entirely. Keep your automatic ready while I carry Dellener to the car."
"Then you don't think the blast killed them all?"
"Rather, it was intended to destroy us. Mason, who was probably gassed by the bombs I tossed in, must have died, as well as the second sniper on the roof. It's just as well. The law has been saved from the necessity of prosecuting Mason and the first sniper—the two other kidnapers. But the mind that planned to-night's work may have got away. When we entered, did you hear the sound of some one's dragging a body? He had time to reach the underground passageways, and thought we would search the house or delay long enough to be blown up with Dellener."
"How were they warned so quickly? I thought we were very quiet when we started across."
"Do you remember hearing a faint click?" Frost asked, as they approached the road. "We crossed the beam of a photo-electric eye and thus announced ourselves by breaking the circuit."
"That's strange. I didn't see any beam of light."
"There are several kinds of photo-electric cells, including one that works only by infra-red rays which are invisible to the eye. If we have time, I'll make a survey of the grounds, but I really see no need for it. That is the only automatic way by which our advance in the darkness could have been recorded. The cell-operated relay was undoubtedly connected with the buried gas containers.
"The mistake lay in thinking that we might escape the death car, the lookout, and even the gas, but not the shooting. They overlooked the possibility that I might go them one better by not only coming prepared for defense but also by bringing my own gas bombs."
"I should think they would have worn masks, if only because their own gas might drift back into the house."
"The wind drift, what little there is, is away from the house. Even so, they counted on shooting us in mere seconds and then closing the one open window until the gases had dissipated. The plan was thorough—but not thorough enough."
Frost strode from the woods and went toward his car. The gray dusk of dawn was just beginning to lighten the air.
Frost stopped abruptly and laid Dellener on the ground.
"Is something wrong?" Jean asked anxiously.
"Just one of the precautions I took when I left you at the clearing."
He searched along the roadside until he found the wire he had left connected with the ignition of his car and pulled it. It was still fastened. He unscrewed the bulb of his flashlight and scraped the wire across the exposed battery. It sparked.
Forty feet away, his automobile leaped into the air in a cascade of flame and exploding debris.
Frost's eyes were grim. "Some one has been active while we were gone. Now—"
The motor of a car purred to life farther down the road. Frost raced to one of the two hiding places where he had concealed the plates of the photographs he took and returned with three in hand.
A car gathering speed swung around a curve fifty yards off. The glare of headlights fell on them. Low, powerful, and armored, the car swept ahead and glided to rest a dozen feet away, its motor idling with a deep-throated purr.
"Professor Frost and Miss Moray, I believe? Be so good as to drop your weapons." The soft, triumphant voice slurred from the impenetrable blackness in the car.
"The pleasure is mutual; one encounters you so seldom."
Frost's sardonic answer had the hardness of metal. He and Jean dropped their guns. The girl felt as if she were in a nightmare that went on and on, but, even now, her nerves did not crack, though she faced death. She had confidence that the dominant figure in the nightmare was still the scientist, weird in his protective garments.
The bodiless voice continued: "Your automobile appears to have been wrecked. That is a pity. It was such an ingenious little laboratory in itself."
"And a greater pity that we were not in it when the unfortunate accident occurred?"
"Not necessarily, for there might be an unexpected but altogether satisfactory pleasure in silencing your efficient, but annoying, partnership, now and for ever."
To the girl, the personal antagonism underneath this polite interchange was like a lighted fuse, crackling swiftly to the final explosion that would end the nightmare.
"Wish-fulfillments do not often occur in life," Frost replied suavely.
"But frequently by death."
"Before that sad event takes place, perhaps you would be interested in viewing some most unusual photographic plates I have here."
Silence from the car for only a moment. Then a single shot came from the interior of it. The three plates burst into fragments, and the bullet flattened against Frost's cloak.
The voice murmured with mock regret: "What a pity! I am sure that the plates would have been most entertaining."
Jean, staring at the sinister car, felt that a sardonic smile must have crossed the professor's face when he drawled:
"Fortunately, those were the spoiled plates, though the figure of Dellener was clear enough. The three others, the perfect three, the most compromising three, clearly showing Dellener, Mason, and a third person, will doubtless be of remarkable interest to the police and the press."
"They would be, indeed—if they reached such hands. But, of course, it is difficult to extract information from a corpse. And those who do not know what or where to hunt, do not hunt."
Frost's voice took on a slur of satisfaction, as if he and he only controlled the situation: "Surely, if you were thoughtful enough to plant a bomb in the ignition system of my car, you were observant enough to notice the built-in developing outfit, and the wireless transmission set under the rear seat? Nor should it be necessary to remind you of the high-tension wires a hundred feet from here which furnish ample power for sending.
"It was close to an hour ago that I wirelessed the location of this place and of those valuable plates. I should say that fifteen minutes at most would suffice for the arrival of certain persons who would think nothing of spreading those pictures on the front page of the nation's press. The least of results, of course, would be the utter ruin of one hitherto brilliant career."
"Your imagination is far-sighted," the voice from the car answered, "but in fifteen minutes, one may investigate a considerable area."
"True! The problem is quite simple. You may kill Miss Moray and me, then hunt for the plates. If you do not find them, and I can assure you that you will not, you may be trapped on the scene, which would be most unfortunate, or if you departed, your own legal execution would be only a matter of limited time as a consequence of the incriminating plates.
"Much as I regret doing so, I am afraid that I must give you an opportunity to escape," Frost remarked with cool and ironic effrontery. "Since it is undeniable that you could destroy us now, I shall, before my friends arrive, be so careless as to smash the plates. You will be considerate enough to continue on your way. The mutual profit of the action should be immediately evident to an intelligent mind. I might add that instant action is desirable. Fifteen minutes was my maximum estimate, not the minimum."
The voice from the car spoke for the last time: "I have always held a high opinion of your extreme resourcefulness, Professor Frost, and of your gifted mind. I trust, indeed, I anticipate meeting you again. It is both a liability and an asset that you have the one weakness of always fulfilling your promises."
The motor roared. For an instant, Jean had an impression that she had reached the permanent end of the nightmare, that the drone of the engine would drown the spitting racket of a submachine gun. The car swept past and disappeared around a bend. Its deep purr suddenly died down. There was silence for a minute, then a burst of shots. The motor faded away.
"What did that mean?" Jean demanded.
Frost shrugged. "The lookout will never awaken, now. Those who sleep on guard duty, no matter what the cause, have no place in Blake's gang."
"It was not Blake who spoke from the car?"
"It was the voice of the mind behind to-night's work, a mind that conceived a perfect plot," Frost replied. "Whatever happened at any point, he could still turn the developments to his purposes. Even now, though this case is closed."
"How can he profit now? We have Dellener. The kidnapers are dead. You have made it impossible for them to make me the victim of circumstantial evidence as they planned."
"Yes; but to-day's papers will carry headlines on the attempted murder, the kidnaping, the rescue, and the persons involved. Under the glare of publicity, public opinion will force the passage of the anti-slot- machine law."
"But that means that an immensely profitable source of revenue will be cut off from crooks and racketeers. Grafting politicians will lose some of their easiest money."
"Precisely! They won't surrender fat profits as readily as that. With bootlegging gone, and the enormous slot-machine income erased, only one result can occur: a great increase in burglaries, bank robberies, kidnapings, business racketeering, hijacking, blackmail, and other criminal activities. But this is no time for a post-mortem. Let's be off."
"Aren't you going to wait till your friends arrive?"
A mirthless smile twisted the professor's lean features. "I am afraid it would be a waste of time. I neglected to inform our recent visitors that when I used the wireless some time ago, I was unable to obtain any answer. But let us account for the other plates."
Jean's hair, tousled and wind-blown, framed a face all the lovelier for its glint of admiration at the successful bluff, as she accompanied Frost to the second cache, where he had left the remaining plates under leaves near a great boulder.
A piece of twisted metal from the wrecked car lay over the hiding place. The plates had been shattered into bits.
Chuckling silently, the scientist lifted Dellener. The girl walked beside him as he strode slowly toward the lightening east and the main highway to hail a car.
THE END
Copyright © 1934 Street & Smith Publications, Inc., for Clues, 1934. Copyright renewed © 1962 by Donald Wandrei.
More from Donald Wandrei