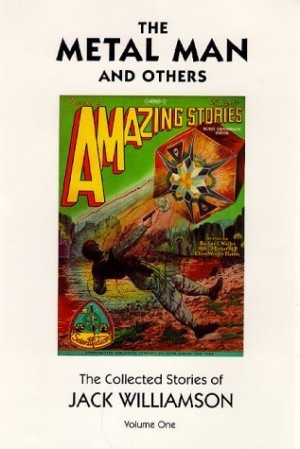 The Metal Man and Others, The Collected Stories of Jack Williamson, Volume One
Cover Art by Frank R. Paul

ISBN-13 9781893887022
568-page Hardcover
This is the inaugural volume in the publishing program to collect the stories of Science Fiction Grand Master Jack Williamson.
The nine stories in this volume (three of which are full-length novels!) are drawn from classic pulp magazines such as Amazing Stories, Science Wonder Stories, Air Wonder Stories, and Astounding Stories of Super-Science.
Supplementing these stories are rare editorials and letters to the editors of Amazing Stories, Science Wonder Stories, and Astounding Stories. Also included is a lengthy foreword by fellow Grand Master Hal Clement with an afterword by Jack Williamson.
As with all Haffner Press editions, presentation is very important to the finished product. The 568 pages of THE METAL MAN AND OTHERS (once under consideration as a Williamson title from Fantasy Press back in the 1950′s) are smythe-sewn and bound in green Kennett bookcloth with a spine stamping designed to match Williamson's titles from Fantasy Press of over five decades ago. Printed on 55# acid-neutral Sebago paper and featuring four-color endpapers reproducing the original pulp magazine covers from which each story originally appeared, THE METAL MAN AND OTHERS is an attractive beginning to an important document of Williamson's unparalleled career and acts as a mirror to the development of early American Science Fiction.
"Jack Williamson, Speculator" by Hal Clement
"Scientifiction, Searchlight of Science" (Amazing Stories Quarterly, Autumn 1928)
"The Metal Man" (Amazing Stories, Dec '28)
The Girl from Mars (with Miles J. Breuer) (SF Series, #1, 1929)
"The Alien Intelligence" (Science Wonder Stories, Jul, Aug '29)
"The Second Shell" (Air Wonder Stories, Nov '29)
"The Green Girl" (Amazing Stories, Mar, Apr '30)
"The Cosmic Express" (Amazing Stories, Nov '30)
"The Birth of a New Republic" (with Miles J. Breuer) (Amazing Stories Quarterly, Win '30)
"The Prince of Space" (Amazing Stories, Jan '31)
"The Meteor Girl" (Astounding Stories of Super-Science, Mar '31)
"Afterword" by Jack Williamson
Appendix
"Pictures in Color" (letter from Amazing Stories, Oct '27)
"Some Constructive Criticism" (letter from Amazing Stories, Oct '28)
"Why I Want a Remington Noiseless Portable Typewriter" (contest entry)
"A Reader Who Wants Short Stories" (letter from Amazing Stories, Jun '29)
"Tremendous Contribution to Civilization" (editorial from Science Wonder Stories, Jun '29)
"The Amazing Work of Wells and Verne" (letter from Amazing Stories Quarterly, Win '29)
"Race Memory Has No Record of Death" (letter from Science Wonder Stories, Jan '30)
"More Preferences" (letter from Astounding Stories of Super-Science, Aug '30)
More from Jack Williamson
---
---
Jack Williamson
(April 29, 1908–November 10, 2006) John Stewart Williamson, who wrote as Jack Williamson (and occasionally under the pseudonym Will Stewart) was a U.S. writer often referred to as the "Dean of Science Fiction" Williamson was born April 29, 1908 in Bisbee, Arizona Territory, and spent his early childhood in western Texas. In search of better [...]
---
---
Now Shipping