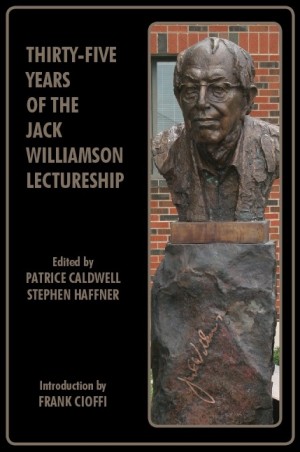 Thirty-Five Years of the Jack Williamson Lectureship
Edited by Patrice Caldwell & Stephen Haffner

ISBN-13 9781893887558
374 pp. Trade Paperback
$19.00
When Dr. Jack Williamson retired from his position as Professor of English at Eastern New Mexico University in 1977, the university launched a lectureship series in his honor. The focus of the Lectureship was to be the sciences and the humanities and the first guests were Frederik Pohl and James E. Gunn.
Thirty-Five years later, the Jack Williamson Lectureship continues to draw speakers, writers, editors, and fans to honor one of our favorite authors. Celebrating this event will be a new book THIRTY-FIVE YEARS OF THE JACK WILLIAMSON LECTURESHIP.  This book collects transcripts of speeches and presentations from a variety of Lectureship guests from the past 35 years. From academics and scientists to grandmasters and modern writers, a thick slice of Jack Williamson's influence is to be found here. Also included is coverage of several previous Lectureships in Locus Magazine by Charles N. Brown and a chronology of all the Lectureships by Williamson's bibliographer Richard A. Hauptmann. Closing the book is a gallery of promotional artwork from the last 10 years and a 1000-word story by Jack Williamson from 2004, "Dream of Earth."
Proceeds from the sale of this book will benefit the Williamson Lectureship Fund
Information on the Jack Williamson Lectureship is HERE.
Preface by Frank Cioffi
Introduction by Patrice Caldwell & Betty Williamson
1977: "Williamson Lectureship Note Cards" by James Gunn
1979: "Playing God: the New Biology Moral Issues" by June Goodfield.
1979: "Genetic Engineering: Fiction into Fact!" by Jack Williamson
1982: "America's Continuing Controversy Over Humanism" by Dr. John Newport
1982: "Humanism and the Future: A Tentative Proposal for an American Solution" by Dr. John Newport
1983: "The Future of Unhumanism" by Robert Silverberg
1984: "Imaginary Cities" by Ihab Hassan
1984: "Beyond the Two Cultures" by Ihab Hassan
1985: "Albert Einstein and the Generation of 1905" by William Eamon
1985: "Technology and Magic" by William Eamon
1988: "Commencement Address" by Frederik Pohl
1991: "Epic Fantasy in the Modern World" by Stephen R. Donaldson
1992: "The Three Cultures" by Joe Haldeman
1996: "Worlds Enough and Time" C.J. Cherryh and Tim Powers
1997: "Images of the Future in Science Fiction Film and Television" Melinda Snodgrass, Mike Resnick and Michael Cassutt
2001: "New Science for a New Century" by Scott Edelman
2001: "Jack Williamson" by Scott Edelman
2003: "Seventy-Five Years of Wonder" by Connie Willis
2003: "75 Years-in-Publication: Celebration" by Joe Haldeman
2005: "Jack Williamson Lunch Lecture" by Walter Jon Williams
2007: "From Metal Man to Stonehenge Gate" by Connie Willis, Richard A. Hauptmann, and Eleanor Wood
2009: "Looking for Clues" by Nalo Hopkinson
2010: "From High Plains to High Orbit" by Sean Shepherd
2010: "Science Fantasy: Into the Next Decade" by Ian Tregillis
1999-2006: "Williamson Lectureship Coverage in Locus Magazine" by Charles N. Brown
"Dream of Earth" by Jack Williamson
Afterword by Stephen Haffner
"The Williamson Lectureship Chronology" by Richard A. Hauptmann
Contributors
Gallery of Lectureship Posters
More from Jack Williamson
---
---
Jack Williamson
(April 29, 1908–November 10, 2006) John Stewart Williamson, who wrote as Jack Williamson (and occasionally under the pseudonym Will Stewart) was a U.S. writer often referred to as the "Dean of Science Fiction" Williamson was born April 29, 1908 in Bisbee, Arizona Territory, and spent his early childhood in western Texas. In search of better [...]
---
---
Now Shipping