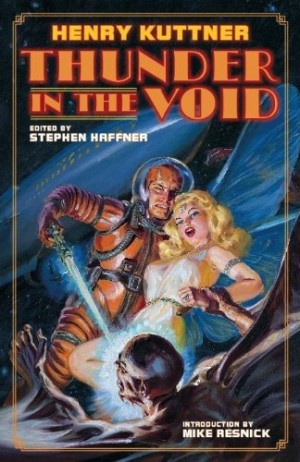 Thunder in the Void – (1/75 Limited Edition)
Introduction by Mike Resnick
Cover Art by Norman Saunders

ISBN-13 9781893887541
600+ page Harcover with exclusive chapbooks and Matching Slipcase
$150.00
Prior to his marriage to fellow science-fantasy writer Catherine L. Moore in 1940, Henry Kuttner wrote stories of Lovecraftian horror, weird-menace "shudder" tales, and thrilling adventure stories. But he also wrote blood-n-thunder Space Opera stories in the vein of Edmond Hamilton (one of young Kuttner's favorite authors) told with a rough-edge style similar to Kuttner's protege Leigh Brackett.
THUNDER IN THE VOID is a massive collection of 16 vintage Space Opera stories selected from classic pulp magazines such as Weird Tales, Marvel Science Stories, Astonishing Stories, Super Science Stories, Super-Detective, and of course, Planet Stories. Most of the these are appearing in book form for the first time. An added bonus, Haffner Press is pleased to include anunpublished story by Kuttner, "The Interplanetary Limited."
Award-winning author (and the only writer to stage a live performance of a Kuttner Space Opera story) Mike Resnick contributes an introduction reflecting on his admiration for stories by Kuttner (and Moore).
Introduction by Mike Resnick
*Raider of the Spaceways  (Weird Tales, Jul '37)
Avengers of Space  (Marvel Science Stories, Aug '38)
The Time-Trap  (Marvel Science Stories, Nov '38)
*The Lifestone  (Astonishing Stories, Feb '40)
*Monsters of the Atom  (Super-Detective, Apr '41)
*Red Gem of Mercury  (Super Science Stories, Nov '41)
*The Crystal Circe  (Astonishing Stories, Jun '42)
*War-Gods of the Void  (Planet Stories, Fll '42)
*Thunder in the Void  (Astonishing Stories, Oct '42)
We Guard the Black Planet  (Super Science Stories, Nov '42)
*Soldiers of Space  (Astonishing Stories, Feb '43)
*Crypt-City of the Deathless One  (Planet Stories, Win '43)
The Eyes of Thar  (Planet Stories, Fll "43)
What Hath Me  (Planet Stories, Spr '46)
*Carry Me Home  (Planet Stories,  '50)
The Interplanetary Limited (first time in print)
More from Henry Kuttner