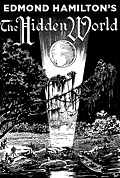 READ IT ONLINE
---
Don't Miss
---
For Charity
---
Quick Links
---
Books Featuring the Work of Norman Saunders
---

Humorous works culled from vintage trade journals like Excavating Engineer and tapping the beginning of Brown's detective fiction.
---
$50.00
---

A massive collection of Space Opera stories culled from such pulps as Weird Tales, Astonishing Stories, Marvel Science Stories, Planet Stories, and Super Science Stories. Most reprinted for the first time!
---
$40.00
---

Prior to his marriage to fellow science-fantasy writer Catherine L. Moore in 1940, Henry Kuttner wrote stories of Lovecraftian horror, weird-menace "shudder" tales, and thrilling adventure stories. But he also wrote blood-n-thunder Space Opera stories in the vein of Edmond Hamilton (one of young Kuttner's favorite authors) told with a rough-edge style similar to Kuttner's [...]
---
$150.00
---
---
---
Now Available!
---
Featured Items
---