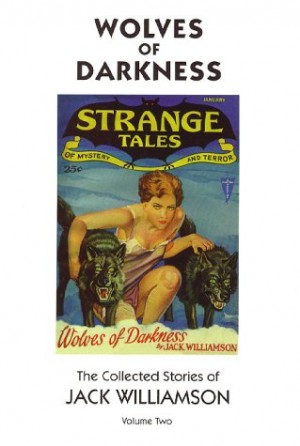 Wolves of Darkness, The Collected Stories of Jack Williamson, Volume Two
Foreword by Jack Williamson
Cover Art by H. W. (Wesso) Wessolowski

ISBN-10 1893887049
ISBN-13 9781893887046
560-page Hardciver
This second volume continues the publishing program to collect the stories of Science Fiction Grand Master Jack Williamson.
Drawn from such classic pulp magazines as Astounding Stories, Wonder Stories, and this volume features ten tales, four never published in book form, including novel-length adventure, Amazing Stories, "The Stone from the Green Star." Also included are Williamson's letters and contest entries to the editors of the SF magainzes of the early 30′s.
The book is smythe-sewn, bound in full cloth, and printed on acid-neutral paper, with full-color endpapers reproducing the original pulp magazine cover art.
With a foreword by noted writer Harlan Ellison, Wolves of Darkness imparts the sense of wonder from the early years of American Science Fiction and continues the documentation of Williamson's unparalleled career.
"And Now, Ladies and Gentlemen, a Man Who Needs No Introduction" by Harlan Ellison
"The Lake of Light" (Astounding Stories, Apr '31)
"Through the Purple Cloud" (Wonder Stories, May '31)
"The Doom from Planet 4" (Astounding Stories, Jul '31)
"Twelve Hours to Live!" (Wonder Stories, Aug '31)
"The Stone from the Green Star" (Amazing Stories, Oct '31 & Nov '31)
"Wolves of Darkness" (Strange Tales of Mystery and Terror, Jan '32)
"The Moon Era (Wonder Stories, Feb '32)
"The Pygmy Planet" (Astounding Stories, Feb '32)
"Red Slag of Mars" (w/Laurence Schwartzman) (Wonder Stories Quarterly, Spr '32)
"The Lady of Light" (Amazing Stories, Sep '32)
Afterword by Jack Williamson
Appendix
"The Earth's Tail" (letter from Wonder Stories, Jun '31)
"Prize Winning Letters (contest entries from Wonder Stories, Nov '31)
"Jack Williamson to His Own Defence" (letter from Amazing Stories, Jun '32)
" 'Pygmy Planet' Science" (letter from Astounding Stories, Nov '32)
"Huge Skull Gazes Weirdly from Ad Building Window" (New Mexico Lobo, Jan 13, 1933)
More from Jack Williamson
---
---
Jack Williamson
(April 29, 1908–November 10, 2006) John Stewart Williamson, who wrote as Jack Williamson (and occasionally under the pseudonym Will Stewart) was a U.S. writer often referred to as the "Dean of Science Fiction" Williamson was born April 29, 1908 in Bisbee, Arizona Territory, and spent his early childhood in western Texas. In search of better [...]
---
---
Now Shipping