Recent Posts
---
Archives
---
Quick Links
---
Archive for October 2016
---
 In This Issue:

October

26

, 2016


"MAN'S CONQUEST OF SPACE or UPSIDE-DOWN IN TIME"
A New Unpublished

Story by


HENRY

KUTTNER




Haffner Press

does it

again! In 2012 we included a newly discovered Henry Kuttner story—"The Interplanetary Limited"—in THUNDER IN THE VOID. Now, with the upcoming release of THE WATCHER AT THE DOOR: THE EARLY KUTTNER, VOLUME TWO, we are pleased as pandas (!) to announce we have discovered ANOTHER

unpublished Henry Kuttner story

!


MAN'S CONQUEST OF SPACE or UPSIDE-DOWN IN TIME

is an early gag-story (featuring pandas) supposedly written for the fanzines of the 1930s. It likely predates Kuttner's first professional sale in 1936.

"And how can I get a copy?" you ask? Well, we made it simple. So simple that it's FREE* if you place (or have already placed!) a PAID preorder for

THE WATCHER AT THE DOOR: THE EARLY KUTTNER, VOLUME TWO.We're printing a limited quantity of this new Kuttner story, so Do. Not. Delay.This also means more good news:

THE WATCHER AT THE DOOR: THE EARLY KUTTNER, VOLUME TWO is printed and we have approved the finished copies (whew!). We will begin shipping the books when we are recovered from exhibiting at this week's WORLD FANTASY CONVENTION in Columbus, Ohio.

Meanwhile, here's what you get in THE WATCHER AT THE DOOR:


---

The Watcher at the Door: The Early Kuttner, Vol. Two
by Henry Kuttner
Edited by Stephen Haffner
Foreword by Robert A. Madle
Introduction by Dr. Garyn G. Roberts
Cover by Jon Arfstrom
ISBN: 978-1893887824
712-pg Hardcover
$45.00

Before his marriage to (and subsequent collaborations with) Catherine L. Moore, Henry Kuttner was a frequent contributor to the pulp magazines that specialized in the weird, supernatural, horror, and science fiction genre. Beginning in 1936, with the minor classic "The Graveyard Rats," Kuttner launched a steady stream of short stories aimed at Weird Tales, Strange Stories, Thrilling Mystery, and others.
Writing for Weird Tales brought Kuttner into direct correspondence with that magazine's premier contributor. H. P. Lovecraft. Kuttner set several stories in Lovecraft's "Cthulhu Mythos" and two are presented in THE WATCHER AT THE DOOR: "Hydra" and "The Hunt."
At this point in his still-young career, Kuttner had cracked the science fiction market and was steadily publishing in Thrilling Wonder Stories, Fantastic Adventures, Science Fiction, and made his first sale to the new prestigious fantasy magazine, Unknown.
In the course of writing the stories collected in this volume, Kuttner married Catherine Lucille Moore on June 7, 1940 (in New York with artist Virgil Finlay as Best Man).
     THE WATCHER AT THE DOOR is the second volume in a three-volume "Early Kuttner" set collecting many of Kuttner's earliest stories, most of which have never been reprinted.

CONTENTS:
Foreword by Robert A. Madle
Introduction by Garyn G. Roberts, Ph.D.
We Are the Dead, Weird Tales, Apr '37
The Case of Herbert Thorp, Weird Tales, Nov '37
The Transgressor, Weird Tales, Feb '39
Hydra, Weird Tales, Apr '39
Murder for Fun, Thrilling Mystery, May '39
The Watcher at the Door, Weird Tales, May '39
The Hunt, Strange Stories, Jun '39
"Telepathy Is News!", Science Fiction, Jun '39
Death Is Where You Find It, Thrilling Mystery, Jul '39
The Curse of the Crocodile, Strange Stories, Aug '39
The Misguided Halo, Unknown, Aug '39
The Devil's Brood, Thrilling Mystery, Sep '39
Corpse Castle, Thrilling Mystery, Nov '39
Towers of Death, Weird Tales, Nov '39
Suicide Squad, Thrilling Wonder Stories, Dec '39
Death Has Three Sisters, Thrilling Mystery, Jan '40
When New York Vanished, Startling Stories, Mar '40
All Is Illusion, Unknown, Apr '40
Beauty and the Beast, Thrilling Wonder Stories, Apr '40
Pegasus, Famous Fantastic Mysteries, May '40
50 Miles Down, Fantastic Adventures, May '40
Improbability, Astonishing Stories, Jun '40
The Room of Souls, Strange Stories, Jun '40
The Mad Virus, Science Fiction, Jun '40
Dr. Cyclops, Thrilling Wonder Stories, Jun '40
Time to Kill, Strange Stories, Jun '40
No Man's World, Thrilling Wonder Stories, Aug '40
The Seal of Sin, Strange Stories, Aug '40
World Without Air, Fantastic Adventures, Aug '40
The Uncanny Power of Edwin Cobalt, Fantastic Adventures, October '40


---

*Shipping is FREE in the continental United States. Alaska, Hawaii and International orders
should email us at info@haffnerpress.com for shipping rate quotes. You have been warned!

That's all for now. To ensure that you continue to receive this newsletter, be sure to add haffnerpress@sbcglobal.net and info@haffnerpress.com to your email reader's "safe list."
---
You're receiving this message because you requested to be notified of events at Haffner Press, or have done business with Haffner Press in the past. If you do not wish to receive these messages in the future click unsubscribe and request to have your name removed
.
Copyright © 2016 HAFFNER PRESS
5005 Crooks Road • Suite 35 • Royal Oak, MI 48073-1239
(248) 288-4756 • www.haffnerpress.com
•  Keep Watching the Skies!  •
*silly panda, nothing is ever "free." 

---
---
 In This Issue:

October

19

, 2016 


  Hey everybody.
  A very somber newsletter this time around. In the world of entertainment, 2016 has seen far too many of our most talented performers

leave us

. Recently, several folks who played a large part with Haffner Press have

passed away

. We pay tribute to these

gentlemen

, and hope that you find ti

me to learn more about these men

and their contributions to the genre that we all love.
                                      —S

tephen Haffner




•  David A.

Kyle

(1919 – 2016)



•  Robert Wei

nberg

(1942- 2016)



• 

Barry Levin

(1946 – 2016)



•  Ed

Gorman (1941 – 2016)




---

David A. Kyle (1919-2016)



     Certainly not by his own choice, but David A. Kyle was the unofficial godfather of Haffner Press. Full details are found in this interview from 2002 HERE. Suffice to say, without David Kyle, you wouldn't be rea

ding this newsletter.


Kyle was one of the early SF fans in the 1930s, attended the first Wo

rldcon in 1939,

and was a member of the legendary group, The Futurians.
     Following service in World War II, Kyle

managed

a New York radio station. In 1948,

w

ith Martin Greenberg, Kyle founded Gnome Press in 1948

, ultimately publishing published dozens of volumes of classic sf in hardcover for the first time. Gnome Press went under in 1962.




    

In 1956,

Kyle chaired the

14th World Science Fiction Convention (NyCon II), inspiring the fan catchphrase, "Dave Kyle says you can't sit here." He was created a Knight of The Order of Saint Fantony in 1961, and was awarded the Big Heart Award in 1973. Kyle was also Fan Guest of Honor at ConStellation, the 41st World Science Fiction Convention, in 1983.


    

He wrote two pictorial histories of science fiction (A Pictorial History of Science Fiction and The Illustrated Book of Science Fiction Ideas and Dreams) and three licensed novels set in the Lensman universe (The Dragon Lensman, Lensman from Rigel, and Z-Lensman).


    

I last saw David at Readercon 2015 in B

oston

. He was admiring the ARC of MURDER DRAWS A CROWD by Fredric Brown. After a moment's pause he looked up and said: "I used to play chess with him."
     Dav

i

d

Kyle

died at the age of 97 on September 18, 2016

Lin

ks:

• Obituary from File770
•

Wikipedia entry on David A. Kyle


• Kyle's Lensm

en novels from Red Jacket Press


• Some of Kyle's writing from the fanzine M

IMOSA




---

Robert Weinberg (1942-2016)


     Bob Weinberg, at one time or another, wore nearly every hat possible in science fiction: Author (novels, stories, comic books, and non-fiction), Editor, Publisher, Bookseller,

Distributor,

Collector, Art Dealer, Agent, and those are the ones that spring to mind.
     I first knew of Bob as the author of THE WEIRD TALES STORY (Fax, 1977), a beautiful book chock of full of the history of Weird Tales magazine

.

While Bob had sold the inventory and mailing list

of

his and

P

hyllis'

(his

wife) mail-order business WEINBERG BOOKS, he still maintained a tight connection with publishers, dealers, and fellow art collectors. His collection (books, magazine

s, original artwork) was one of the finest in the world.




    

At my first PulpCon in 1997, I aggressively bid for all six issues of Bob's fanzine, THE WEIRD TALES COLLECTOR. Armed with this, I began my quest for a complete file of Edmond Hamilton's stories

(a

s payback, I invited Bob to write the introdu

ction to the

first volume of Collected H

amilton, THE METAL GIANTS AND OTHERS in 2009).


     One of my favorite memories of Bob was at PulpCon in 2004. The show was pretty much a bust for shopping until a new vendor set up right next to my table and began unboxing his wares. Well, a feeding frenzy broke out (this guy's stuff was priced to MOVE!), and I spied Bob (bad legs and all) on all fours underneath this dealer's table a going through the merchandise. Lo and behold, he comes up for air holding a mint copy of Howard Browne's A TASTE OF ASHES. Now, I had a copy of this, but not in jacket. IIRC, Bob snagged it for a mere $20. He immediately saw my disappointment. Hours later, the dealers' room is closed and were all trooping to the hotel elevators. Bob and I cross path

s and he says: "I'll let you have the Browne book for $60."  SOLD! 


     Bob Wei

nberg

died at the age of

70

on September 25, 2016

---

Barry R. Levin (1946-2016)


     I first encountered Barry Levin's name via his classified advertisement in LOCUS magazine for BARRY R. LEVIN BOOKS in Santa Monica, California. In a pre-ebay era, Barry's printed catalogues were full of wonders and rarities. When fortune smiled on me in 1996, I found myself with an all-expenses-paid three-day trip to San Francisco. With some finagling, I was able to stretch this into 3 days in SF and 5 days in Los Angeles for the same week as L.A. CON III, the 54th World Science Fiction Convention. While most business were shut for the Labor Day holiday, Barry's store was open and we spent hours getting acquainted and looking over his inventory.
Barry was one of the first dealers to carry Haffner Press books, and I will never forget the day when he called placing an order. Suddenly, my little lark to make a book or two made that quantum leap from dream to reality.
My favorite "Barry-story" was his recalling his early days in bookselling and entertaining two local writers, Edmond Hamilton and Leigh Brackett. In the store, Barry had a copy of the Summer 1943 issue of CAPTAIN FUTURE. According Barry, Hamilton says that the artist (Earle K. Bergey) said: "You know, Ed, you have the face of a villain." So, if you squint your eyes, you may imagine Hamilton pictured as the threatening bird-man. I'll leave it to you if the defending woman isn't a dead-ringer for a young Leigh Brackett.
Barry R. Levin died on September 14, 2016 at the age of 70.Lin

ks:

• The website for Barry L

evin Books

• Obituary for Barry Levin at FILE

770

---


     Ed Gorman was a writer's writer. He wrote in nearly every genre (mystery, crime, horror, western, comics, etc.) except science fiction, but he was a sf-fan of the first strip going back to his teenage years. Ed and I exchanged many, many emails about our mutual love of late-50s science fiction adventures by Edmond Hamilton, Leigh Brackett, John Brunner, etc.
Additionally, he edited over 20 anthologies and co-founded MYSTERY SCENE magazine Robert Randisi in 1985. For more than ten years he blogged about upcoming books at his site: http://newimprovedgorman.blogspot.com and it was always and honor when he gave Haffner Press a shout-out.
     Ed Gorman wrote the introduction to our forthcoming omnibus, THE MICHAEL GRAY MYSTERIES by Henry Kuttner and Catherine L. Moore.

Recognitions:
Life Achievement Award from the Private Eye Writers of America
The International Horror Writers Award
Numerous nominations for the Edgar Award

Ed Gorman died on October 14, 2016 at the age of 74.

Links:
• Ed Gorman's entry on Wikipedia
•https://jamesreasoner.blogspot.com/2016/10/ed.html
•http://billcrider.blogspot.com/2016/10/ed-gorman-r-i-p.html
•http://pattinase.blogspot.com/2016/10/ed-gorman.html

---
You're receiving this message because you requested to be notified of events at Haffner Press, or have done business with Haffner Press in the past. If you do not wish to receive these messages in the future click unsubscribe and request to have your name removed.
.
Copyright © 2016 HAFFNER PRESS
5005 Crooks Road • Suite 35 • Royal Oak, MI 48073-1239
(248) 288-4756 • www.haffnerpress.com
•  Keep Watching the Skies!  •

---
---
---
Now Available!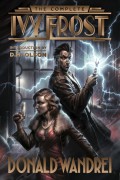 $50.00
---
---
Featured Items
---