Recent Posts
---
Archives
---
Quick Links
---
Archive for November 2012
---
| | |
| --- | --- |
| In This Issue: |   November 3, 2012 |



| | |
| --- | --- |
| •   | JOHN THUNSTONE at the printer |




| | |
| --- | --- |
| •   | Glen Orbik on HALO FOR HIRE |

| | |
| --- | --- |
| •   | Edmond Hamilton Updates |

| | |
| --- | --- |
| •   | Jack Williamson #8 OOP and others are low!! |
JOHN THUNSTONE at the printer
    Manly Wade Wellman's

THE COMPLETE JOHN THUNSTONE

is finally on its way to the printer.

Since announcing this 672-page title last year, we've really been packing in the extra goodies that we hope will make this one of your favorite books of all time:

• Cover art & endsheets by

Raymond Swanland

• Interior artwork by

George Evans

from

LONELY VIGILS

for these tales

• Chris Kalb-designed cover titles

• Introduction by Grandmaster

Ramsey Campbell


What more could you want? Read on:




---

• We have secured 100 Manly Wade Wellman autographs for the book's 100-copy Slipcased Edition!
• The slipcased edition is also signed by Campbell, Swanland and will feature two dustjackets WITH an exclusive chapbook of Wellman's "Judge Pursuivant" stories (published in Weird Tales as by "Gans T. Fields") also illustrated by Evans and featuring the cover from the 1946 UK edition of these stories, ROMANCE IN BLACK.

---

• We are also preparing a 26-copy LETTERED edition which will also bear a Wellman autograph, along with some extra material that we will share in the near future.
    We just received the proofreaders' corrections to the manuscripts for CAPTAIN FUTURE, VOLUME THREE and THE REIGN OF THE ROBOTS, THE COLLECTED EDMOND HAMILTON, VOLUME FOUR. All other materials needed to complete these books are on hand, so look for these soon.  Robert A. Madle is working on his introduction to THE SIX SLEEPERS and we expect Volume Five ready to go soon after.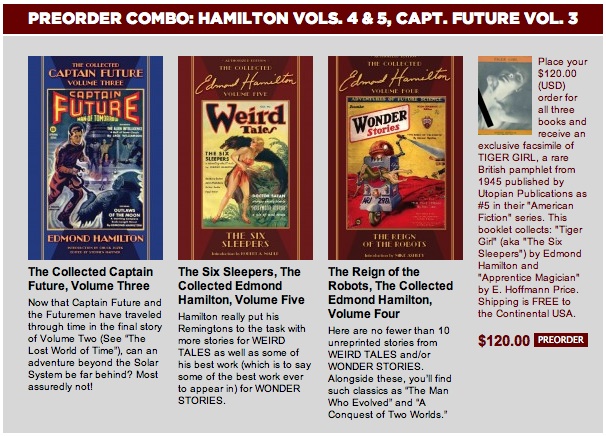 Work continues on the first two volumes of the FREDRIC BROWN MYSTERY LIBRARY. This undertaking turned out to be more daunting the we expected!  We finally have all the texts necessary for these two volumes, but we're having our proofreaders work against the original pulp magazines!
Tracking down and securing all these publications was very time-consuming, but the added bonus will be the inclusion of the original pulp interior illustrations.  Not all such illos were masterpieces, but there are plenty of gems and we're going to include them all for you.
The links below will detail the contents of the first two volumes:

MURDER DRAWS A CROWD: VOLUME ONE
DEATH IN THE DARK: VOLUME TWO
 Glen Orbik on HALO FOR HIRE
    GLEN ORBIK

will be doing the cover art for

HALO FOR HIRE

, the collection of all the "Paul Pine Mysteries" by

HOWARD BROWNE

.

If you're a fan of vintage genre fiction (if you're not, why are you receiving this update?), you've surely seen Glen's artwork on a multitude of book covers, posters, comic books, etc.

Glen has done work for DC Comics, Vertigo, Marvel Comics, Warner Bros., Clampett Studios, Universal Pictures, Sony, Avon Books, Berkley Books Del Rey, Hard Case Crime, and more!

We hope you agree that Glen Orbik is the PERFECT choice for HALO FOR HIRE!
Jack Williamson #8 OOP and others are low!
That's it for now. To ensure that you continue to receive this newsletter, be sure to add haffnerpress@sbcglobal.net and info@haffnerpress.com to your email reader's "safe list." And, remember, shipping is FREE in the continental United States. Alaska, Hawaii and International orders should email us at info@haffnerpress.com for shipping rate quotes.
You're receiving this message because you requested to be notified of events at Haffner Press, or have done business directly with Haffner Press in the past. If you do not wish to receive these messages in the future,

Unsubscribe

and request to have your name removed.

Copyright © 2012 HAFFNER PRESS
5005 Crooks Road • Suite 35 • Royal Oak, MI 48073-1239
(248) 288-4756 • www.haffnerpress.com

•  Keep Watching the Skies!  •
---
---
---
Now Available!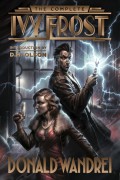 $50.00
---
---
Featured Items
---