Recent Posts
---
Archives
---
Quick Links
---
---
 In This Issue:

March 14, 2018

    •  2018 Jack Williamson Lectureship


    •  Jack Williamson on Video & Audio

    •  Once-in-a-Lifetime Offer on
Jack Williamson Titles


---
The 42nd Annual Jack Williamson Lectureship will take place Friday, April 6, 2018 with Guest of Honor S.M. Stirling along with other writers, friends and fans from across the region. Stirling is the author of several series set in his popular "Emberverse" as well as the Lords of Creation series, the Shadowspawn series, and a number of alternate history novels. His latest Emberverse book, The Sea Peoples, was released in October 2017. Black Chamber, the first book in a new alternate history series, will be out in July 2018. Stirling currently lives in New Mexico; his interests include history, anthropology, archaeology and martial arts. Learn more about him at www.smstirling.com.

The complete schedule of events will be posted soon. All events are open to the public and everything except the luncheon is free. The luncheon costs $10, payable at the door, but reservations are required by April 2. Contact planning.analysis@enmu.edu for lunch reservations.
---
Jack Williamson on Video & Audio
  Meanwhile, here are two videos we hope you'll find VERY entertaining. The first is REPORT FROM SANTA FE from 2016 featuring ENMU's Dr. Patrice Caldwell and authors Daniel Abraham and Victor Milan. The second video is an audio recording from Baycon, the 26th WorldCon, in Oakland, California in 1968. This "Lovecraft and Pulp Fiction" panel (with accompanying photos) features Fritz Leiber, Robert Bloch, Edmond Hamilton, Emil Petaja, E. Hoffman Price, and Jack Williamson sharing what it was like to write for the pulps. The panel is moderated by Baycon co-chair Alva Rogers. Courtesy of the Pacifica Radio Archives. If you enjoy this, please subscribe to the FANAC Youtube channel. 
---

Once-in-a-Lifetime Special
Offer on Jack Williamson Titles


  

We just published a 900+ page book (HALO FOR HIRE: THE COMPLETE PAUL PINE MYSTERIES by Howard Browne) and we need to clear out some storage space here at the Secret Moon Base. As next month brings the 42nd Annual Jack Williamson Lectureship, we're going to offer the following FOUR Jack Williamson books at a special combo price! Buy them for yourself, buy them for a friend. This is a Once-in-a-Lifetime chance to score nearly 2000 pages of Grandmaster-quality texts, including 8 (count 'em, EIGHT!) never before published stories not available anywhere else.

At retail, these 4 titles combined would cost $124.00. But for the moment, you can get all four books for

$89.00 USD with FREE SHIPPING via Media Mail in the USA. (Int'l customers please contact us for a shipping rate.) You save $35 if you get in on this offer right meow!. And these are not dinged-copies, these are minty-fresh shrinkwrapped hardcovers (for SEVENTY-FIVE and WORLDS) and autographed trade paperbacks (IN MEMORY… and THIRTY-FIVE YEARS…). Click to order.

---

However, if you only need to add certain volumes to your library, copies may be ordered individually below:

Seventy-Five:
The Diamond Anniversary
of a Science Fiction Pioneer

The Worlds of Jack Williamson:
A Centennial Tribute
(1908-2008)

In Memory of Wonder's Child

35 Years of the Williamson Lectureship

---
---
---
Now Available!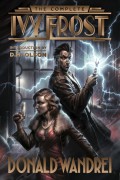 $50.00
---
---
Featured Items
---