Recent Posts
---
Archives
---
Quick Links
---
Archive for May 2012
---
| | |
| --- | --- |
| In This Issue: |   April 30, 2012 |
| | |
| --- | --- |
| •   | Collected FREDRIC BROWN Contents |

| | |
| --- | --- |
| •   | TALES FROM SUPER-SCIENCE FICTION Update |




| | |
| --- | --- |
| •   | THUNDER IN THE VOID is shipping |




| | |
| --- | --- |
| •   | EDMOND HAMILTON Combo (new premium)! |
Collected FREDRIC BROWN Contents
Ladies and gentlemen, we are pleased to post the contents to the first two volumes of LOADED: THE COLLECTED FREDRIC BROWN!  Click the images to view the ordering/contents page.
These volumes may be preordered separately, but we encourage you to take advantage of the COMBO for these two books with HALO FOR HIRE: THE COMPLETE PAUL PINE MYSTERIES by Howard Browne and save $15.
THUNDER IN THE VOID is shipping
 

Upon return from the Williamson Lectureship, we shipped over 600 copies of the inventory for THUNDER IN THE VOID.

If you don't have yours on order yet, we suggest you hurry up!

Thanks in advance to all of you who preordered. After all, how often is it that you can read a never-before-published work by Henry Kuttner?

Meanwhile, you can get another gander at THUNDER IN THE VOID at its dedicated Facebook page HERE:  We'll keep adding ephemera and content for the foreseeable future.



TALES FROM SUPER-SCIENCE FICTION at the printer
 

Meanwhile, Robert Silverberg's TALES FROM SUPER-SCIENCE FICTION is at the printer and we expect finished copies in 3-4 weeks.

The retail price is $32.00, but you can receive it for $30 when you take advantage of the SPECIAL COMBO OFFER with THUNDER IN THE VOID, HOLLYWOOD ON THE MOON and Receive an exclusive bonus chapbook:
Edmond Hamilton Discovery
We uncovered a small cache of these double-sided postcards that were prepared to celebrate the first EDMOND HAMILTON DAY back on July 18, 2009.

Rather than toss them out or attempt to archive them, we've decided that we're going to include them with all preorders of the Combo Offer for HAMILTON VOLS. 4 & 5, CAPT. FUTURE VOL. 3 and Tiger Girl as offered on the homepage www.haffnerpress.com
That's it for now. To ensure that you continue to receive this newsletter, be sure to add haffnerpress@sbcglobal.net and info@haffnerpress.com to your email reader's "safe list." And, remember, shipping is FREE in the continental United States. Alaska, Hawaii and International orders should email us at info@haffnerpress.com for shipping rate quotes.
You're receiving this message because you requested to be notified of events at Haffner Press, or have done business directly with Haffner Press in the past. If you do not wish to receive these messages in the future, Unsubscribe and request to have your name removed.

Copyright © 2012 HAFFNER PRESS
5005 Crooks Road • Suite 35 • Royal Oak, MI 48073-1239
(248) 288-4756 • www.haffnerpress.com

•  Keep Watching the Skies!  •
---
---
---
Now Available!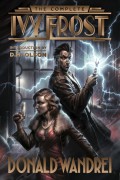 $50.00
---
---
Featured Items
---