Recent Posts
---
Archives
---
Quick Links
---
Archive for February 2016
---
 In This Issue:

February 2, 2016


   

• Last chance to vote on the cover art to THE BOOK OF STARK by Leigh Brackett
    • Last Call for some of our signed/slipcased editions
    • Join us on FACEBOOK and win FREE books!


---

• Cast your vote for the cover art for
THE BOOK OF STARK by Leigh Brackett


Here's how the voting currently shakes out by image #:


| | | | | | | | | | | | | |
| --- | --- | --- | --- | --- | --- | --- | --- | --- | --- | --- | --- | --- |
| 1 | 2 | 3 | 4 | 5 | 6 | 7 | 8 | 9 | 10 | 11 | 12 | 13 |
| 0.0% | 6.8% | 9.1% | 4.5% | 27.3% | 18.2% | 0.0% | 2.3% | 13.6% | 2.3% | 9.1% | 4.5% | 4.5% |




Contents
"Queen of the Martian Catacombs"
"Enchantress of Venus"
"Black Amazon of Mars"
"Stark and the Star Kings"
The Ginger Star
The Hounds of Skaith
The Reavers of Skaith
"1977: Notes for Stark #4″

---

• LAST CALL for some of our Signed/Slipcased Editions


We took inventory last month and quantities are get

ting VERY LOW on our deluxe autographed editions. One of these is as low a ONE copy!  These editions are signed by the author of the book and/or the introducer (who is a recipient of a Grandmaster or Lifetime Achievement award—or both!), some of whom are no longer with us. Act soon if you're considering the following:


Signed by Ramsey Campbell (introduction), Raymond Swanland (cover artist), Stephen Haffner (editor), and bears a Manly Wade Wellman autograph from a cancelled check. BONUS: ROMANCE IN BLACK: an exclusive chapbook of all five "Judge Pursuivant" stories illustrated by George Evans and a John Pelan introduction. $150


Signed by Hugh B. Cave (introduction) and Jon Arfstrom (cover artist). BONUS ITEMS: THREE FROM THE TOMB: an exclusive chapbook of three more "weird tales" with an introduction by Joe Wrzos. Tucked inside is a facsimile of the promo flyer announcing the adaptation of some of these stories for radio in the early 1930s. $100


---

Signed by Michael Moorcock (introduction). With the 1000-copy trade edition of this book long out of print (the lowest price we found today was $145 with "light musty odor"—Ha!), this is the best bang for your buck on this title (and our copies are still minty fresh!). $125


---

Signed by Grandmaster Jack Williamson. Out-of-print as well as the first-ever appearance of the original serialized version (". . . And Searching Mind") of the text that was rewritten as THE HUMANOIDS.    $150


Signed by Connie Willis (introduction), initialed by Ralph McQuarrie (cover artist) and bearing a mounted autograph of Jack Williamson. $150


Another case of the out-of-print trade editions commanding higher prices than these autographed editions.




Only ONE of these left. Signed by Frederik Pohl (foreword), James Gunn (introduction), Vincent Di Fate (cover artist), Vicky Medley (on her contribution "Queens of Space") and Stephen Haffner (editor). BONUS: A chapbook of Williamson's "Seetee" works ("Opposites—React!" and a sequence from his 1950s comic strip BEYOND MARS) introduced by William S. Higgins; and a copy of the chapbook THE MAN FROM SOMEWHERE signed by Jack Williamson. $150


Signed by Robert Silverberg (introduction) and Frederik Pohl (afterword). BONUS: an exclusive chapbook, OTHERNESSES, which includes three rare stories (including the "lost" Hogben story) and an introduction by Barry N. Malzberg (who has also signed the chapbook!). $150



• Join Us on Facebook and Win FREE Books!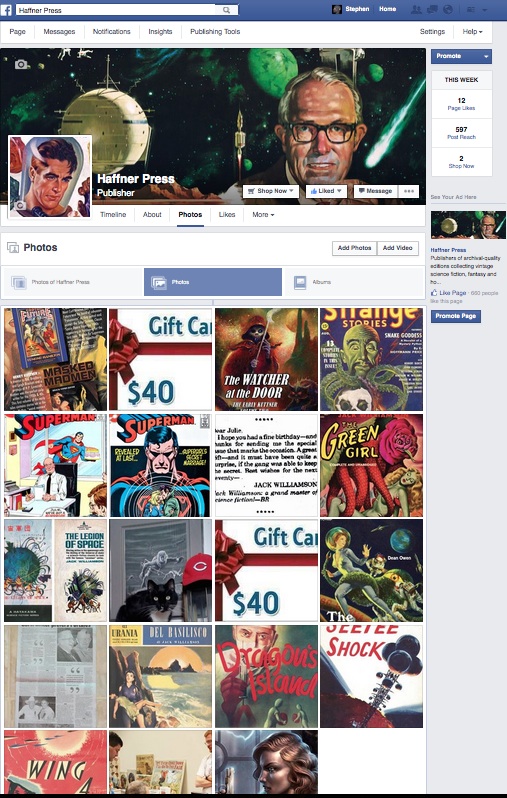 We've been on Facebook since 2010 and currently have 796 LIKEs.
You can win a $40 Gift Card drawn at random for every 50 new LIKErs who join our little corner of cyberspace. At 796 LIKEs, we're likely to choose a winner later today when we hit 800!
So please join us there and keep informed and entertained on some of your favorite authors.
And consider visiting the Facebook page for COLLECTED EDMOND HAMILTON. This FB page also us a more narrow focus on Edmond Hamilton and all his works—including those we won't be reprinting such as his work on Batman, Superman, the Legion of Super Heroes, etc. for DC Comics.


---
That's it for now. To ensure that you continue to receive this newsletter, be sure to add haffnerpress@sbcglobal.net and info@haffnerpress.com to your email reader's "safe list." And remember, shipping is FREE in the continental United States. Alaska, Hawaii and International orders should email us at info@haffnerpress.com for shipping rate quotes. You have been warned!
Copyright © 2016 HAFFNER PRESS
5005 Crooks Road • Suite 35 • Royal Oak, MI 48073-1239
(248) 288-4756 • www.haffnerpress.com
•  Keep Watching the Skies!  •

---
---
---
Now Available!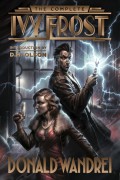 $50.00
---
---
Featured Items
---