Recent Posts
---
Archives
---
Quick Links
---
Archive for August 2012
---
| | |
| --- | --- |
| In This Issue: |   August 23, 2012 |



| | |
| --- | --- |
| •   | COMPLETE THUNSTONE Update |




| | |
| --- | --- |
| •   | Tales From Super-Science Fiction |




| | |
| --- | --- |
| •   | Updated Early Bird Special #1 |




| | |
| --- | --- |
| •   | Sgn'd JW Books-Haldeman, Swanwick, etc.  |

| | |
| --- | --- |
| •   | Thunder in the Void – Now with Resnick! |

| | |
| --- | --- |
| •   | OOPs – Out of Print Notices |
COMPLETE JOHN THUNSTONE Update
Originally slated for release this summer, we are pushing the publication of THE COMPLETE JOHN THUNSTONE by Manly Wade Wellman back to December 2012.  Why?  Check this out:
• We have uncovered more original artwork by George Evans for these tales by Wellman.
• We have employed Chris Kalb to design a new design for the cover titles.
• We have enlisted Grandmaster Ramsey Campbell to write an original introduction. (Oh, yeah!)
• We have secured 100 Manly Wade Wellman

autographs

for the book's 100-copy Slipcased Edition!
• The slipcased edition will also feature two dustjackets AND an exclusive chapbook of Wellman's "Judge Pursuivant" stories (published in Weird Tales as by "Gans T. Fields") also illustrated by Evans and featuring the cover from the 1946 UK edition of these stories, ROMANCE IN BLACK.
• We are also preparing a 26-copy leather-bound LETTERED edition which will also bear a Wellman autograph, along with some extra material that we will share in the near future.

Look for our next e-Newsletter where we will announce the contents of the Bonus Chapbook for preorders of THUNSTONE, IVY FROST and MICHAEL GRAY!

UPDATE ON EARLY BIRD SPECIAL #1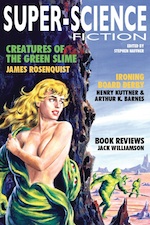 To those that took advantage of the EARLY BIRD SPECIAL for preordering THUNDER IN THE VOID, TALES FROM SUPER-SCIENCE FICTION and AT THE HUMAN LIMIT (or HOLLYWOOD ON THE MOON/MAN ABOUT TIME) you are entitled to the exclusive chapbook SUPER-SCIENCE FICTION which features the following:

• "Creatures of the Green Slime" by James Rosenquest from the June 1959 issue of Super-Science Fiction
• Book Reviews by Jack Williamson of works by Clarke, Wells, Boucher, Huxley, Heinlein, Aldiss, Asimov, and more!
• "Ironing Board Derby" by Henry Kuttner & Arthur K. Barnes – a rare, non-genre collaboration from the pages of Popular Sports, June 1939

The chapbook is currently in the proofreading stage and will shipping in a few weeks.

SIGNED COPIES!!! of THUNDER IN THE VOID by Henry Kuttner
Mike Resnick was the Guest of Honor at Pulpfest 2012 this summer in Columbus, OH and he signed several copies of THUNDER IN THE VOID by Henry Kuttner (Mike wrote the learned and erudite introduction).

While supplies last, we will ship these autographed copies of THUNDER IN THE VOID for the regular $40 price.  If you don't want an autographed copy (really?), let us know with your order and you'll receive one of the shrink-wrapped unsigned copies.

This book is a massive collection of 16 fun and exciting Space Opera stories originally printed in Astonishing Stories, Super Science Stories, and Planet Stories with original and unpublished story, "The Interplanetary Limited."  How cool is that?

TALES FROM SUPER-SCIENCE FICTION
Only a few months in release, TALES FROM SUPER-SCIENCE FICTION has gotten A LOT of good press and you can read it here:
http://www.locusmag.com/Reviews/2012/07/paul-di-filippo-reviews-super-science-fiction/
http://www.publishersweekly.com/978-1-893887-88-6
http://www.librarything.com/work/11769861/reviews
http://www.nyjournalofbooks.com/review/tales-super-science-fiction
http://www.blackgate.com/2012/07/05/new-treasures-tales-from-super-science-fiction-edited-by-robert-silverberg/
http://www.midwestbookreview.com/sbw/aug_12.htm#Fantasy
http://georgekelley.org/?p=12151

Keep Watching the Skies for an announcement of Robert Silverberg's NEXT anthology for Haffner Press!

 
Signed Williamson Books – now with Clute, Haldeman & Swanwick!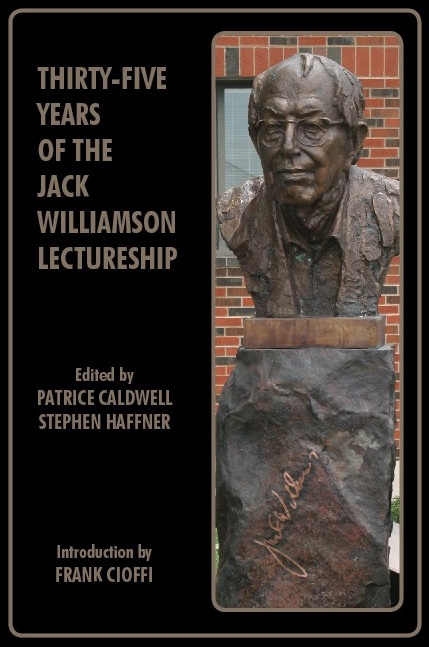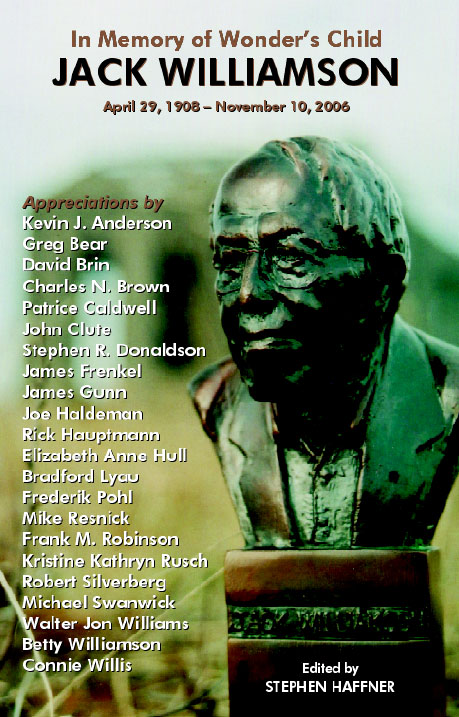 Haffner Press exhibited at Readercon in Boston for the first time this summer and we were able to add the autographs of John Clute, Joe Haldeman, and Michael Swanwick to IN MEMORY OF WONDER'S CHILD, the $15 chapbook honoring Jack Williamson and Joe Haldeman added his signature to the remaining copies of the $19 celebration: THIRTY-FIVE YEARS OF THE JACK WILLIAMSON LECTURESHIP.
We plan to add more contributors signatures to the remaining inventory of these two amazing books at Chicon 7 Worldcon next week!
OOPs – OUT-OF-PRINT NOTICES
The trade hardcover editions of THE VAMPIRE MASTER AND OTHER TALES OF HORROR and LORELEI OF THE RED MIST are now OUT OF PRINT. The Deluxe Slipcased editions of these two books are available HERE and HERE, but quantities are limited.

That's it for now. To ensure that you continue to receive this newsletter, be sure to add haffnerpress@sbcglobal.net and info@haffnerpress.com to your email reader's "safe list." And, remember, shipping is FREE in the continental United States. Alaska, Hawaii and International orders should email us at info@haffnerpress.com for shipping rate quotes. You have been warned!

You're receiving this message because you requested to be notified of events at Haffner Press, or have done business directly with Haffner Press in the past. If you do not wish to receive these messages in the future, unsubscribe

and request to have your name removed.

Copyright © 2012 HAFFNER PRESS
5005 Crooks Road • Suite 35 • Royal Oak, MI 48073-1239
(248) 288-4756 • www.haffnerpress.com

•  Keep Watching the Skies!  •

---
---
---
Now Available!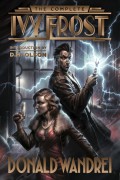 $50.00
---
---
Featured Items
---