Recent Posts
---
Archives
---
Quick Links
---
Archive for July 2015
---
 In This Issue:
July 21, 2015

• 

IVY FROST goes Deco-style




• 

BIG Update on Forthcoming Books




   

•  Leigh Brackett Centennial – 2015
    •  DETOUR TO OTHERNESS – OOP


---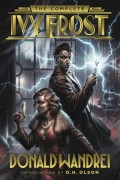 THE COMPLETE IVY FROST, the omnibus of all 18 stories of Donald Wandrei's "scientific-detective" just got even better with the Art Deco treatment for the cover titles courtesy of designer Chris Kalb.
We recently shared this image on Facebook and as of this writing THE COMPLETE IVY FROST has a stat saying "35,520 people reached." Whatever that means, we hope it translates into people who are anxious to read the adventures of Ivy Frost and Jean Moray!
---
BIG Update on Forthcoming Books

Below is the list of titles for which we are taking preorders. Some of them are part of "combos" that feature exclusive chapbooks or some manner of "early-bird" discount. Check out www.haffnerpress.com for details. And now, on with the show!
MURDER DRAWS A CROWD
FREDRIC BROWN MYSTERY LIBRARY, VOLUME ONE • We ordered ARCs to display at Readercon last week, but they (naturally) arrived after the show. But, they are FANTASTIC!
• What else is there to say? All the work on this massive 744-page blockbuster is complete and inventory should be in hand soon.
THE WATCHER AT THE DOOR
THE EARLY KUTTNER, VOLUME TWO
by Henry Kuttner• The long-awaited follow-up to TERROR IN THE HOUSE: THE EARLY KUTTNER, VOLUME ONE, we plan to launch this title at the 2015 World Fantasy Convention.
• The mss is proofread and the dustjacket art is ready to go.
• Awaiting the introductions/forewords from Robert A. Madle and Dr. Garyn G. Roberts.
HALO FOR HIRE
THE COMPLETE PAUL PINE MYSTERIES
by Howard Browne

• This 1000+ page title had many setbacks, but the desire to bring the cases of Chicago private eye Paul Pine to you prevailed.
• The mss is proofread.
• Cover artist Laurel Blechman is carrying the ball handed off by her partner Glen Orbik and is pulling out all the stops on the wraparound dustjacket.
• Richard A. Lupoffis working on his introduction.
THE SIX SLEEPERS
THE COLLECTED EDMOND HAMILTON, VOLUME FIVE• Currently in the last stages of proofreading.
• Robert A. Madle's knowing (Hey, HE. WAS. THERE!) and erudite introduction is in hand.
• All other design elements are in place and could be ready to ship (along with the combo orders of TIGER GIRL) late this year or early next.
THE COMPLETE IVY FROST
by Donald Wandrei• The mss is still in the proofreading stage.
• The 18 double-page chapter heads are still in the design-stage.
• Introducer D.H. Olson is a busy man and we're looking forward to his thoughts on all 18 IVY FROST stories. To read Olson's comments on the first 8 stories, get the Fedogan & Bremer collection HERE.
THE MICHAEL GRAY MYSTERIES
by Henry Kuttner & Catherine L. Moore• The manuscript has been proofread.
• Ed Gorman's introduction is completed and delivered.
• The dustjacket is slated to undergo a re-vamp and re-design, so look for this in late 2015/early 2016.
DEATH IN THE DARK
FREDRIC BROWN MYSTERY LIBRARY, VOLUME TWO• The mss is in the hands of the proofreader.
• Jack Seabrook is on deck to deliver another learned introduction.
• The current cover art is a placeholder, but we might go with it if nothing else is offered our way.
• Look for this in early 2016.
HOLLYWOOD ON THE MOON / MAN ABOUT TIME
by Henry Kuttner & Arthur K. Barnes• This is a strange duck—of all the titles announced for preorder, this has had the lowest demand.
• That said, those that want this book have been (to put it politely) adamant that their personal libraries are incomplete without it! Rest assured, we will complete this book in early 2016.
• Look for a different cover design/illustration.
---
LEIGH BRACKETT CENTENNIAL (1915-2015)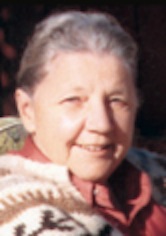 December 7, 2015 marks the 100th birthday of one of our favorite authors—Leigh Brackett. Behind the scenes we've been preparing for every contingency to celebrate the Centennial of one of America's unique literary voices.
As of this writing, it's too soon to share our final plans, but rest assured that we will spare no expense or care in designing a finished product that honors the First Lady of Space Opera as well as a hallowed addition to your personal library.
---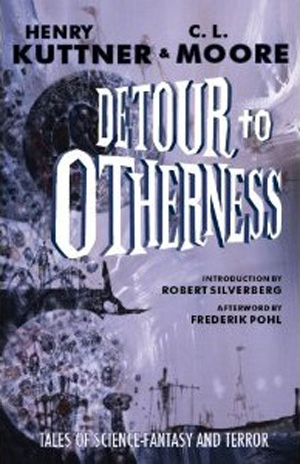 We gave you the heads-up a while back and the time has come. Following Readercon 26 last week in Burlington, MA, DETOUR TO OTHERNESS is officially out of print.
We have a few of the 1/75 autographed Slipcased Edition signed by Robert Silverberg (introduction) and Frederik Pohl (afterword) on hand. This edition ships with OTHERNESSES—a 94-page chapbook with an introduction by Barry N. Malzberg and contains three stories: "The Old Army Game" (the "lost" Hogben tale!), "Piggy Bank," and "Prisoner in the Skull."
---
---
---
---
Now Available!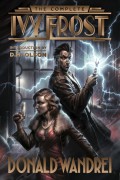 $50.00
---
---
Featured Items
---