Recent Posts
---
Archives
---
Quick Links
---
---
April 19, 2017
FREDRIC BROWN MYSTERY LIBRAR

Y




THE COUNTDOWN HAS BEGUN
Attention Mr. & Mrs. America and all the ships at sea:
   We just received word from the bindery that BOTH Volume One and Volume Two of the FREDRIC BROWN MYSTERY LIBRARY are complete and ready for delivery!!!  Woo-hoo!
   The plan is to place the Secret Moon Base in the care of Agent Randall and Woola (our Attack Tuxedo Calot), when we depart for this weekend's Windy City Pulp and Paper Show in Chicago.  We'll make a Cochrane-breaking maneuver and stop at the bindery to pick up as much inventory as the SUV Comet can carry and then on to Chicago.
   There, we'll unveil MURDER DRAWS A CROWD and DEATH IN THE DARK. If you preordered and will be at the show, you can pick up your copies at the Haffner Press display.
   Once we return from Chicago, we'll pick up the remainder of the print-run from the bindery and start inventory-staging. As many of you know, these books were first announced waaaaaay back in Fall 2011. It's been a long-time pulling all the materials together (truly a global effort!) and we probably hit every bump imaginable in getting from 2011 to 2017.
   That said, we hope you really, really enjoy these books. For readers of vintage detective/mystery fiction, these collections are a goldmine. To Fredric Brown collectors–old and new–these volumes should reward your patience and dedication. At 744 pages each, there isn't too much more we could squeeze between the covers. Let us know what you think (there may even be prizes!).

So, you know the drill: Order from the links below and if you buy both books before we stage the inventory back at the Secret Moon Base, you'll receive the exclusive "V.O.N. Munchdriller" bookmark. *Oh. Squee.*

   One more thing before we sign-off: If you preordered either (or both!) of these titles since 2011 and your address has changed, please let us know ASAP!!! We try to keep our mailing database current, but we only know where you are if you tell us!!
   That's it, fellow-astrogators. Stand back while we fire up the rocket-tubes in the ol' Comet. Next stop: Chicago!
---
---
Now Available!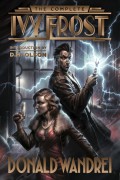 $50.00
---
---
Featured Items
---